Well, thank God the birther drama is over! Or is it???? LOL
But enough of that
silliness
, please take a minute and visit this link, also posted at the bottom in the forums section. Our very own
Megadoom
is going to be doing some consulting! Check it out!
MEGADOOM'S consultation services
As always, thanks to rj for today's links, be sure and visit him at
The Global Glass Onion.
Japan
FT.com: Chip companies warn on Japan effect
Some of Europe's largest semiconductor companies on Wednesday warned that disruption following the Japanese earthquake would mean lower growth for the global chip sector this year.
MiamiHerald: Japanese government considers underground wall to contain Fukushima radiation
The Japanese government is considering building an underground barrier near the Fukushima No. 1 nuclear power plant to prevent radioactive material from spreading far from the plant via soil and groundwater, a senior government official said. Sumio Mabuchi, a special adviser to the prime minister, revealed the plan Friday at the Japan National Press Club building in Tokyo. The plan is the first attempt to address the risk of contaminated water spreading far from the plant through soil. According to Mabuchi, the barrier would extend so far underground that it would reach a layer that does not absorb water. The wall would entirely surround the land on which reactors No. 1, 2, 3 and 4 stand. Mabuchi is a member of the unified command headquarters set up by the government and Tokyo Electric Power Co. to deal with the nuclear crisis. He serves as the head of government representatives on a team dealing with medium- and long-term issues, including how to contain the spread of radioactive materials from the plant.
Global Conflict
BlackListedNews: Mexican Drug Cartels Place Roadside Bomb in Brownsville, Texas
BBC: UN to debate Syria as the violence continues
ActivistPost: Ex-CIA chief: Kadhafi was good partner
NATIONAL HARBOR, Maryland (AFP) - The former chief of the CIA on Tuesday praised Libyan leader Moamer Kadhafi's past cooperation and said his downfall could complicate US interests in the short term.
UPI: Pew: Egyptians don't want Israeli peace
WASHINGTON, April 27 (UPI) -- The majority of Egyptians say the peace treaty with Israel should be annulled, a survey by the Pew Research Center's Global Attitudes Project reveals.
BBC: Ivory Coast: Pro-Ouattara forces clash in Abidjan
Fighting has broken out in the Ivorian city of Abidjan between forces loyal to the new president and the "Invisible Commandos", a rival militia.
AlJazeera: Stop the presses, literally in Iraq
The US military praises Iraqi security forces as they crack down on press freedom.


Financial News
ZeroHedge: Pimco's Observations As The US "Reaches The Keynesian Endpoint" - The QE2 Ponzi Scheme Is "Nothing But A Profit Illusion"
ibtimes: Gold and Silver Bubble? - Some Retail Investors Taking Profits and ETF and COT Data Suggest Otherwise
MyBudget360: The financial tipping point of peak debt – Total credit market debt owed increased
from $28 trillion in 2001 to over $52 trillion in 2011. Household debt contracting while Fed juices up the banking sector with more debt.
BusinessInsider: Rally Evaporates, As Market Realizes That America Is Officially A Circus
MSNBC: Why more people are rejecting their credit cards
Financial experts say people who live a cash-only life usually spend less
BusinessInsider: The Debt Ceiling: Geithner Prepares To Drain Retirement Accounts, And Banks Step Up Lobbying
CBSMoneyWatch: What to Do About Retirement Sticker Shock
WashingtonPost: BP Q1 net profit up 16 pct, but replacement cost measure falls on asset sales
CBSMoneyWatch: US Stocks Within 3 Percent of All-Time High
RawStory: GOP Reps Ryan, Webster face screaming anger at town halls
In the words of MSNBC host Rachel Madddow, House Republicans are in the midst of a "collective freakout" over the public's reaction to Rep. Paul Ryan's (R-WI) budget plan, which
cleared the House
right before Congress went on vacation.
USAToday: Bank overdraft fees pile up despite Fed regulation
Consumers will spend an estimated $38.5 billion in overdraft penalty fees in 2011, up from $18.6 billion in 2000, according to a study out today by the Pew Health Group, the consumer-product safety arm of the Pew Charitable Trusts.
YahooFinance: The New Ideal Retirement Age
A decade ago many people strived to retire young. Now most people are nudging back their retirement date and wondering if they will be able to retire at all. The age workers expect to retire has increased from an average of 60 in 1995 to 66 today, according to a new Gallup poll of 1,077 adults.
Reuters: Special report: Does corporate America kowtow to China?
ActivistPost: Economic Hit Men Now Used on Americans (Video)
CreditSlips: For the Servicers: Is It Better to Rob Peter or Paul?
The U.S. mortgage servicing industry is in deep doo-doo. To foreclose on a mortgage, you must own the note and the mortgage.
CalculatedRisk: Q1 2011: Homeownership Rate at 1998 Levels
- The Census Bureau reported the homeownership and vacancy rates for Q1 2011 this morning.

Peak oil and Energy News
TheOilDrum: Global World Product Will Not Grow at 4%+ for Five Years
Reuters: Oil above $124 as weak dollar supports
(Reuters) - Brent crude oil edged above $124 a barrel Wednesday as support from a weaker dollar, ahead of a Federal Reserve statement expected to maintain loose monetary policy, countered rising U.S. inventories.
TheOilDrum: Drumbeat: April 27, 2011
Environmental News
ScientificAmerican: Ice Cores from Greenland Unlock Ancient Climate Secret
Paleoclimatologist James White finds stark warnings about the potential for rapid climate change hidden in ancient ice
White's ice–core studies helped reveal two striking facts. The first is that the Earth's great ice ages are bookmarked by a clear fluctuation in carbon dioxide levels: 180 parts per million (ppm) in the glacial periods, 280 ppm in the warmer periods (the level at the beginning of the Industrial Revolution about 150 years ago). A shift of 100 ppm in CO2 concentrations meant the difference between flowers blooming in the Arctic and ice a mile deep over Chicago.
AlterNet: Displacing People For Profit: Obama Administration Supports Controversial Coal Project in Bangladesh
Why is the Obama administration covertly pushing for an internationally opposed open-pit coal mine operation in Bangladesh?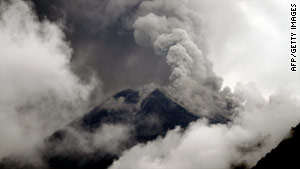 CNN: Residents evacuate as volcano spews ashes in Ecuador
(CNN) -- Authorities in Ecuador closed schools and evacuated residents in areas near a volcano Tuesday after ashes spewing from its crater fell on homes and farms, state media reported.
Ashes from Tungurahua -- which means "throat of fire" in the native Quechua language -- rose more than 7 kilometers (4 miles) into the air Tuesday, the government news agency said.
NewScientistTV: Up close and personal with an active volcano
USAToday: 1 dead in Arkansas as more storms roll in
AL.com: Storms with winds of up to 100 mph damage houses, knock out power to 262,000 statewide (updated)
ClimateProgress: Limbaugh tells Boehner to flip-flop and "defend Big Oil" — and the House Speaker does
MotherJones: Is Your Organic Compost Really Sewage Sludge?
America in Decline
Salon: Strong anti-American sentiment in Egypt
Public opinion in Egypt is very instructive -- and troubling -- in this regard. Americans cheered in consensus for the democratic rebellion against the Mubarak regime. But most Egyptians aren't cheering for America, which long supported that regime until the very end. A new Pew poll was just released -- the first taken since the fall of Mubarak -- and its findings were summarized by today's Washington Post.
ABCNews: Guantanamo Docs Neglected, Concealed Medical Evidence of Torture, Study Finds
Doctors caring for detainees at the Guantanamo prison may have neglected or concealed medical evidence of torture, such as bone fractures, lacerations, and symptoms of post traumatic stress disorder, , according to a study released today by Physicians for Human Rights.
ibtimes: China in no mood to listen in U.S. rights talks
Washington'sBlog: Four Stories This Week Prove that the War on Terror is a Farce
Alternet: We're #1 -- Ten Depressing Ways America Is Exceptional
America is exceptional in the advantages we've had over other nations, not what we've done with those advantages.
Food and Water
FarmWars: GM Alfalfa – Why No Sprouting?
The new Monsanto Technology Use Agreement (TUA) indicates that purchasers of Roundup Ready Alfalfa seeds are not allowed to sprout them. When I read that, the first thing that popped into my mind was – why?
Grist: Strawberry grower shows how to make a profit without poisons
Grist: How to solve world hunger by bringing farming indoors
What if the only way to save crops from climate change was taking the climate out of the equation entirely? Researchers in the Netherlands think that artificially lit, carefully irrigated "sunless farming" may have the power to reverse world hunger.
Science and Technology
NewScientist: Details of 77m PlayStation users stolen, admits Sony
GlobeandMail: Massive data theft: 77 million users exposed in Sony's PlayStation security breach
Economist: Creepy crawlies The internet allows the malicious to menace their victims
NewScientist: The Middle East is ripe for a scientific revolution
Forbes: Apple Blames Bug For Extensive Location Tracking
Medical and Health
CSMonitor: Supreme Court hears case: Is Vermont restricting drug companies' speech?
Drug companies tell the Supreme Court that by barring access to doctors' drug prescribing records, Vermont is discriminating against the firms' protected commercial speech.
ActivistPost: Armed agents invade Maxam Nutraceutics and steal natural health products in shocking FDA raid
Amidst all the destructive activities taking place in our world today that deserve attention, the US Food and Drug Administration (FDA) has decided instead to make it a personal mission to destroy the businesses and livelihoods of those trying to help people through natural medicine.
Other News
abcNews: Donald Trump Claims Credit for Obama's Releasing Birth Certificate
SHTFPlan: Americans are Preparing at Unprecedented Levels
Do you have enough larder to feed your family and some friends if grocery stores ran out of food? How about several assault rifles and a few thousand rounds of ammo? Solar panels, a water filter, medical kits, bug-out bags, fire starters, tents, sleeping bags, some junk silver and reserve gasoline?

Don't worry, you're not alone.
RawStory: Oklahoma lawmakers approve life sentence for cooking hashish
CNN: Toddler shoots mom dead, boy's father tells Florida police
RawStory: SETI forced to shut down search for alien life
The SETI Institute has been forced to temporarily shut down operations at its telescope array due to federal and state funding cutbacks.
RawStory: Drug-bashing RI Republican charged with drug use
Robert Watson, a high-ranking Republican state legislator in Rhode Island, is in hot water after being charged with driving under the influence of marijuana and possession of marijuana and drug paraphernalia. Drug charges alone would be bad enough for a public official, but Watson, Rhode Island's House minority leader, is still remembered for his controversial anti-drug, anti-gay and anti-immigrant remarks.
Grist: Ezra Klein: 'Obama, based on his positions, is a moderate Republican of the early 1990s'
Alternet: Gingrich: Secular Elites Have Declared War On Time Itself
Newt Gingrich, the maybe presidential candidate and recent Catholic convert is ready to stand up and defend the basic concept of time from what he says is an onslaught from America's secular elite.
The Forums
TinfoilPalace: Bernanke Speech
TinfoilPalace: 'Birthers' ignore chance to view Obama's info
TheOilAge: MEGADOOM'S consultation services
TheOilAge: Record-setting homelessness in New York CIty
Hubberts-Arms: 2008 crash deja vu: We'll relive it, and soon
Hubberts-Arms: Maurice Sendak: "I'm getting out just in time."
SilentCountry: Water to get even scarcer on the US west coast
SilentCountry: Who else wants the MSM to just stop the wedding stories?