Much thanks to The Ozarker at
Conflicted Doomer
for the following story. She thought we'd get a kick out of it and I think we will! It should win the "Magic Fairy Dust" article of the year award! LOL
I'd love to hear some of our out of work and struggling forum members cut loose with rants on this one!
But the larger message is that the recovery is feeding on itself. Healthy economic growth doesn't have to be supported by government and, ideally, is not frustrated by perverse policies. The greatest barrier to recovery now could be psychology - stubborn gloom - which conditions household and business spending decisions. There is a curious role reversal. Foolish optimism led to the financial crisis and recession by assuming things would work out for the best. Now, reflexive pessimism weakens growth by ignoring good news or believing it cannot last.
So, the economy is bad because 'we the people' THINK it is bad and we're just being stubborn! ok, that makes sense Mr. Samuelson.
I'm really laughing out loud right now.
Really.
Max Keiser does really cracks me up and he's right about some things as well. Check him out here.
And one more thing, guess what? This blog has now crossed the 70,000 page views mark!!! I just now saw that! Way to go guys! Makes me feel like people are really using the blog and that's good! Thanks to rj at Global Glass Onion for the links he sends. They are scattered throughout the blog along with those from The Ozarker. It is deeply appreciated.
Japan
JapanToday: Soil contamination from Fukushima crisis comparable to Chernobyl: study
TruthOut: The Nuclear Disaster That Could Destroy Japan
CNBC: US Economy Damaged More Than Thought by Japan Quake
(keep in mind what Ruppert said about this)
VancouverSun: New leak feared at stricken Japan nuclear plant
Global Conflict
Independent: Exclusive: Battered Libya sues for peace
As President Obama vows 'We will not relent until the shadow of tyranny is lifted', Gaddafi's Prime Minister offers Nato a ceasefire, amnesty for rebels, reconciliation, constitutional government – and an exit strategy
UPI: U.S. reducing troops in Pakistan
Guardian: US cuts troop numbers in Pakistan
Pakistan asks US to reduce military footprint in a sign of its annoyance over how raid that killed Bin Laden was carried out
TheObserver: Al-Sadr followers rally in Iraq against US troops
DeadLineLive: DEADLINE LIVE EXCLUSIVE: Mad Mex – Los Zetas Use Road Warrior-Style Vehicles to Battle Other Cartels, Military
For over a year, the criminal organization known as Los Zetas has moved in to the Falcon Lake area on the Texas-Mexico border, chasing out paramilitary groups from the Gulf Drug Cartel. As these two drug cartel organizations fought for this crucial smuggling route or 'plaza,' Los Zetas burned down the city of Mier and several big businesses in the town of Miguel Aleman, Mexico.
BBC: Australia Human Rights Commission in asylum warning
ActivistPost: Venezuela oil chief says US can 'go to hell'
BBC: US withdraws diplomats from Yemen amid clashes
BBC: Mexico gang shootout in Nayarit state kills 28
More than 34,000 people have died in Mexico since President Felipe Calderon launched a crackdown on the country's drug cartels in December 2006.
BBC: Spain 'prevents illegal helicopter sale to Iran
Spanish police say they have prevented the illegal sale of nine military transport helicopters to Iran and have detained eight people.
ActivistPost: US military warned of S.Korea, Japan cost overruns
UPI: Congressman: Obama breaking the law
WASHINGTON, May 26 (UPI) -- U.S. Rep. Justin Amash, R-Mich., says President Barack Obama is breaking the law in Libya because he failed to get congressional approval for the action.
TruthOut: Mubarak to Face Trial for Killing of Protesters
ForeignAffairs: End of Days for Assad?
The Uprising in Syria and Washington's Response
Financial News
USDeptofLabor: UNEMPLOYMENT INSURANCE WEEKLY CLAIMS REPORT
USDeptofLabor: Our Road Map to Sensible and Effective Regulations (Work in Progress)
Reuters: Goldman lowers year-end target for S&P 500 index
Rising inflation, higher commodity prices and lower global economic growth will weigh on margins of S&P 500 .SPX companies, said Goldman Sachs, as it forecast a lower 2012 earnings outlook, and reduced its year-end target on the index.
BusinessInsider: JUNCKER: IMF May Not Give Greece Next Bailout Tranche
Bloomberg: Marc Faber Interview on Fed Policy, Investment Strategy
DeclineoftheEmpire: At Least 46.5% Of Americans Are "Financially Fragile"
Bloomberg: Distressed Homes in U.S. Sold at 27% Discount
WSJ: Secondary Sources: Fed Crisis Loans, Long-Term Unemployment, U.S. Default
BusinessInsider: You Can Blame Labor Trends For The Steady Growth In American Obesity
BBC: US economic slowdown is confirmed
US growth slowed in the first three months of 2011 to an annualised rate of 1.8%, which is a 0.4% quarterly rise, the Commerce Department has confirmed.
BusinessInsider: Moody's Just Downgraded Bahrain: Here's Why It's A Big Deal
TheTelegraph: Greek restructuring would not bring down Europe, says Nouriel Roubini
Nouriel Roubini, the New York University economist known as Dr Doom, says Greek restructuring would not bring down Europe's financial system.
BusinessInsider: Amazing Pictures Of The Interior Of The World' Most Expensive Apartment Building
ZeroHedge: "We want our secrets kept secret" - FHFA Director
Reuters: Jobless claims up in latest week
New claims for unemployment benefits unexpectedly climbed to 424,000 last week from a revised 414,000 in the prior week, pointing to a painfully slow improvement in the nation's job markets.
BusinessInsider: A Frightening Satellite Tour Of America's Foreclosure Wastelands
NewAmerican: Perfect Financial Storm Shaping Up for Europe, U.S.
CNNMoney: Foreclosures for sale: Big supply, low prices
Telegraph: OECD: America risks a crisis unless it raises interest rates
America runs the risk of a crisis unless it raises interest rates and lays out a plan to cut its deficit by the end of the year, a leading economic think-tank has warned.
Independent: Vince Cable warns of second financial emergency
NYT: Euro Crisis Looms for Group of 8
Peak oil and Energy News
CalculatedRisk: DOT: Vehicle Miles Driven decreased 1.4% in March compared to March 2010
Spiegel: The World from Berlin
'End the Epoch of Atomic Madness' in the EU
ClimateProgress: House Committee postpones wind and solar hearing to discuss more ways to grow Big Oil profits
CNNMoney: Coal 'ghost towns' loom in West Virginia
West Virginia's coal industry helped insulate the local economy from the worst of the recession, but now the state could be in danger of losing that crutch.
FinancialTimes: Iran says Opec will try to fill crude gap
McClatchy: Cable: Saudi oilfields are'sick'
Environmental News
CouncilonForeignRelations: The Truth about the Three Gorges Dam
It has only taken ninety years, but China's leaders have finally admitted that the Three Gorges Dam is a disaster.
NPR: Officials: 232 People Still Unaccounted For In Joplin
CNN: Super typhoon churns through Pacific, threatens Okinawa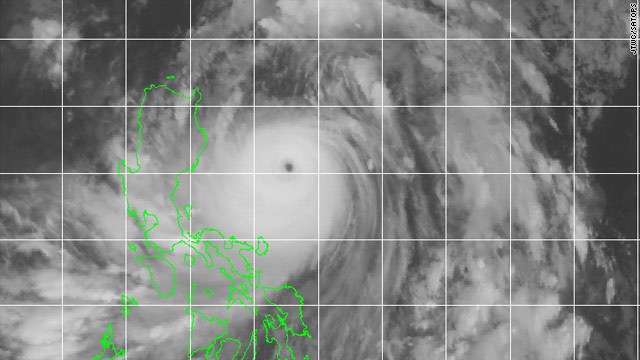 Songda was a Category 5 storm late Thursday, with maximum sustained winds of 161 mph and gusts of 195 mph, according to the Joint Typhoon Warning Center in Pearl Harbor, Hawaii. The storm was producing wave heights of 38 feet in the Pacific, forecasters said.
WashingtonPost: Corps reduces flow at a major Louisiana spillway diverting water to protect big cities
McClatchy: More tornadoes rip through Missouri, Kansas
DesdemonaDespair: A link between climate change and Joplin tornadoes? Never!
McClatchy: Dallas-Fort Worth hit by 'biggest storm in years'
USAToday: Rebuilding after tornadoes slow and costly
ArchaeologyNewsNetwork: Coral reefs twice size of Manila destroyed
One of the turtles killed was a male aged 80 to 100 years old.
Poachers decimated an entire "reef complex"—almost twice as big as Manila—off the coast of Cotabato province when they harvested more than 21,000 pieces of black coral and killed 161 endangered turtles and other marine life, officials said Tuesday.
SOTT: 420 Whale Sharks Swarm Mexican Coastline
Up to 420 whale sharks gathered off the coast of the Yucatán Peninsula in Mexico, forming the world's largest known assembly of this species, according to a press release issued by the Smithsonian National Zoological Park.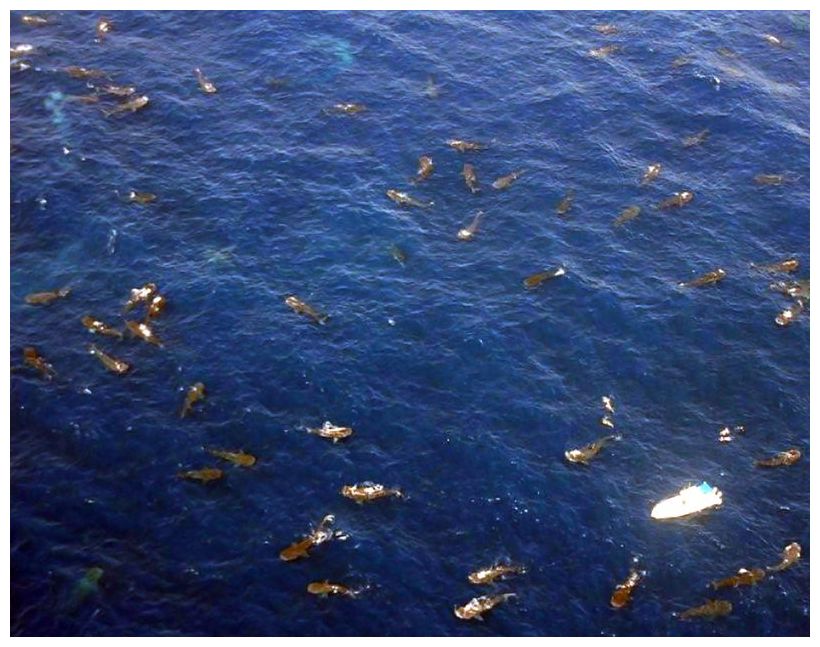 HuffingtonPost: Oroumieh Lake, Iran's Largest, Turning To Salt
BalticCourse: New approach to safeguard our soils
Soils protection has become one of the important environmental issues in the EU-27 member states; soil sealing threatens the availability of ecosystem services. Every year in the EU, soils covering an area larger than the city of Berlin are lost to urban sprawl and transport infrastructure. This unsustainable trend threatens the availability of fertile soils and groundwater reservoirs for future generations.
McClatchy: Extreme weather's frequency to increase
ScienceMag: Furor Over Proposed Brazilian Forest Law
The passage on Tuesday by Brazil's Chamber of Deputies of an amended forest law favorable to ranchers and loggers has brought an outpouring of concern from environmentalists, with some calling it a green light for deforestation.
America in Decline
BuzzFlash: America Has Become a Third World
Source of Labor and Slum Landlord Ownership for Europe
What a startling contrast between the jingoistic exhortations of "American Exceptionalism" and the reality that we have become a third world source of labor and slum landlord ownership for Europe.That's the take of Harold Meyerson in The Los Angeles Times, who writes of a shocking reality behind the US economic decline. After describing how Deutsche Bank has become one of Los Angeles' newest large slumlords, Meyerson drops a bombshell:
DailyMail: Mitch Daniels' Pot Luck: Governor's Escape From Prison Taught Him The Importance Of Being Tough On Drug Users
BlackListedNews: US to store passenger data for 15 years
WiredDangerRoom: There's a Secret Patriot Act, Senator Says
TruthOut: Privatization: The Road to Hell
Jim Hightower on the Koch brothers recent purchase: academic freedom.
MotherJones: Why Not Let the Dead Pay for Medicare?
TheAmericanProspect: Friends Without Benefits
The U.S. is Israel's BFF, but the feeling isn't mutual.
WashingtonPost: Nearly 6,000 cited, arrested in Va. crackdown
Take heed going into MemorialDay weekend, drivers:Virginia State Police just cited 6,000 in two-day crackdown
Guardian: US to store passenger data for 15 years
Draft of Washington-EU deal leaked to the Guardian shows agreement 'violates basic European principles'
Food and Water
BigPictureAgriculture: Two Impending Shocks to Current Farmland Prices: Falling Crop Prices or Rising Interest Rates
Bloomberg: Livestock Producers, Food Buyers to Pay as Dry Weather Persists
XinHuaNet: New reservoir to keep Shanghai in fresh water
NationalSustainableAgricultureCoalition: Breathtaking in its Recklessness
Yesterday afternoon, the House Agriculture Appropriations Subcommittee adopted a government funding bill that if passed would turn back decades of progress to achieve a more sustainable and just food and farming system
Science and Technology
ibtimes: iOS 4 cracked by Russian Security firm
NatGeo: NASA Asteroid Mission Set for 2016 OSIRIS-REx mission will bring back samples of carbon-rich space rock.
CaseyResearch: Cyber-War Is Evolving Fast
A new war is being waged – a war that is not fought with guns, missiles, or human soldiers, but with code in cyberspace, using computers and the Internet. It's a war on all fronts – by governments against governments, governments against corporations, organized crime and insiders against both, and even individuals against other individuals (which is more often dubbed cybercrime, but that's not a necessary distinction for our purposes).The point is that this war is pervasive, and we are all vulnerable to attack.
BBC: Cosmic distance record 'broken'
A cataclysmic explosion of a huge star near the edge of the observable Universe may be the most distant single object yet spied by a telescope.
GizMag: Military tested, ultra rugged wearable computer system gets commercial release
Medical and Health
NewScientist: Call to delay judgement on cellphone brain cancer risk
DeutscheWelle: German E. coli outbreak traced back to cucumbers from Spain
The German authorities have identifiedcucumbers from Spain as the source of a recent E. coli outbreak in northern Germany that has killed several. Germans have been advised not to eat cucumbers for the time being.
WiredScience: Electrons Are Near-Perfect Spheres
Doomsteading, Gardening, Urban Farming
ModernSurvivalOnline: Zombie proof house? Gotta have it!!!
Other News
DailyBail: Peter Fonda is about to get a visit from the Secret Service
Kentucky.com: Religious freedom isn't free: Will anyone pay political price?
Beginning in 1999, fiscal courts in McCreary and Pulaski counties made a series of misguided decisions that now have them trying to figure out how to pay a legal bill of $456,881 plus interest.
HuffingtonPost: Alan Simpson Still Confused About Social Security Numbers
Politico: GOP braces for Medicare blowback
WSJ: New Abode for Ex-IMF Chief
Court Approves Townhouse Dwelling for Strauss-Kahn; Leaving 71 Broadway
A New York judge has approved a new residence where former International Monetary Fund director Dominique Strauss-Kahn will be confined under house arrest: a 6,800-square-foot townhouse at 153 Franklin St., a few blocks from the courthouse in Lower Manhattan, according to a law-enforcement official.
The Forums
TinfoilPalace: Interesting Meat Eating Phenomenon
TinfoilPalace: Ancient Knowledge and the Original Purpose of the Pyramids
TheOilAge: Scientific report: changing climate means increasing floods
TheOilAge: Protests in Georgia
Hubberts-Arms: Costco Kneed in the Groin By Higher Commodities Prices
Hubberts-Arms: Bunny born without ears Near Fukushima Power Plant
SilentCountry: The Downward Spiral--Getting Laid Off
SilentCountry: You Gotta Be Kidding Me...