Hope our good friend rj is alright in the recent bout of bad storms they are having up there.
Today's thunderstorm dumped 1.7 inches of rain at Lorain County Regional Airport and sent hail as large as golf balls or ping-pong balls falling onto the Amherst area, said Frank Kieltyka of the National Weather Service.
hang in there rj. Hope you don't get washed away in all that rain! Almost 2 inches!
Thanks as always to friends of this blog and blogger rj, in the rain, at Global Glass Onion and my friend the Ozarker, a writer for our doomy times at Conflicted Doomer. Go visit them! Do it! LOL
And where would we be without the knife-like words of Jim Kunstler!
By the way, I hope you don't think the homefolks here in the USA are all that deliriously happy with representative government either. These days, despite all Sarah Palin's bluster about "freedom" and "our heritage," elected officials are held in about equal esteem to herpes viruses. Congress and the senate are paralyzed by triviality and the President is too busy golfing to disturb the status quo - which is the status quo of a house on fire. We won't have to wait much longer to find out how unexceptional America actually is.
Japan
ZeroHedge: Japan Finally Admits TOTAL Meltdowns at 3 Nuclear Reactors Within Hours of Earthquake
CNN: 3 nuclear reactors melted down after quake, Japan confirms
DesdemonaDespair: Radiation levels likely exceed safety standard outside Fukushima evacuation zone
BBC: Japanese workers urged to dress down to save electricity
RawStory: Fukushima Reactor No. 1 more radioactive than ever
Global Conflict
McClatchy: Israel prepares for more violence in Golan Heights village
HaAretz: The consequences of an Israeli attack on Iran
A future investigation will likely focus on issues of substance and of procedure: how and why the government of Prime Minister Benjamin Netanyahu went to war with Iran despite warnings by senior military and intelligence figures.
BusinessInsider: Iran Sends Submarines Into The Red Sea
NaturalNews: US says dropping bombs is not war, but guessing a computer password is
The US government sure has an interesting way of defining war these days. Just a few months after the Obama administration played word games with the public by insisting that air strikes in Libya were just "kinetic military action," not acts of war, the Pentagon has now come on the record stating that it will treat all acts of cyber-hacking against the US as "acts of war."
McClatchy: Curfew imposed after another attack in Iraq
BusinessInsider: CANCEL THE CELEBRATIONS: Yemeni President Saleh Will Return From Saudi Arabia "Within Days"
Spiegel: The Rage of the 'Indignants' A European Generation Takes to the Streets
CBSNews: Syrians in north flee, fearing "major massacre"
After 120 security troops killed in weekend clashes, residents anticipate retaliation by regime known for crushing dissent
McClatchy: U.S. says Yemen's Saleh should step aside 'immediately'
MSNBC: Libyan defector may be providing NATO with target info
CNN: Sources: Yemeni head Saleh has collapsed lung, burns over 40% of body
Bloomberg: Iran Wants the Bomb, and It's Well on Its Way: Jeffrey Goldberg
Slate: Arab Summer
How unstable will the Middle East's new democracies be?
USAToday: Daytime NATO strikes hit Tripoli
CNN: Tribal fighters take over major city in Yemen, eyewitnesses say
YahooNews: US pushes for Yemen solution as Saleh vows return
LAT: Israel fires on pro-Palestinian protesters; 20 reported killed
Hundreds of demonstrators marking the anniversary of Israel's seizure of the Golan Heights in 1967 rush over Syria's border. Scores remain camped out in the mine-laden buffer zone, refusing to leave.
YahooNews: Attack kills 120 Syrian forces; crackdown feared
BBC: Bahrain protests: Trial opens for 47 doctors and nurses
Dozens of doctors and nurses who treated injured protesters in Bahrain have appeared in court charged with attempting to topple the monarchy.
BBC: Libya: Curious incident of the child 'air raid victim'
BBC: Syria troops 'killed in clashes' in Jisr al-Shughour
Syrian state TV is reporting the deaths of at least 120 security personnel in battles with hundreds of gunmen in the north-western town of Jisr al-Shughour.
McClatchy: Mexican drug gangs building own tanks as war intensifies
Financial News
HuffPost: Agriculture Industry Fears Disaster If Illegal Immigration Enforcement Program E-Verify Is Implemented
MarketWatch: Bernanke may use 'T'-word to describe weakness
There's no denying that May was a disappointing month for the U.S. economy.
CBSnews: Chronic unemployment worse than Great Depression
The unemployed have, on average, remained unemployed longer than in the 1930s; Employers wary of job gaps in resumes
Reuters: China official warns on "excessive" holdings of U.S. assets
China should guard against risks from "excessive" holdings of U.S. assets as Washington could pursue a policy to weaken the dollar, a senior official at the State Administration of Foreign Exchange said in comments published on Tuesday.
WashingtonPost: President Obama's phony accounting on the auto industry bailout
CNNMoney: Meredith Whitney: State finances are worse than estimated
NakedCapitalism: Quelle Surprise! Banks are Concerned About Mortgage Slowdown
Bloomberg: EU Banks' Capital Deficit Means Greek Default Not an Option (1)
USAToday: U.S. funding for future promises lags by trillions
MaxKeiser: Why deflation is killing the economy and why inflation is killing your pocketbook
ZeroHedge: Dollar At One Month Lows On PBOC Advisor Comments That Chinese FX Formation Mechanism Needs "Drastic" Reform
NakedCapitalism: Is Foreclosure Via Facebook Coming to the US?
One development overseas that may be coming to the US is using Facebook to send legal notices, such as foreclosure notices. As Bloomberg informs us (hat tip reader Buzz Potamkin), this practice has been accepted by courts in Australia, Canada, and the UK.

MSNBC: 5 simple ways you can ruin your financial life
Self-discipline is all that it takes to avoid some very costly mistakes
Forbes: Rich Chinese Celebrity Versus Western Bankers: Who Wins?
Alsosprachanalyst: Greek Tragedy: Austerity And Default
BusinessInsider: The Greek Debt Problem "In Simple Mathematics"
TheTennessean: Bill Theobald: How will Tenn. fare under federal spending policies?
How much more seniors in Tennessee would have to pay for health- care coverage under the House Republican budget plan.
WSJ: Second-Mortgage Misery
Nearly 40% Who Borrowed Against Homes Are Underwater
PublicNewsService: Time To Let The Bush Tax Cuts Expire?
NewRepublic: Disaster Not Averted
The latest jobs numbers and the very real chance of another Great Depression.
BusinessInsider: Germany's Hostile Takeover Of Greece Has Officially Begun
PostGazette: 'No new taxes' credo for GOP outweighs balancing the budget
CBSNews: Chronic unemployment worse than Great Depression
The unemployed have, on average, remained unemployed longer than in the 1930s; Employers wary of job gaps in resumes
Peak oil and Energy News
Slate: Everything you've heard about fossil fuels may be wrong The future of energy is not what you think it is
and in the words of the Ozarker at
Conflicted Doomer
,
"What the hell has this guy been smoking?"
Platts: Enterprise sees 750,000 to 800,000 b/d oil potential from Eagle Ford
PressAction: U.S. Military Favors Biofuels for Waging Future Wars
Platts: Keystone's quick spill-response supports XL pipeline expansion
Salon: GOP science: Wind, sun are "anti-energy"
In the U.S.: Republicans try to zap federal funding for renewable energy research. In China: Record spending
BusinessInsider: Peak Oil vs. Peak Renewables (Guest Post)
OilVoice: Oil Supply: Peak Oil and Microbes!
In 2005 when very few oil people believed in Peak Oil, or more simply stated – few people believed that oil supply could no longer keep up with oil demand, or oil production had reached its maximum level of production, or, if you prefer, more than half of the world's original oil supply has been produced. At that time, there were energy experts who claimed (and were being heard at high levels) that Peak Oil was really a "myth" and that the problems regarding having adequate oil supply were "above the ground and not below the ground". I would estimate that less than ten percent of oil people believed in Peak Oil at that time.

Now six years later, I would estimate (based on my personal research, study, and readings) that well over fifty percent (50%) of oil professionals now believe in Peak Oil. The financial crisis of 2008 and the attendant high gasoline prices that followed have brought the Peak Oil debate to the forefront for serous discussion - finally.
Reuters: UPDATE 3-Iraq sees oil output at 3 mln bpd by year-end
Additional 500,000-1 mln bpd forecast in 2012
GlobeandMail: U.S. oil industry warns China will fill Keystone pipeline vacuum
The U.S. oil industry is playing the "China card" in urging the American government to quickly approve TransCanada Corp. (TRP-T42.54----%)'s proposed Keystone XL pipeline project, which will deliver oil sands crude to Gulf Coast refineries.
In a submission to Secretary of State Hillary Clinton, the Washington-based American Petroleum Institute argues that the $7-billion (U.S.) pipeline would be a major boost to job creation, and warned that the U.S. cannot take for granted its access to the vast oil sands resource in Canada.
HuffPost: Regulators Block Restart Of Keystone Oil Pipeline, Cite Leaks
Environmental News
McClatchy: Bio-defense lab in Kansas to get tornado upgrade
MailOnline: When all hell breaks loose: Lightning tears the sky apart above the glow of the Chilean volcano
NatGeo: Fisticuffs Erupts in Peru Over Uncontacted Tribes
Hosted: Fire forces Ariz. towns to prepare for evacuation
LAT: Environmental coalition wants to save whales by reducing ships' speed in marine sanctuaries
A 10-knot limit off the West Coast could prevent deaths, advocates tells the U.S. Department of Commerce. Shippers oppose the limits.
UPI: Chilean volcano calms down
America in Decline
BlackListedNews: They Call This Justice. Supreme Court Gives CIA Torturers, Boeing a Free Pass
Guardian: Decline and fall of the American empire
The economic powerhouse of the 20th century emerged stronger from the Depression. But faced with cultural decay, structural weaknesses and reliance on finance, can the US do it again?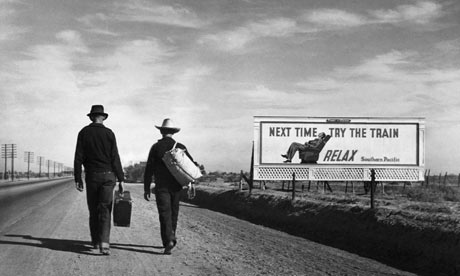 Dust-bowl refugees walk towards Los Angeles during the Great Depression. House prices have now fallen further than in the 1930s. Photograph: Bettmann/Corbis
EmptyWheel: Is Apparent US Conspiracy with Cisco about Wiretapping?
NakedCapitalism: Corporate Police State: Cisco Enlists Prosecutors to Impede Whistleblower Lawsuit
OrlandoSentinel: Three arrested, accused of illegally feeding homeless
Orlando police say they violated a city ordinance restricting the feedings.
MiamiHerald: Witnesses said they were forced to hide video after Beach shooting (Updated with video)
Food and Water
NaturalNews: Whole Foods admits its organic foods contain genetically modified ingredients
BBC: The unusual uses for animal body parts
BeforeItsnews: FDA sends US marshals to seize elderberry juice concentrate, deems it 'unapproved drug'
Wyldewood Cellars, a Kansas-based producer and distributor of elderberry juice, is the latest raid target of the US Food and Drug Administration (FDA), which recently sent US marshals to the company's winery in Mulvane to confiscate the "unapproved drug." According to the rogue agency, Wyldewood had violated provisions in the US Federal Food, Drug, and Cosmetic Act (FFDCA) that restrict health claims for food items, warranting the sudden invasion.

Science and Technology
BlackListedNews: One in four US hackers 'is an FBI informer'
SciNewsBlog: Your Jetpack is Almost Here!
Slate: Blogging the Periodic Table
Tungsten: Could It Solve Our Space Junk Problem?
MacWorld: Hackers exploit Flash bug in new attacks against Gmail users
Medical and Health
M&C: Thailand to take measures against spread of E coli
M&C: Culture clash sees HIV spreading among Vietnamese women
Reuters: Special Report: Inside Germany's E.coli hunt
Even if Germany finds the source of the E.coli outbreak that has infected thousands of people since early May, it may be too late for Erika.
This next story is about e coli from my neck of the woods. If any of you have similar local stories, send them along and I'll post them here.
TriCities: E. coli outbreak sickens at least 8
KNOXVILLE, Tenn. (AP) -- At least eight people have been treated at hospitals in East Tennessee so far this month for E.coli infections.
MarketWatch: Firms to cut health plans as reform starts: survey
30% of companies say they'll stop offering coverage
Doomsteading, Gardening, Urban Farming
PermacultureMag: How to make an oil drum BBQ
Step by step instructions on how to make your own BBQ for free from reclaimed materials in under an hour
ModernSurvivalBlog: Living in a Tiny Home – With No Mortgage
Other News
HuffPost: Facebook Party Gets Out Of Control After German Girl Forgets Privacy Setting
VOANews: Mexico Attracts US Retirees Despite Crime Wave
Guardian: Doctors asked to identify potential terrorists under government plans
Redrawn counter-terrorism programme will call on doctors' help, but BMA fears threat to patient confidentiality
Doctors and other health professionals will be asked to identify people who are "vulnerable to being drawn into terrorism" as part of the government's redrawn counter-terrorism programme to be detailed on Tuesday.
Former Iditarod Musher Missing; Friends Say She'd Never Have Left Her Dogs Unattended
BBC: Birmingham nursery worker admits child rape
MaxKeiser: 'Sarah Palin is nuts,' so Lady Thatcher will not be meeting her
(I guess even reptiles have standards. Who knew?)
WSJ: The Strauss-Kahn Trial Sounds Different in French
The Forums
TinfoilPalace: Weiner....
TinfoilPalace: America's Most Dangerous Pill?
TheOilAge: Tide of unemployment coming
TheOilAge: Jeff Neilson: No way out for US (new title)
Hubberts-Arms: Where will the food come from this year?
Hubberts-Arms: US Federal Government Hearts Marijuana...
SilentCountry: Housing to Decline By Another 20%
SilentCountry: Phantom Jobs Mask Extent of Joblessness