This is for all the boxing fans out there, Joe Frasier is in hospice care now with liver cancer.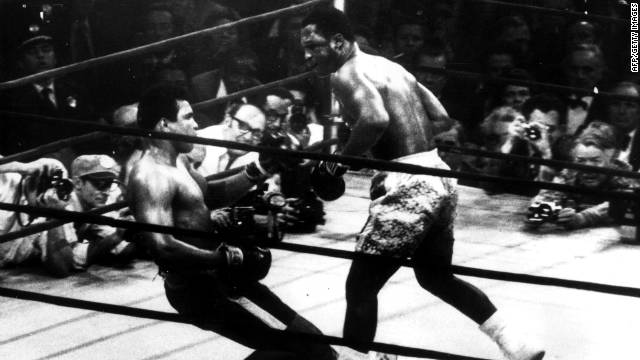 Frazier, the son of a South Carolina sharecropper, boxed during the glory days of the heavyweight division, going up against greats George Foreman, Oscar Bonavena, Joe Bugner and Jimmy Ellis.
Frazier bested Ali at 1971's "Fight of the Century" at Madison Square Garden. In the 15th round, Frazier landed perhaps the most famous left hook in history, catching Ali on the jaw and dropping the former champ for a four-count, according to Frazier's bio at the International Boxing Hall of Fame. Frazier left the ring as the undisputed champ.
Thanks to RJ at
Global Glass Onion
and the Ozarker at
Conflicted Doomer,
I hope you checked out RJ's weekly wrap up posted on Friday and do take a minute and stop by the Ozarker's blog and read her latest piece, "War, Wobblies and Winter Gardens".
Oh, and don't forget the forums linked at the bottom of this post! If you're missing old friends from LATOC most likely you'll find them at one or even all of the forums!
Global Conflict
This from the Ozarker
FDL: #OccupySupply Launches First Shipment of Cold Weather Gear
SOTT: Copwatch@Occupy Oakland: Police Infiltrators and Provocateurs Caught on Camera
HuffingtonPost: McDonald's Job Applications Dumped On 'Occupy' Protesters
HuffingtonPost: Keystone XL: Thousands Gather Outside White House In Culmination Of Protests
USAToday: Police arrest protesters in Atlanta, Honolulu
CNN: A roundup of Occupy protests
McClatchy: Thousands surround White House in protest of Keystone oil pipeline
Hosted: Israeli president: Clock ticking on Iran
MSNBC: Russia issues stark warning against attack on Iran -
IAEA expected to say that Iran is nearing nuclear capability, according to report
SeattleTimes: Poll shows Israelis divided over attacking Iran -
Israelis are evenly divided over whether their country should carry out a military strike against Iran's nuclear program, according to a poll published Thursday.
SeattlePI: Iranian influence seeping into Iraq
Reuters: Iran used foreign expertise for atom work: diplomats
Cryptogon: And Now: Iran About to Produce Nuclear Weapons [roll eyes]
Reuters: Israel's new regime of caution and restraint
CNN: IAEA report to detail efforts by Iran to develop a nuclear weapon
Telegraph: Russia warns against air strike on Iran
FT: UN to reveal Iran's 'intent' on nuclear weapons
Reuters: Q+A: U.N. report on Iran's nuclear program
FT: Iran has nuclear explosive testing facility
BlackListedNews: Iran will release 100 documents implicating U.S. in terrorist acts: Leader posted
JerusalemPost: Government begins deporting Gaza flotilla activists
NYT: Pakistan Indicts 7 in Bhutto Assassination
CNN:Greece: The morning after the night before
If the rest of Europe is appalled by the high-stakes political poker played by Greece's politicians, your average Greek can't countenance it anymore.
LegitGov: UK army chief secretly visits Tel Aviv
Haaretz: An inside look at the base where Iran is developing nuclear weapons
UN nuclear watchdog to release report on activities this week; Iran has carried out experiments in the final stage for developing nuclear weapons including explosions and computer simulations of explosions.
BusinessInsider: Is The U.S. About To Invade Iran?
JerusalemPost: Iranian cleric: Israeli military threats 'empty propaganda'
(let's hope so)
TheAtlantic: Pakistan's Lies About Nukes and Terrorists
Reuters: Insight: Has Iran ended Israel's Begin Doctrine?
CNN: Police in riot gear converge on Atlanta protesters; 19 arrested
WSJ: Red Cross: More Than 100 Dead in Nigeria Attacks
WSJ: Islamists Kill Dozens in Nigeria
Time: Latest Syria Crackdown: Deaths Rise to 23
USAToday: Thousands protest at White House over pipeline
Telegraph: Occupy Sydney protester arrested calls Magistrate Carl Milovanovich a 'scumbag' in court
CrooksAndLiars: Exclusive Video: #OccupyDC Protesters Hit by Driver…Who Police Let Go
FritzTucker: A Chill Descends on Occupy Wall Street: The Tangled Purse Strings
DemocracyinAction: Chris Hedges' Speech in Front of Goldman Sachs Leads to Arrest
Chris Hedges, Op-Ed: "Chris Hedges made this statement in New York City's Zuccotti Park on Thursday morning during the People's Hearing on Goldman Sachs, which he chaired with Dr. Cornel West. The activist and Truthdig columnist then joined a march of several hundred protesters to the nearby corporate headquarters of Goldman Sachs, where he was arrested with 16 others."
Hacker News
Cryptogon: 'Socialbots' Invade Facebook: Cull 250GB of Private Data
HindustanTimes: Israel: Govt websites crash after hacker threat - Hindustan Times:
In a major embarrassment to Israeli security agencies, their websites crashed barely two days after a hacker group threatened to paralyse the Jewish state's online activities over the interception of two Gaza-bound ships trying to break the blockade of the coastal territory.
TheAtlantic: How the CIA Uses Social Media to Track How People Feel
Financial News
NYT: Pressure Mounts on Greek Premier to Resign
USAToday: Bill Clinton's back, with a plan to help the economy
CNN: Greece's prime minister to quit in deal to salvage bailout package
CourierMail.AU: 'Coal girls' hit paydirt at Queensland's booming mining towns
THEY are the coal girls happy hookers striking it rich in booming mining towns across the state.
Fly-in, fly-out "working girls" travelling from as far away as New Zealand to the resource-rich regions of Queensland and Western Australia are making as much money in one or two days as mine labourers earn in a week.
NationofChange: Will Americans be Allowed to Vote on Supercommittee Austerity Plan?
Bloomberg: Berlusconi's Majority Unravels as Allies Turning
- Prime Minister Silvio Berlusconi's majority is unraveling before a key parliamentary vote tomorrow, with allies pressuring him to step aside after contagion from the region's sovereign debt crisis pushed Italy's borrowing costs to euro-era records.
Reuters: China says Europe will overcome debt crisis
Zerohedge: Wikileaks Exposes German Preparations For "A Eurozone Chapter 11"
BigGovernment: The Municipal Bond Market Is Imploding -
Moody's Credit Rating Service just announced the ominous trend that credit quality in the municipal bond market is falling at the fastest rate since the collapse of Lehman Brothers in 2008.
WashingtonPost: What caused the financial crisis? The Big Lie goes viral
WSJ: Canadians Lose Jobs as Manufacturing Suffers
BBC: Greeks agree coalition government without Papandreou
WashingtonPost: Census data show wealth of older Americans is 47 times that of young adults
DeclineoftheEmpire: Making The Poverty Numbers Look Better
Barrons: The Euro and Your 401(k)
YahooFinance: October Jobs Report: Deja Vu All Over Again -
This is getting repetitive. The October jobs report, out Friday morning, is very similar to the reports of recent months. Some 80,000 new payroll jobs were created, and the unemployment rate ticked down to 9.0 percent.
For months we've been noticing that, every month, the private sector adds jobs while the public sector cuts them. It's been the case for much of the past year that the U.S. economy is growing not because of government spending, but in spite of government cutbacks.
-
This is getting repetitive.
CharlesHughSmith: The Collapse of Our Corrupt, Predatory, Pathological Financial System Is Necessary and Positive
MarketWatch: France to unveil new austerity steps
- The French government will on Monday announce its latest efforts to bring its finances under control, with a new package of tax increases expected to be unveiled. The Wall Street Journal reported Sunday that French President Nicolas Sarkozy met with government ministers over the weekend to work on the measures.
BlackListedNews: Guns'n'Banks: There's no law on Wall Street
NYT: The Denials That Trapped Greece
- THE warning was clear: Greece was spiraling out of control. But the alarm, sounded in mid-2009, in a draft report from the International Monetary Fund, never reached the outside world.
SOTT: Foxes and Reptiles: Psychopathy and the Financial Meltdown
Guardian: Global recession grows closer as G20 summit fails -
IMF to monitor Italy to ensure austerity as leaders fail to agree plan for financial aid for distressed countries
Economix: Who Rules the Global Economy?
- Most economists today don't ask who rules the global economy, visualizing it as a decentralized competitive market that cannot be ruled. Yet new evidence suggests that global economic clout is highly concentrated among large interlocking transnational companies. Three Swiss experts on complex network analysis
have recently examined
the architecture of international ownership, analyzing a large database of transnational corporations. They concluded that a large portion of control resides with a relatively small core of financial institutions, with about 147 tightly knit companies controlling about 40 percent of the total wealth in the network. Their analysis draws heavily on
network topology
, a methodology that
biologists use
to good effect.
An article
in the British magazine
New Scientist
describes the research as evidence of a global financial oligarchy. The technical details of economic network analysis are daunting, but the metaphors evoke a "Star Trek" episode: the network is described as a bow-tie shaped "super entity" of concentrated corporate ownership. One cannot help but worry about threats to the safety of the starship Enterprise.
Krugman: Roubini On Internal Devaluation
CalculatedRisk: AAR: Rail Traffic increases in October
- The Association of American Railroads (AAR) reports carload traffic in October increased 1.7 percent compared with the same month last year, and intermodal traffic (using intermodal or shipping containers) increased 3.6 percent compared with October 2010.
WSJ: Berlusconi Rejects Calls to Resign Over Fiscal Crisis
- Italian Prime Minister Silvio Berlusconi on Saturday rebuffed calls to resign as thousands of protesters poured into the streets criticizing his handling of Italy's economy and calling for new leadership to steer the country out of the euro-zone debt crisis.
LAT: Ohio voters look set to dump Republicans' anti-union law
- An aggressive Republican drive to weaken the labor rights of government workers appears to have crested, at least in Ohio, where voters are expected to throw out a far-reaching anti-union law this week.
Cryptogon: Property Prices Collapse in China
CNNMoney: Europe: The worst-case scenarios
Bloomberg: Occupy My Wallet: Moving Money Off Wall Street
- If you're really ticked off at Wall Street, you've got some options: Grab your sleeping bag and head to the nearest protest site, or do something that actually pinches the big bankers' bottom line. The second choice may be the smarter one. While Occupy Wall Street protests are colorful and make for good sound bites, what major bankers and money managers really care about are their pocketbooks, and pain in that department is most likely to get them rethinking their ways.
BusinessInsider: You Won't Believe How MF Global Screwed Their Clients In Their Final Days Before Going Bankrupt
Spiegel: The End of Papandreou
- Greek Prime Minister Quits Ahead of New Coalition
NYT: The Gridlock Where Debts Meet Politics
TheNation: War Against Government Workers Is Prolonging the Recession
- The US economy gained 104,000 private sector jobs last month, but lost 24,000 public sector jobs, resulting in a net total of 80,000 new jobs—fewer than expected and well below what the country needs to get out of the Great Recession.
Peak oil and Energy News
just wanted to post this idiocy for laughs
Forbes: Peak Oil and ERoEI: Still Nonsense
I wrote recently about how peak oil is a rather nonsensical concept: technology is advancing at such a rate that we're discovering entire new planets to explore for the stuff.
DesdemonaDespair: UAE: World likely to face severe oil crunch by 2015
- November 3 (MENAFN / Khaleej Times) – There could be a severe global oil crunch by 2015 due to drastic changes in the oil market fundamentals, a World Bank consultant told the 17th Annual Energy Conference of the Emirates Centre for Strategic Studies and Research (ECSSR).
BusinessInsider: Peak Oil: Why We Need To Plan Now
EnergyBulletin: Dmitry Orlov on Fast Collapse & Alex Goldmark on Crowdfunding
TheOilDrum: Tech Talk - Drilling off the Atlantic Coast
NationofChange: Washington Post Admits Keystone XL Jobs are a Pipe Dream
Telegraph: Oil demand globally to peak before 2020
Guardian: BP's $6.75bn Russian oil gamble spills into dangerous territory
As a massive legal action over the Gulf of Mexico disaster looms, the British oil giant faces a claim in a New York court for $1bn damages amid allegations involving billionaire oligarchs and the criminal underworld on the oil frontier of Siberia
Commodities/Metals
Mineweb: 30% year on year price growth for gold as economic instability continues
Environmental News
M 4.5, Off Coast of Peru
ColoradoIndepedtent: Oklahoma earthquakes raise more questions about hydrofracking, injection wells
CNN: Oklahoma's largest quake buckles highway; 1 injured
Reuters: Fourteen homes damaged in record earthquake in Oklahoma
USGS: 10 aftershocks following 5.6 quake in Okla.
NYT: Oklahoma Rattled by 23 Quakes, Including the Strongest Ever Felt in the State
NYDaily: Scientists puzzled by recent seismic activity after biggest earthquake in OK history.
Oklahoma typically had about 50 earthquakes a year until 2009. Then the number spiked, and 1,047 quakes shook the state last year, prompting researchers to install seismographs in the area.
MSNBC: 5.6 earthquake hits central Oklahoma after earlier shakers
Okla. Quakes Rattle Nerves, No Injuries Reported
NYT: Oklahoma Hit by Earthquake for a Second Night in a Row
- For the second night in a row, an earthquake rattled Central Oklahoma late Saturday night, waking residents, breaking dishes and generally startling people more accustomed to natural disasters from above than from below their feet. The quake, which the United States Geological Survey said had a preliminary magnitude of 5.6, occurred about 10:53 p.m. and was centered near Sparks, Okla., a town of 137 people about 45 miles east of Oklahoma City.
Reuters: Huge asteroid headed for close encounter with Earth -
A huge asteroid will pass closer to Earth than the moon Tuesday, giving scientists a rare chance for study without having to go through the time and expense of launching a probe, officials said.
This radar image of asteroid 2005 YU55 was generated from data taken in April of 2010 by the Arecibo Radar Telescope in Puerto Rico.
Credit: Reuters/NASA/Cornell/Arecibo/Handout
ABCScienceAU: Climate change affecting oceans faster: study
DesdemonaDespair: Global greenhouse gas emissions exceed worst-case scenario
Cassandra'sLegacy:
Burning the skeptics: a false flag campaign against the concept of man made global warming
In short, "Combustible" is an even more obvious fake environmental video than "No pressure" which, at least, was linked to a real web site. Both are "false flag" operations designed to smear the environmental movement, depicting its members as murderers. Of course, there is no direct evidence for this statement. But there is no evidence of the opposite, either - that is that it was commissioned by caring, if misguided, environmentalists. We just don't know: "Combustible" is "orphan", that is doesn't come from any known environmental organization. And that should be considered suspicious, to say the least.

Personally, I don't know what to think. the blog linked above says this is a "false flag" piece put on by a bunch trying to make environmentalists look heartless or something.
SOTT: US: Timber! The dramatic moment a pair of 250ft giant sequoias that have stood for 1,500 years fell to the ground
DesdemonaDespair: Record floods continue torrent of destruction in Thailand – Flooding reaches deeper into Bangkok, residents complain government sacrificing poorer areas
TheAtlantic: Scenes From an Island Nation Facing Its Own Demise
ExtinctionProtocol: Landslide triggered by heavy rain leaves 14 dead in Colombia- homes buried in mud
- November 6, 2011 – COLOMBIA – A landslide caused by heavy rains left 14 people dead and dozens more missing in northwest Colombia
RawStory: Halliburton sued over groundwater pollution
YahooNews: Frozen Microscopic Worlds Come Alive as Earth Warms
- As our planet warms, a world locked in permafrost will come alive, and researchers worry the tiny inhabitants of the frozen soil will start churning out greenhouse gases, magnifying global warming. "Nobody has looked at what happens to microbes when the permafrost thaws," said Janet Jansson, a senior staff scientist at Lawrence Berkeley National Laboratory in California.
BusinessInsider: There Are Now 7 Billion People In The World And We're Running Out Of Stuff:
Earlier this week, the (estimated) total number of people in the world blew past 7 billion. To put that number in context, for the first 70,000-odd years of human history, the total human population was around 1 million.
America in Decline
Below is a heartbreaking story from our own Bill Hicks
DownwardSpiral: Homeless in High School
VOA: Sexual Harassment Looms Larger Than Cain in US
ABNews: Survey: Sexual Harassment Pervasive in Grades 7-12
WSJ: Generation Jobless: For Those Under 24, a Portrait in Crisis
- The U.S. labor market is in a malaise, but young adults are in crisis. Though workers of all ages face economic headwinds, teens and adults under the age of 24, especially those with little or no college education, are faring the worst, economists say.
Hosted: Half of US students face sex harassment: survey
BlackListedNews: Extreme Poverty Is Now At Record Levels: 19 Statistics About The Poor That Will Absolutely Astound You
TransitionVoice: Collapse could happen, literally, overnight
SaltLakeTribune: Most of the unemployed no longer receive aid
DetroitNews: Most of the unemployed no longer receive benefits
NPR: Child Sex Charges Rock Penn St. Athletics
CafeMom: Mom Denied Groceries for 'Hungry Children' Because She Can Only Pay in Change
A mother, who's too embarrassed to release a photo of herself or her name, was denied at a grocery store when she tried to pay for her hungry family's food in loose change. The woman who's using the name "Jean" to get her story out said, "We had nothing to feed our children with. So we broke out the change."
USAToday: Catholic bishops' lesson for Penn State: Call the cops!
LAT: A hard road for the poor in need of cars
- For more than a century, efforts to help the disadvantaged have focused on education, healthcare, nutrition and housing. Almost nothing has been done to help the working poor afford cars, despite research that indicates it would help alleviate poverty. About 1 in 4 needy U.S. families do not have a car, according to the Annie E. Casey Foundation. That's a serious handicap for the millions of Americans who don't have access to robust mass transit. A nationwide survey of 353 people who bought cars with help from a nonprofit group called Ways to Work found that 72% reported an increase in income. Of those who were on public assistance when they acquired a car, 87% were no longer receiving it a few years later. Other studies have found that low-income people were more involved in community activities and had better access to healthcare after getting cars, while their children participated more frequently in after-school programs. "You're more likely to have a job and less likely to be fired,"
NationofChange: Too Big to Jail
- Can we all agree that a $1 billion swindle represents a lot of money, and the fact that Citigroup agreed last week to pay a $285 million fine to settle SEC charges for "misleading investors" demonstrates a damning admission of culpability? So why has Robert Rubin, the onetime treasury secretary who went on to become Citigroup chairman during the time of the corporation's financial shenanigans, never been held accountable for this and other deep damage done to the U.S. economy on his watch?
Food and Water
MSNBC: FDA: Moldy applesauce repackaged by school lunch supplier
All Of These Food Addiction Studies Could Mean Lawsuits For Junk Food Companies (PEP, KFT)
- PepsiCo, Kraft and other companies that sell junk food are worried that recent addiction research could lead to a ton of consumer safety lawsuits
NYT: The Lost Art of Buying From a Butcher
MJPerry: U.S. Corn Yields Have Increased Six Times Since the 1930s and Are Estimated to Double By 2030
Science and Technology
BusinessInsider: WEIRD: The Internet Just Died For About 30 Seconds Around The Country
Wired: So Long, Launchpads; Pentagon Wants Jets to Send Sats Into Orbit
ScientificAmerican: Planetary Scientists Hope to Bring Back Mars Moondust
A Russian spacecraft will soon depart for Phobos, the larger of Mars's two tiny moons. It will attempt to land there, scoop up some soil and return it to Earth for analysis. The spacecraft, called Phobos-Grunt , launches as soon as November 8th.
BlackListedNews: Petman - The two-legged humanoid war droid (We're Doomed)
Email from Spaceweather.com
ASTEROID FLYBY: NASA radars are monitoring 2005 YU55, an asteroid the size of an aircraft carrier, as it heads for a Nov. 8th flyby of the Earth-Moon system. There is no danger to our planet. At closest approach on Tuesday at 3:28 pm PST (23:28 UT), the space rock will be 324,600 kilometers away. Nevertheless, professional astronomers are eagerly anticipating the flyby as the asteroid presents an exceptionally strong radar target. Even amateur astronomers might be able to photograph it during the hours around closest approach. Check
http://spaceweather.com
for observing tips and more information.
ChronicleOfHigherEducation: The Fraud Who Fooled (Almost) Everyone
- It's now known that Diederik Stapel, the Dutch social psychologist who was suspended by Tilburg University in September, faked dozens of studies and managed not to get caught for years despite his outrageous fabrications. But how, exactly, did he do it?
Medical and Health
ScientificAmerican:
Brains Built To Cooperate
BlackListedNews: Psychiatric Drugs, School Violence, and the Big Pharma Cover-up
PhysOrg: Microbiologists identify two molecules that kill lymphoma cells in mice
Cryptogon: 'Researchers Creating Ultimate Flu Shot'
RawStory: New York program aims to revolutionize drug addiction recovery
NYT: Reefer Madness
- MARIJUANA is now legal under state law for medical purposes in 16 states and the District of Columbia, encompassing nearly one-third of the American population. More than 1,000 dispensaries provide medical marijuana; many are well regulated by state and local law and pay substantial taxes. But though more than 70 percent of Americans support legalizing medical marijuana, any use of marijuana remains illegal under federal law.
CNN: Do flu shots increase Alzheimer's risk?
Vitals: Acetaminophen linked to asthma in new report
Doomsteading, Gardening, Urban Farming
ModernSurvivalBlog: Basic Supplies for a Winter Snow-Storm Power Outage
ModernSurvivalBlog: Could This Enormous Sunspot Be THE ONE?
ContainerVegetableGardening: What You'll Need To Start Container Vegetable Gardening (Gardening Tips'n Ideas)
WSJ: The Green Man Whose Gardens Defy Gravity
MotherEarthNews: Roasting Squash and Pumpkin Seeds
YesMagazine:

Toilet Paper Preparedness vs True Resilience
What I learned from the hurricane: Real emergency preparedness has more to do with community than canned goods.
Hack a wind up flashlight to charge your cellphone
MotherEarthNews: Start your subversive gardening plot today TED VIDEO
CSMonitor: Second Amendment Quiz
Other News
SOTT: US: 'Taxed out' New York City smokers are rolling their own
MSNBC: White House: There's no sign of E.T. or UFO cover-up -
Science policy official responds to petitions calling for full disclosure
DailyMail: Engaged couple discover they are brother and sister when their parents meet
Fox: Graffiti Legend Unmasked As NYPD Cop -
Police discovered the identity of one of New York City's most prolific graffiti vandals -- and he is one of their own.
Steven Weinberg, 43, a patrolman who retired from the NYPD in 2001 after hurting his leg, is the notorious "Neo" -- one of the peskiest subway taggers of the 1980s.
BusinessInsider: The Army Just Received Its First Batch Of These New Longbow Apache Helicopters
MSNBC: Jack the cat dies after getting lost at JFK
VOA: Muslims Stone Satan at Hajj
MSNBC: Victims speak out about North Carolina sterilization program, which targeted women, young girls and blacks
BlackListedNews: Feds Drop Plan to Lie in Public-Record Act Requests
Bowing to political pressure, the Justice Department abruptly dropped proposed revisions to Freedom of Information Act rules Thursday that would have authorized the government to inform the public that requested records do not exist even if they do.
SOTT: BEST OF THE WEB: The Greatest Epidemic Sickness Known to Humanity
Speaking about this very same psychic epidemic, Forbes writes, "For several thousands of years human beings have suffered from a plague, a disease worse than leprosy, a sickness worse than malaria, a malady much more terrible than smallpox."[i] Indigenous people have been tracking the same 'psychic'[ii] virus that I call malignant egophrenia for many centuries and calling it "wetiko," a Cree term which refers to a diabolically wicked person or spirit who terrorizes others. Professor Forbes, who was one of the founders of the Native American movement during the early sixties, says, "Tragically, the history of the world for the past 2,000 years is, in great part, the story of the epidemiology of the wetiko disease."[iii] Wetiko/malignant egophrenia is a 'psychosis' in the true sense of the word as being a 'sickness of the soul or spirit.' Though calling it by different names, Forbes and I are both pointing at the same illness of the psyche, soul and spirit that has been at the root of humanity's inhumanity to itself.
Guardian: Man injured in model train crash
Man suffered abdominal and pelvic injuries after being crushed by model train in his back garden
10ZenMonkeys: Why Thomas S. Roche Dreams of a Zombie Apocalypse
MSNBC: Is Obama's rail initiative a 'train to nowhere'?
- High-speed train plan draws little enthusiasm as California costs soar
Politics
DailyBail: EXPOSED - Sarah Palin Conveniently Forgets That She Supported The Bailouts: "Protesters Want Bailouts Just Like Wall Street Fat Cats"
LAT: Herman Cain: 'I am the Koch brothers' brother from another mother'
DailyBail: Rick Perry's Bailout Lies: TARP Hypocrisy Caught On Tape
WSJ: Romney Proposal Would Privatize Part of Medicare
WashingtonPost: Yes, the GOP race is a strange campaign
Slate: Never Happened
- Conservatives aren't just defending Herman Cain. They're denying the very existence of sexual harassment.
Sexual harassment is now nothing. Welcome to the era of gender harassment denialism. The harassment skeptics claim that harassment, like racism, used to exist but is now over. Twenty years ago, when charges were leveled at Clarence Thomas, supporters of the accused refused to take the accuser seriously. Now supporters of the accused refuse to take the accusation itself seriously. We have gone from not knowing what sexual harassment is to not believing it still happens. All in less than 20 years.
GadsenTimes: Rice defends her native Alabama on immigration law
DailyBail: Rick Perry's Bailout Lies: TARP Hypocrisy Caught On Tape
RawStory: Vandals leave Reagan statue leaning left
The Forums
TinfoilPalace: Body of Para who died in police custody THIRTEEN years ago turns up at mortuary more than a decade after he was 'buried'
TinfoilPalace: Mayan Calendar 9 MOON Sun.
TheOilAge: 5.6 in Oklahoma
TheOilAge: Unable to pay bill, Mich. city turns off lights
HubbertsArms: Israel army, intel websites down after hacker threat
HubbertsArms: XL Tar Sands Pipeline Through The Sandhills
SilentCountry: Peak Denial over at Forbes Magazine
SilentCountry: Oregon Woman Guts Hor
se, Poses Inside of Carcass