I've posted this in America in Decline too, it is a
must
read article.
We, as citizens, are, in, deep, doo doo.
and something light hearted from the Ozarker!
Thanks to RJ at
Global Glass Onion
and the Ozarker at
Conflicted Doomer,
for all their help. Please do support their good works and visit their blogs. And don't forget the forums linked at the bottom of the post.
Japan
DesdemonaDespair: Possible to save Fukushima Prefecture, but 'evacuated residents must accept that it won't happen in their lifetimes'
Global Conflict
CNN: Syrian opposition: Massacre could follow deadline
NYT: Iran Is Asked To Return US Drone
NYT: Iran Rejects US Request for Return of Drone
CNN: Jewish 'terrorists' attack Israeli base on the West Bank
NYT: Arrests in Iraq Raise Concerns About Maliki
Reuters: Syria death toll hits 5,000 as insurgency spreads
Reuters: U.S. lawmakers freeze $700 million to Pakistan, ties strained
TheAtlantic: Photos: Russian Protests
WashingtonPost: Leaders are defiant, but many Iranians fear war
Time: For Syrian Dissidents Abroad, Even Exile Isn't Safe
Telegraph: Belgium grenade attack: latest
BlacklistedNews: Singapore Air Force stages complex war game in Arizona
VancouverSun: Anger as Netanyahu backs ban on calls to prayer
Telegraph: Israel closure of al-Aqsa mosque ramp 'a declaration of war'-
Israel's closure of a wooden access ramp to the Al-Aqsa mosque compound is tantamount to a declaration of war on Muslim holy sites in Jerusalem, Hamas has warned.
SeattlePI: Senior Israeli: Arabs not ready for democracy
SeattlePI: House and Senate agree on sweeping defense bill
Independent: Russia's middle class rises up against Putin
ExtinctionProtocol: Choke point: volatile events in the Middle East a global economic and military powder keg awaiting a spark
LegitGov: Police to test laser that 'blinds rioters'
TheAtlantic: NSC's McDonough: 'I'm Really Pissed Off That There Are People Out There Who Doubt Our Resolve to Stop Iran'
OWS
NYT: Protesters halt operations at some western ports
TheNation: What a Difference an Occupation Makes
MSNBC: Police remove Occupy Baltimore protesters
Telegraph: World leaders remember thousands who died in Iraq
- US President Barack Obama and Iraqi Prime Minister Nouri al-Maliki placed a wreath at the Tomb of the Unknown Soldier at the Arlington National Cemetery in Virginia, honouring the men and women who died in the Iraq war.
CNN: Occupy protesters try to disrupt ports; police make arrests
Financial News
BusinessInsider: This Abandoned Theme Park On The Edge Of Shanghai Is Only The First Sign Of A Major Crash
NakedCapitalism: CME to Customers: Drop Dead
- We see a variant of the Sumitomo "customer be damned" attitude becoming widespread in financial services. The latest example is CME, which is under the hot lights in the wake of the MF Global debacle.
MarketWatch: Our decade from hell will get worse in 2012
Reuters: WaMu settles dispute, eyes bankruptcy exit
CNNMoney: MAIN ST. WANTS ANSWERS
Chron: Texas comptroller declares economic recession over
UPI: Moody's not impressed with EU fix
CNBC: If Fed Decides to Ease Again, Price Could Hit $1 Trillion
Reuters: Analysis: Pain may not be over for U.S. banks
Forbes: Did Citi Dupe Its Own Employees About Risky Investments?
CNBC: S&P Says Euro Zone May Need Another Shock
WashingtonPost: The view from the 1 percent
- Now that the financial industry and major corporations have successfully lobbied Congress to make more people poor and to keep them that way, they are discovering the downside of unbridled greed: people are too broke to buy their products.
CNNMoney: Consumer bureau 'Stalinistic' - Republican senator
NYT: Millionaires on food stamps, jobless pay? GOP is on it
- Bill would exclude Americans with gross adjusted income over $1 million
McClatchy: Study: Gingrich tax plan would give lion's share to the rich
CalculatedRisk: Retail Sales increased 0.2% in November
Peak oil and Energy News
CNBC: Oil to Drop Below $100 Easing Pressure on OPEC to Up Output: Survey
Reuters: COLUMN-Fracking no more risky than other oil, gas wells: Kemp
IBTimes: Iran Discovers World's Largest Offshore Natural-Gas Field in Caspian Sea
USAToday: Electric bills
- By state, what residential customers paid in cents per kilowatt hour in 2010
EnergyBulletin: The Bakken boom -- A modern day gold rush
TheAtlantic: Race Around the World: The 20-Year Contest for Oil
WSJ: Vital Signs: Gas Prices Move Lower
- Falling gas prices are leaving many consumers with a little extra cash to spend during the holiday season. A gallon of regular gasoline cost an average of $3.274 as of Monday, according to the U.S. Energy Information Administration. That was down 1.6 cents from a week ago but still 29.4 cents higher than prices were in mid-December last year.
Commodities/Metals
Mineweb: America's 'first gold coin' fetches a record $7.395 million
Environmental News
Independent: Shock as retreat of Arctic sea ice releases deadly greenhouse gas
- Dramatic and unprecedented plumes of methane – a greenhouse gas 20 times more potent than carbon dioxide – have been seen bubbling to the surface of the Arctic Ocean by scientists undertaking an extensive survey of the region.
ExtinctionProtocol: Mysterious explosion and fireballs seen as homes shaken in rural Kentucky
Wired: 'Arms Race' Exists Between Snakes and Humans
TVNewsLies: All the World's a Grave
-Here's what's going to happen if we all keep putting one foot in front of the other courtesy of Jeremy Leggett, geologist turned environmentalist writing about the near-future in 2006, "
The price of houses will collapse. Stock markets will crash. Within a short period, human wealth -- little more than a pile of paper at the best of times, even with the confidence about the future high among traders -- will shrivel. There will be emergency summits, diplomatic initiatives, urgent exploration efforts, but the turmoil will not subside. Thousands of companies will go bankrupt, and millions will be unemployed. Once affluent cities with street cafés will have queues at soup kitchens and armies of beggars. The crime rate will soar. The earth has always been a dangerous place, but now it will become a tinderbox
.
... As with the Great Depression, economic hardship will bring out the worst in people. Fascists will rise, feeding on the anger of the newly poor and whipping up support. These new rulers will find the tools of repression -- emergency laws, prison camps, a relaxed attitude toward torture ...
If that's as bad as it's going to get, then everybody can breathe a huge sigh of relief. But sadly we've got a lot more down to go.
CBSNews: Climate conference approves landmark deal
Salon: Welcome to the new Arctic
- Melting ice is beginning to transform the world's shipping routes. But will it launch a new Cold War?
DeclineoftheEmpire: What Will The Humans Do?
- Thus read the lead in ABC News reporter Bill Blakemore's story
Three Sleepless Nights In A Global Emergency
about the outcome of the Durban climate conference.
ExtinctionProtocol: Duck plagues: heavy seasonal rains unbalance ecosystems across Australia
Independent: 11th-hour agreement in Durban sees Big Three legally bound to reduce carbon emissions
America in Decline
PopSci: For the First Time, Predator Drones Participate in Civilian Arrests on U.S. Soil
DeclineoftheEmpire: The Wal-Mart Fortune In The New Gilded Age
CNBC: Why Is Eric Cantor Blocking the Congressional Insider Trading Act?
-In a strange and unexpected twist, the Republican leader in the House of Representatives is now blocking progress on a bill that would definitively outlaw insider trading by federal lawmakers.
BlacklistedNews: Verizon 'maliciously' sends civil emergency alert to New Jersey cellphone users
Salon: Northeast States Cut Heating Aid To Poor
Money: Playing Politics With Social Security
RawStory: Gingrich signs pledge forbidding adultery -
The pledge has already been signed by Texas Governor Rick Perry, Rep. Michelle Bachmann (R-MN) and Rick Santorum. Former Massachusetts Governor
Mitt Romney
and
Rep. Ron Paul
(R-TX) have said they would not sign the pledge. Gingrich chose to sign today after initially declining to do so in August, when the text of the pledge claimed that African-American children
were better off under slavery than they are today
. That text
has since been removed
. He also vowed to uphold The Defense of Marriage Act (DOMA), which prohibits same-sex marriage.
NPR: Unpaid Bills Land Some Debtors Behind Bars
- Although debtors' prisons are illegal across the country, it's becoming increasingly common for people to serve jail time as a result of their debt. Collection agencies are resorting to some unusually harsh tactics to force people to pay their unpaid debt, some of whom aren't aware that lawsuits have been filed against them by creditors. Here's how it happens: A company will often sell off its debt to a collection agency, generally called a creditor. That creditor files a lawsuit against the debtor requiring a court appearance. A notice to appear in court is supposed to be given to the debtor. If they fail to show up, a warrant is issued for their arrest.
Food and Water
BusinessInsider: Expect To Pay More Than Ever At Restaurants In 2012
- Those pricey Thanksgiving birds were just the tip of the food inflation iceberg. Consumers will pay as much as 5 percent more at U.S. restaurants in 2012, a new study shows
TheAtlantic: Is the Farm Boom Headed for a Bust?
BlacklistedNews: Butter Shortage in Norway: Bids to Roughly $465 Per Pound
CNN: North Carolina poultry company recalls cooked chicken
Science and Technology
Guardian: Higgs boson and the LHC: key points explained
NYT: 'Tantalizing Hints' but No Direct Proof in Particle Search
CSMonitor: Higgs boson: Has the 'God particle' been found?
CosmicLog: Higgs vs. hype: a mini-guide
Wired: Why Skyrim Is Horrible for the Economy
Medical and Health
Krugman: Paying For Health Reform
- I've noticed an odd thing in comments whenever the subject of Obamacare comes up. Many commenters scoff when I say that the Obama health reform was fully paid for; not only that, but some of them confidently assert that the Congressional Budget Office says that the reform will increase the deficit. I assume that this is coming from some right-wing source. But you know, the CBO has a web site, and it's easy to check this; there's a convenient summary of the estimates
here
. .And, well, the estimates say that the reform is fully paid for: Oh, and it's paid for year by year, too — whatever you may have heard about 10 years of taxes paying for 6 years of coverage, or whatever, they're basically lies.If you have heard from your favorite source of information that the CBO says that Obamacare increases the deficit, you've just learned how reliable your source is.
ScientificAmerican: Brominated Battle: Soda Chemical Has Cloudy Health History
CNN: Parents keep watch on newborns with hospital webcams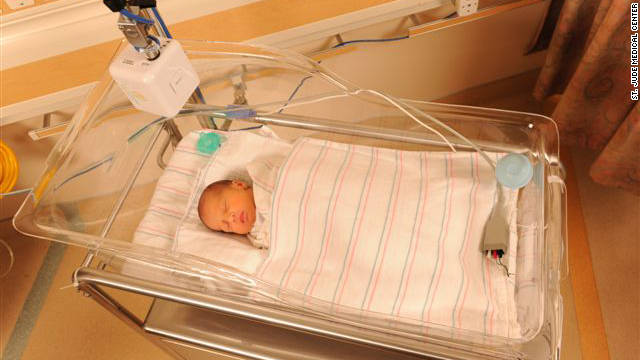 MSNBC: Working moms are healthier, happier, study finds
MSNBC: Tiniest preemies growing up healthy despite odds
Doomsteading, Gardening, Urban Farming
SHTFPlan: This Is What Your ATM Will Look Like During a Bank Panic *Video*
ModernSurvivalBlog: Best Gifts For Survival Preparedness?
KidDynamite'sWorld: Who Shall Live and Who Shall Die
- We lost another hen yesterday.
I wrote a few weeks ago
about how our hens had started laying eggs, and also about how we'd lost our first hen when she got spooked, separated from the flock, and ended up getting assassinated in the middle of the night – killed for sport. Yesterday, another hen – the biggest in the flock – got snatched by something before 4pm, which is to say that it was still light outside. Unlike the first kill, which was for sport – the culprit left the body, uneaten – this kill seems to be a different beast – there's nothing but a pile of feathers indicating trouble. I'm guessing fox, although I heard a coyote right around dusk, which could be the culprit.
Other News
PopSci: Virginia May Give Tax Breaks to Those Who Opt for Burial In Space
ABCNews: Police: FAMU Band Member Beaten, 3 Face Charges
Jezebel: Can You Tell The Difference Between A Men's Magazine And A Rapist?
LAT: Horses, once prized, are paying for the dire economy
SeattlePI: Saudi Arabia executes woman convicted of 'sorcery'
Politics
LAT: Ghost of a chance? Herman Cain haunts Iowa caucuses
SOTT: Gingrich Pledges Not To Commit Infidelity A Third Time, Reaffirms Opposition To Marriage Equality
CBSNews: GOP embraces showdown over oil pipeline, tax cuts
RawStory: Gingrich: 'I don't want to pay people 99 weeks to do nothing'
: Republican presidential candidate Newt Gingrich asserted Monday that workers who lose their jobs were being paid by the government for "99 weeks to do nothing."
The Forums
TinfoilPalace: And the revealing keeps on comming
TinfoilPalace: The conspiracy movie financed by drug money & destroyed by its distributors
TheOilAge: Another worthless climate deal
TheOilAge: Biggest world bankruptcy is coming!
HubbertsArms: Mary Portas: high streets destined to 'disappear forever'
HubbertsArms: Why do people defend unjust, inept, and corrupt systems?
SilentCountry: What's the go with Pakistan?
SilentCountry: Arctic Sea Ice Loss Unprecedented