I'm sorry about not getting a post up yesterday. The internet went out right in the middle of putting this post together and didn't come back on till sometime early this morning, so we'll have a special post today! Friday and Saturday news, and tomorrow I'll post us a documentary to watch.
Going to hurry and put this up as the internet is blinking out off and on again.
what's up with that?
Well, thanks to RJ's suggestion that the financial news be divided into domestic and global. Good idea and we're going with it!
also,
CNN: Santorum wants to impose 'Judeo-Christian Sharia'
"Imagine if either of the two Muslim members of Congress declared their support for a proposed American law based on verses from the Quran. The outcry would be deafening, especially from people like Santorum."
thanks to Linda for the above link. You know, that guy is certifiable. Full on, howling at the moon nuts. What's even crazier is the amount of support he gets here.
Here's a fascinating look back at the bombing of Pearl Harbor posted today at Signs of the Times from The American Cause.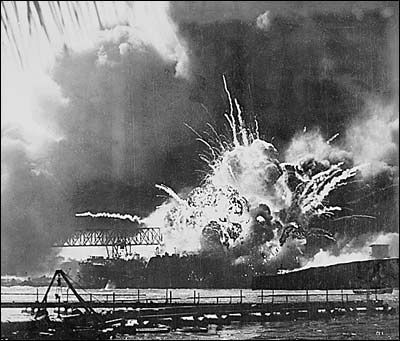 Thanks to RJ at
Global Glass Onion
and the Ozarker at
Conflicted Doomer,
for their contributions and help. Be sure to check out their great blogs today!
Japan
ExtinctionProtocol: Three earthquakes strike nuclear plant region of Fukushima district
Global Conflict
CNN: Iran welcomes US rescue of Iranian fishermen
LAT: Pentagon probing possible leak of Bin Laden raid details
TheAtlantic: How China Stays Stable Despite 500 Protests Every Day
CNN: Witnesses: Blasts strike Iraq's Army Day parade in Baghdad
ABCNews: Gaza Premier Plays Down Talks With Israel
Time: As U.S. Explores Dialogue with Muslim Brotherhood, Israelis Urge a Tougher Line Against Islamists' Rise
- Unlike its predecessor, the Obama Administration has understood the limits on Washington's ability to remake the Middle East to its own specifications
ExtinctionProtocol: Wave of violence sweeping across Nordic countries stuns Western observers
CharlesHughSmith: Want to Put Iran Out of Business? Here's How
PeoplesDaily: Chinese cargo ships attacked on Mekong River -
An illegal armed group fired rocket-propelled grenades at a Myanmar's patrol boat and Chinese cargo ships in the midnight of Jan. 4, said the Thai water police.
CNN: State media: Iran to hold military drills in the Strait of Hormuz
Iran plans to conduct military drills in the Strait of Hormuz in February, state media said Friday.
LegitGov: UK may take military action if Iran blocks Strait of Hormuz
Time: Iran's Regime Hands Rafsanjani Six-Month Prison Sentence
- Iran's former President Akbar Hashemi Rafsanjani found himself living the old cliché about revolutions devouring their own children on Tuesday, when a court in Tehran sentenced his daughter to six months in prison for "spreading propaganda" against the regime.
Wired: Trillion-Dollar Stealth Fighter Program Delayed, But Still Tracking
Reuters: Suicide bomb kills 25 in Damascus: Syrian TV
MSNBC: Report: Syria troops fire on Arab League monitors -
Meanwhile, Qatar PM says observer mission has made 'some mistakes'
NYT: Iran Responds With Anger to Proposals by Europe
VancouverSun: Karzai demands control of Bagram prisoners
IBTimes: String of targeted bombings in Iraq kill 73 Triggered by ouster of Sunni politicians
People gather at the site of a bomb attack that killed 15 people, injuring 32, in Baghdad's northwestern Kadhimiya district Thursday. Photograph by: Stringer, Reuters, Reuters
BusinessWeek: Obama Returns to Bush Plan for Cutting U.S. Troops in Europe
UKIndependent: Obama: the US can no longer fight the world's battles
- President plans to cut half a million troops and says US can't afford to wage two wars at once
BBC: Syrian government buries Damascus bomb victims
MSNBC: Report: Top Syrian general defects with 50 troops
Hacker News
MSNBC: New virus raids your bank account - but you won't notice
Domestic Financial News
MarkertWatch: The IRS launches tax season, and talks tax gap
BlacklistedNews: Code, scan, trade and profit. A new wave of computer enabled insider trading.
Mish: Profit Warnings at Target, Kohl's, J. C. Penney, American Eagle
UPI: First-time jobless claims drop by 15,000
Reuters: First-time buyers lean on the bank of mom and dad
NakedCapitalism: Quelle Surprise! Banks Plan to Fob off Some of the Costs of Multi-State Mortgage Settlement on Investors
- Yves Smith - Never underestimate the ability of
banks
to find new and creative ways to steal.
Cryptogon: U.S. Savings Bonds Go Paperless
BlacklistedNews: Here We Go Again: US $25 Million Away From Debt Ceiling Breach
DeclineoftheEmpire: Only Paul Krugman Understands Debt
RTTNews: Family Dollar Profit Up, But Sales Miss Estimate; Guides Q2
WSJ: Alcoa to close Tennessee smelter, make other cuts
NYT: Bain, Barack and Jobs
- Mr. Romney claims that Mr. Obama has been a job destroyer, while he was a job-creating businessman. For example, he told Fox News: "This is a president who lost ... two million jobs..." He went on to declare, of his time at the private equity firm Bain Capital, "I'm very happy in my former life; we helped create over 100,000 new jobs." But his claims about the Obama record border on dishonesty, and his claims about his own record are well across that border.
Mish: Whoa! The 10x Difference Between TrimTabs December Jobs Estimate of 38,000 New Jobs and ADP's Estimate of 325,000 Begs an Explanation
- For the second consecutive month, ADP has forecast an unusually high estimate of private job creation for the BLS payroll report. This month ADP's estimate is 325,000 jobs. Last month, and on many other occasions, ADP's estimates and the BLS reports were miles apart. Is one better than the other?
(This next story sent in by RJ, I had to read twice, I couldn't believe what I was reading!)
OfftheChartsBlog: An Appalling Idea, Even by Washington Standards
- For legislation to extend the payroll tax cut through the end of 2012, House Republicans are expected to push for a provision on unemployment insurance (UI) that is
appalling even by current Washington standards
. Neither President Obama nor Congress should accept any payroll-tax legislation that includes it. Here's why: The provision, part of a full-year payroll-tax bill that the House passed in December, would deny UI benefits to any worker who lacks a high school diploma or GED and is not enrolled in classes to get one or the other — regardless of how long the person worked or whether he or she has access to adult education, which itself has been subject to significant budget cuts in the past few years and is heavily oversubscribed.
Gawker: Here Are Some Rich New Yorkers Whining About Feeling Poor
- In the mood for some class rage? (Of course you are.) Gothamist
points us
to
message board
on uptight parenting forum UrbanBaby asking, "What's your hhi [
household income
] and do you FEEL poor, middle class, upper middle class or rich where you live. No judging. Ha ha, "no judging." As if this discussion existed for any other purpose. (Well, judging and trolling.) For your judgmental pleasure: UrbanBaby's most
harrowing tales
of economic hardship and financial woe:
Reuters: More U.S. employers cutting perks: survey
- More Americans say their employers are cutting bonuses and perks or initiating hiring freezes, and slightly more workers are worried about layoffs in the next six months, according to a quarterly survey of employee sentiment.
MSNBC: Hiring gained traction in December
NYT: Boeing to Shut Wichita Plant, Citing Cuts at Pentagon
IBTimes: U.S. Job Market - What's Holding Back Employment Growth?
McClatchy: Analysis: Romney tax plan would most benefit wealthy
CharlesHughSmith: By the Pricking of Equity's Thumbs, Something Wicked This Way Comes
Reuters: Unemployment near three-year low
Global Financial News
Aljazeera: Why India is riskier than China
NYT: Brazil's Boom Absorbs Haiti's Poor, For Now
CreditSlips: Greek VoluntaryInvolutary DealNoDealDeal: Convolution Eupdate
Zerohedge: Fitch Downgrades Hungary To BB+, Negative Outlook
BlacklistedNews: Look Out Below – The Nightmarish Decline Of The Euro Has Begun
Time: Does Microfinancing Really Work? A New Book Says No
A woman signs a register to receive a loan from a microfinance lender in Sadasivpet, India, Aug. 6, 2010.
Peak oil and Energy News
TechReview: Cleaner, Cheaper Liquid Fuel from Coal
- A new conversion process promises zero carbon emissions during production—but some question whether it will scale.
TheOilDrum: Oil will decline shortly after 2015, says former oil expert of International Energy Agency
EnergyBulletin: Iran and the price of oil - Jan 5
WSJ: Youngster's Bright Idea Draws Storm

-
NORTHPORT, N.Y.—A new way of collecting solar energy has polarized scientists around the world and ignited fierce debate on the Internet, where the innovator in question has been called everything from an alien to the agent of a global conspiracy.
Maybe a better title would be an intellectual Hannah Montana. That's because the scientist, Aidan Dwyer, is 13 years old.
IBTimes: Shell Declares Force Majeure in Nigeria -
Essentially meaning "greater force," the move helps the Anglo-Dutch oil company insulate itself from possible liabilities following the leak in the Nembe Creek pipeline,
the second in more than three weeks
in the country, by declaring it beyond the company's control.
SeattleTimes: Crude oil supplies increase by 2.2 million barrels
- The nation's crude oil and gasoline supplies grew last week, the government said Thursday.
IBTimes: The Energy Report - What Is Keeping OPEC Up At Night?
Environmental News
DesdemonaDespair: Tamino: What's the probability that man-made global warming will lead to disastrous climate change?
PopSci: Chinese Government Plans to Cause Ten Percent More Rain By 2015
- China is already doing plenty of things to the atmosphere above it, but most changes are byproducts of the country's marathon industrial revolution. Now China plans to make some purposeful atmospheric changes — namely
making it rain
, for the purpose of growing crops. China is starting four regional programs to artificially increase precipitation across the country by 10 percent before 2015, under a newly released 12th Five-Year Plan (2011-2015), according to the state-run
China Daily
. "Weather intervention" could bring an additional 230 billion cubic meters of precipitation per year — that's on top of the 50 billion China already artificially creates annually, China Daily says. "Because clouds are boundless, weather control is boundless.
LegitGov: Federal regulators say Ohio nuclear reactor safe despite not knowing cause of concrete cracks
RTTNews: Chinese Airlines Not To Pay EU's New Carbon Emission Tax
HLNTv: 'Lost world' found in Antarctica
MSNBC: Chile wildfires kill 5 firefighters, 3 missing
ExtinctionProtcol: Earth's climate unraveling? Winter disappears across portions of the northern hemisphere
CBS: 2011 was Texas' driest year on record
TheNewYorker: Chevron's Environmental Battle in Ecuador
America in Decline
LegitGov: The scaffolding of an American police state
BlacklistedNews: Obama launches Bureau of Counterterrorism
USNewsMSNBC: Homeless flock to shelters after Orange County killings
MSNBC: US teen runaway mistakenly deported to Colombia could soon return
BlacklistedNews: Operation Shield: DHS Officers Armed With Semiautomatics Running Unannounced ID Checkpoints
Reuters: For many Americans, jobs crisis to last many years
Food and Water
ScientificAmerican: Can Mountain Dew Really Dissolve a Mouse Carcass?
RawStory: Brave New Farming: Japan plans massive investment in futuristic robot farm -
Japan is planning a futuristic farm where robots do the lifting in an experimental project on land swamped by the March tsunami, the government said Thursday.
CityFarmer: California Farm Academy Aims to Produce Next Generation of Farm Entrepreneurs
Science and Technology
PopSci: Monkey Embryo Mashup Results In First Primate Chimeras
ScientificAmerican: Baby Monkeys With 6 Genomes Are Scientific First
MSNBC: Creatures frozen for 32,000 years still alive
- Bacteria found in Arctic tunnel come to life in the lab. A new type of organism discovered in an Arctic tunnel came to life in the lab after being frozen for 32,000 years.
Cryptogon: Feds Want Judge to Force Suspect to Give Up Laptop Password
Wired: Jan. 6, 2000: Computer Glitch Fouls East Coast Air Traffic
TechReview: Blog - Mathematicians Solve Minimum Sudoku Problem
PopSci: Video: Phobos-Grunt Will Make Its Fiery Return to Earth Next Week
CSMonitor: Time cloaking: how scientists opened a hidden gap in time
MSNBC: Planet-hunters kick off 2012 with four new worlds
- 'Hot Jupiters' discovered by network of small telescopes; more to come
CosmicLog: What mystifies Dr. Hawking? Women
Cryptogon: Microsoft Gets Patent for 'Avoid Ghetto' Technology
Medical and Health
GlaxoSmithKline Fined Over Illegal Vaccine Experiments Killing 14 Babies
Doomsteading, Gardening, Urban Farming
ModernSurvivalBlog: The Mega-Disaster Just Happened, What To Do?
CityFarmer: Young Urbanites Put Down Roots in Organic Farming in BC
(I want one. :D)
Other News
SOTT: Google, Amazon, Facebook may shut down to stop SOPA
CNN: Tortured Afghan girl too weak to move
LAT: Titanic artifacts up for auction: Casual buyers need not inquire
CNN: Colombia to hand over American teen mistakenly deported
CNN: Deadly mushrooms served as part of meal that kills 2, officials say
DetroitFreePress: FBI's Expanded Definition of Rape Will Recognize Men as Victims
Politics
RawStory: Maddow: Indiana GOP picked bad time to fight unions
TheNewYorker: Republicans vs. Science: Ranking the Candidates
MSNBC: Could Santorum be the winner in Iowa?
CNN: Could a mystery candidate for GOP race still emerge?
WashingtonPost: Santorum plays down long history as Washington insider
TheTennessean: GOP's redistricting map leaves Nashville intact
The Forums
TinfoilPalace: ELs, Atlantis, Scotland and Egypt
TinfoilPalace: 'US deploys troops in Israel for Iran war'
TheOilAge: All Warships Will Need Iran's Permission to Pass through SOH
TheOilAge: Refineries Shutting Down
HubbertsArms: Googling Santorum
HubbertsArms: 3 quakes right underneath Fukushima nuke plant — JNN live camera down 1/5/12
SilentCountry: Realizing the real value of food
SilentCountry: US to deploy troops to Israel