Check it out, it's Feb. 1 and, it's going to be 61 degrees here in pamland today.
Megadoom reports that the azaleas are blooming where he lives in Mississippi.
Link Here.
And if you were waiting on hell to freeze over, I think it happened in Alaska.
WashingtonPost: Coldest January on record for parts of Alaska
Maybe Earth has the flu. Fever and chills.
Oh, and this, this just tickled the hound out of me. LOL
HuffingtonPost: Welfare Drug Testing Bill Withdrawn After Amended To Include Testing Lawmakers
A Republican member of the Indiana General Assembly withdrew his bill to create a pilot program for drug testing welfare applicants Friday after one of his Democratic colleagues amended the measure to require drug testing for lawmakers.
and I didn't want this to get overlooked.
SeattleTimes: Romney: 'I'm not concerned about the very poor'
- Republican presidential candidate Mitt Romney said Wednesday that he's "not concerned about the very poor" because they have an "ample safety net" and he's focused instead on relieving the suffering of middle-class people hit hard by the bad economy.
(No, they aren't dropping like flies in the street where everyone can see, yet, so their safety net is ample. LOL )
And finally, here's something from hub! And guess what! it's Truckuary! Enjoy! LOL
Much thanks to our excellent friends RJ at the
Global Glass Onion
and the Ozarker at
Conflicted Doomer
for their help in finding important news for us today!
p.s. I'm having a bit of an art supply emergency this morning so I'm posting early but may add more later when i get back from art heaven. :D
Global Conflict
Zerohedge: In Advance Of Third Aircraft Carrier Approaching Iran, US Nuclear Sub And Destroyer Enter Red Sea
Here's another article from the Ozarker who is really keeping her eye on the Iran situation.
Guardian: Iran increasingly willing to launch US attack, top intelligence official warns
- James Clapper, US director of national intelligence, also says Tehran is keeping option open to develop nuclear weapons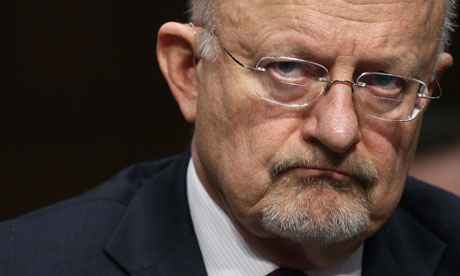 America's top intelligence official has claimed that
Iran
's leadership was now more willing than before to carry out an attack inside the US, and that intelligence agencies were worried about plots against US and allied interests around the world.
(see, check out his worried face. That's worried right there.)
MSNBC: UN nuke inspectors hail 'good' talks with Iran
- 'We are committed to resolve all the outstanding issues ... And the Iranians said they are committed, too,' mission leader says
GlobeAndMail: Taliban 'poised to retake Afghanistan' after NATO pullout, leaked US report claims
Hosted: 4 UK men admit London Stock Exchange bomb plot
VOA: Russia Says 'No Chance' of UN Adopting Syria Resolution
VOA: Leaked Report Alleges Pakistan is Helping Afghan Taliban
RawStory: Islamists admit plot to blow up London Stock Exchange
OWS
CNN: Park police can enforce camping ban, judge rules
iReport: As deadline passes, Occupy DC defy Park Police
MSNBC: Cameras no longer welcome at Occupy Wall Street? Attack highlights conflict
Hacker News
LegitGov: Salt Lake City police website hacked; Anonymous takes credit
Domestic Financial News
MiddleClassPoliticalEconomist: Expensive Subsidies Help State and Local Governments Drag Down Recovery
CalculatedRisk: Fannie Mae Serious Delinquency rate declines, Freddie Mac rate increases
BlacklistedNews: California To Run Out Of Cash In One Month, Controller Warns
CharlesHughSith: Counterfeit Money, Counterfeit Policy
Economix: How the Fed Presidents' Assets Stack Up -
The Federal Reserve, in its latest show of transparency, on Tuesday made available to the public the annual financial disclosures filed by the 12 presidents of its regional banks for 2010. Unfortunately, only the Atlanta Fed
put its president's disclosure online
. So we're posting the
entire set
in a document viewer.
AngryBear: Kooky Tax Protestors!
- Anybody who has read much of my blog probably has realized that I don't think much of "tax protestor" movements like the one Wesley Snipe got involved with. . They claim that there is no law that imposes an income tax liability or a duty to file a tax return. (They continue to make these absurd claims even after having the various provisions of the Code, regs and other authorities pointed out to them.) But today I received a letter. It is printed on expensive rag content paper, with an attorney's name prominently displayed at the top (from Shreveport, Louisiana) and it is addressed to me regarding my availability to be engaged as an expert witness on behalf of tax protestors who want to use the "Cheek" defense to criminal tax evasion charges.
Tennessean: Tennessee Commerce Bank failure could spawn shareholder lawsuits
TechCrunch: Why Every Entrepreneur Should Self-Publish a Book
NakedCapitalism: Why is the Normally Astute Taibbi Sounding Like a Hopey Dopey Liberal on the Mortgage Settlement?
- I hate taking issue with Matt Taibbi. But even someone as skilled as Taibbi occasionally has the writing equivalent of a bad hair day. And his post, "
A Victory for the Public on Foreclosures?
" is an example.
CalculatedRisk: ADP: Private Employment increased 170,000 in January
- ADP reports: Employment in the U.S. nonfarm private business sector increased by 170,000 from December to January on a seasonally adjusted basis...
CapitalGainsAndGames: The Real Story About The Obama Pentagon Changes
- Here are two easy-and-quick-to-read pieces on the magnitude of the military spending changes Secretary of Defense Leon Panetta actually announced last week. The simple answer according to two people who know is that the reductions are less than the headlines indicated.
EconomicCollapse: 47 Signs That China Is Absolutely Destroying America On The Global Economic Stage
NYT: In Atlanta, Housing Woes Reflect Nation's Pain
- Housing prices continue to fall nationwide, despite a few modest signs of improvement. But not all markets are equal. Places like Miami and Phoenix — symbols of boom-time excesses and later the sites of fierce crashes — were not the weakest performers last year. That distinction goes to Atlanta.
NYT: A Debt Market's Slow Recovery Is Burdened by New Regulation
BottomLine: Pace of job creation by private employers slows
Atlantic: Federal Budget Deficit to Shrink to $1.1 Trillion
BusinessInsider: Great News For the 99%
Zerohedge: Latest Congressional Budget Outlook For 2012-2022 Released, Says Real Unemployment Rate Is 10%
CNNMoney: It's the economy – and CEO pay, stupid
Global Financial News
thanks to
Seahorse at SilCo
for the following story
CommodityOnline: China and UAE ditch US Dollar, will use Yuan for oil trade
and here's a good one from RJ
Germany, Greece, and the conspiracy of the technocrats
-
Der Spiegel
has a long and meticulously reported piece on the state of affairs as it exists right now between Germany and Greece, naturally concentrating on attitudes within Germany. Meanwhile,
Yanis Varoufakis
has a much more Greek take on the same subject at CNN. And by far the most striking thing, here, is how similar the two pieces are.They're both saying the same thing: Germany has been treating Greece's insolvency as though it were some kind of liquidity crisis, which can be solved by lending Greece more money. But of course that's the worst possible thing you can do with an insolvent debtor: it only makes things worse rather than better.Here's Varoufakis:
German leaders, unwilling to confront their bankers and the fault lines developing throughout the eurozone, pretended to believe that the problem was Greece and that Greece could be "cured" by means of loans and austerity. At the same time, Greek leaders, unwilling to confront their electorate, pretended to believe that they could deliver the targets demanded by Germany
. This can be seen as a conspiracy of the technocrats: both sides deliberately agreeing to the impossible so that Europe would be dragged into ever-greater fiscal union.
EuBusiness: French banks would come to Britain to avoid tax
MoneyControl: Greece Must Pledge Tough Reforms for Debt Swap Deal
DailyBail: Irish Journalist Vincent Browne Vs. The ECB: "Explain Why The Irish People Have To Bailout Billionaire Bondholders!"
FT: Free-market evangelists face a lonely fate
WSJ: Saudis Push Young People Into Jobs
NYT: Making It Worse in Europe
LakeCountyRecord-Bee: Eurozone inflation steady at 2.7 percent
BusinessInsider: 25 EU Nations To Sign Treaty To Stop Overspending
IBTimes: Germany Sacrifices Itself to Save Euro Dream
CNNMoney: Europe's debt crisis: Where things stand
IBTimes: IMF Plays Down Risk of China 'Hard Landing'
Peak Oil and Energy News
CommodityOnline: Crude oil is flowing from the West to the East
CommodityOnline: India increases base import price of gold by 5 7% silver by 2%
TechReview: How Neutrino Beams Could Reveal Cavities Inside Earth
- Geophysicists want to use neutrinos to 'x-ray' the Earth, a technique that could reveal undiscovered oil fields. But how practical is such a
scheme?
Bloomberg: Fracking Boom Could Finally Cap Myth of Peak Oil: Peter Orszag
(i thought having to go to those lengths to get oil sort of proves Peak Oil? but, what do i know? LOL
Oh, and i'm sure folks won't mind all the earthquakes and lack of drinking water because of it either. That will be ok I'm sure.)
BusinessWeek: U.S Refiners, Oil Workers Avert Strike With Tentative Contract
CNNMoney: Ethanol's food-fuel dilemma
FuelFix: Gasoline prices on the rise as refineries close
Commodities/Metals
ETFDailyNews: Hey Silver Bugs: Is James Turk Off His Rocker? (SLV, GLD, AGQ, PSLV, ZSL, SIVR, SIL, UUP)
Environment
NewScientist: Ivory traders may be benefitting from Arab Spring
- The Arab Spring in Egypt may be a triumph for people and democracy, but it's been bad news for elephants. The illegal trade in ivory may have benefited from a lack of law enforcement. Much of the trade has been driven by unprecedented demand from Chinese tourists.
ExtinctionProtocol: Alert level raised at Alaska's Celevland Volcano – explosions expected with lava dome
RedditScience: Amazonian Mushroom thrives on polyurethane, can eat indestructible plastics
TheTelegraph: Burmese Pythons invade the Florida Everglades
- The disappearance of raccoons and bobcats from the Everglades National Park can mean only one thing: an invasion of Burmese Pythons, says study.
LAT: Groundhog Day: Which winter-predicting groundhog will you choose?
Slate: Do Hibernating Animals Ever Get Up To Go to the Bathroom?
NatGeo: "White," Albino-like Penguin Found
USAToday: NASA: Global warming caused mostly by humans
USAToday: Death toll from European cold spell hits 58
Stateline: State commissioners ask EPA for stricter vehicle and fuel standards
America in Decline
BlacklistedNews: Drug war hypocrisy: drug trafficking's big money benefits Big Brother and corrupt banksters
BangotDailyNews: Ranger uses stun gun on man walking dogs off-leash
WhistleBlower: Whistleblowers Expose FDA's Illegal Surveillance of Employees
- As reported in
today's
Washington Post
, six current and former employees of the Food and Drug Administration (FDA) have
filed a complaint against the FDA
in U.S. District Court. The employees are seeking an injunction to stop the agency from illegally spying on employees' private communications to Congress and other oversight agencies.
EconomicCollapse: Making Money On Poverty: JP Morgan Makes Bigger Profits When The Number Of Americans On Food Stamps Goes Up
Slate:
The Outrageous Illinois Law That Makes Recording Police Arrests a Felony
DeclineoftheEmpire: Never Ending Unemployment
Food and Water
Slate: Meat of the People
MSNBC: McDonald's drops use of gooey ammonia-based 'pink slime' in hamburger meat
Internet and Online Privacy News
Time: Is Google In Danger of Being Shut Out of the Changing Internet?
NYT: Personal Data's Value? Facebook Is Set to Find Out
Science and Technology
NewScientist: Hayabusa's asteroid-sampling mission, take two
ScientificAmerican: Thanks to Plants, We Will Never Find A Planet Like Earth
NYT: The Bookstore's Last Stand
NYT: DNA Turning Human Story Into a Tell-All
CBC: NASA spacecraft finds atoms beyond solar system
TechnoLog: Online petition asks Apple for 'ethical' iPhone
Medical and Health
ScientificAmerican: Word-of-Mind: Researchers Decode Words from the Brain's Auditory Activity
Newsday: Pfizer recalls 28 lots of birth control pills
SeattleTimes: 42 Wash. lawmakers ask DEA to reclassify marijuana
BusinessInsider: Some US Hospitals Are Desperate To Stop Falling Short Of Patient Safety Standards
Slate: Mass Hysteria in Upstate New York
WellBlogsNYT: Exercise as Housecleaning for the Body
TheChart: New skin cancer drug approved
Doomsteading, Gardening, Urban Farming
PreppingToSurvive: A Case for Morse Code
- In 1965, Jeremiah Denton was the Commanding Officer of an attack squadron aboard an aircraft carrier positioned off the coast of Vietnam.
ModernSurvivalBlog: They Are More Powerful Than Governments
Other News
BBC: Netanyahu wins Likud party leadership vote
Teacher In 'Bondage' Pics Case To Appear In Court
Cryptogon: James Cameron Buys Farms, Plans to Move Family to New Zealand
TheAtlantic: Who Is Behind Susan G. Komen's Split From Planned Parenthood?
LAT: 'Soul Train' creator Don Cornelius dead in apparent suicide
SunTimes: 11th victim found days after deadly Gainesville crash on I-75
MSNBC: South Africa: 4 given 18 years in jail for killing lesbian
MemphisCommercialAppeal: Judge concludes Memphis photographer Ernest Withers served as FBI informant
- A federal judge ruled Tuesday that FBI documents confirm the late Memphis photographer Ernest Withers served as an informant for the agency.
The ruling by U.S. District Judge Amy Berman Jackson, in response to a lawsuit by The Commercial Appeal, marks the first time a federal official has affirmed what FBI records already state: Withers, a civil rights insider, secretly worked as an informant during the heated struggle for equality in the 1960s.
Its historical impact aside, Jackson's ruling gives new life to the newspaper's suit seeking the release of Withers' informant file, a set of records expected to help gauge the full scope of his work for the FBI.
Jackson ordered the FBI to produce an index of any and all records in that file by March 16.
Slate: No Pet For You
MSNBC: High times in the Bronx: 593 marijuana plants found
Politics
LegitGov: Mitt Romney to Receive Secret Service Protection
TheAtlantic: Newt Exit Countdown: 10 Days?
Reuters: With Florida victory, Romney is the man to beat
NYT: G.O.P. Donors Showing Thirst to Oust Obama in November
GlobalPost: Florida primary: The view from Israel
Forums
TinfoilPalace: Researchers hit out at homeopathy
TinfoilPalace: VERY interesting website---Deep Web and more
TheOilAge: Video: Black Hawk tactical exercises over major U.S. Cities
TheOilAge: Home prices decline 7th straight month, lowest since '03
HubbertsArms: Art Cashin Explains Why Several Hundred Thousand Jobs Are About To "Vaporize"
HubbertsArms: China, Japan scramble for oil as Sudan shuts fields (this sounds ominous folks)
SilentCountry: Free-Market Medicine: A Personal Account
SilentCountry: The Illusion of Growth