Well, here it is Monday again, I hope you all had a great weekend, I know I did. Worked outside all weekend and had a wonderful time!
In the face of climate change, peak oil and economic crisis, how can you find a way to live that's true? Photo: cosmicsmudge via Flickr.
Transition Voice writers
Guy McPherson
and
Sherry Ackerman
have some things in common.
You know, I really can't thank RJ at the
Global Glass Onion
and the Ozarker at
Conflicted Doomer
enough for all they do. They send in links for us every day, regular as clockwork, and it's through their efforts that this blog is as varied and interesting as it has become. Please visit their blogs and support them in their good works.
also, go to the forums and don't be shy, post something! LOL You'll find links to them at the bottom of this post.
Japan
Telegraph: 'Made in Japan' stamp to disappear as tsunami sees industry move out
UPI: Japan goes silent for disaster anniversary
- TOKYO, March 11 (UPI) -- A wave of silence swept Japan Sunday afternoon in remembrance of a disastrous earthquake and tsunami a year earlier.
GlobeAndMail: Japan's nuclear power plants all going offline by summer
Students walk near a geiger counter at Omika Elementary School, located about 21 km from the tsunami-crippled Fukushima Daiichi nuclear power plant in Japan on March 8, 2012.
CNN: Lost and found: Japan one year later
CosmicLog: Japan's quake still poses puzzles
Global Conflict
Hosted: Afghan youth recounts US soldier's rampage
An Afghan youth recounted on Monday the terrifying scene in his home as a lone U.S. soldier moved stealthily through it during a killing spree, then crouched down and shot his father in the thigh as he stepped out of the bedroom.
The soldier, now in U.S. custody, is accused of killing 16 Afghan civilians in their homes in the middle of the night between Saturday and Sunday and then burning some of their corpses. Afghan President Hamid Karzai said nine of those killed were children and three were women.
"He was walking around taking up positions in the house - in two or three places like he was searching," said 26-year-old witness Mohammad Zahir, who watched the gunman while hiding in another room. "He was on his knees when he shot my father" in the thigh, he told The Associated Press. His father was wounded but survived.
Reuters: Sixteen Afghan civilians killed in US shooting spree
BBC: Afghans 'lose patience' with Nato
- Afghans have run out of patience with foreign troops, the country's MPs warn, after a US soldier kills 16 civilians, sparking reprisal fears.
Reuters: Jewish settlers agree to evacuate West Bank outpost
Jewish settlers signed an agreement with the Israeli government on Sunday to leave the biggest illegal outpost in the occupied West Bank and move to a nearby site after months of negotiations to avoid their forced removal.
Cryptogon: U.S. Funded, Trained and Equipped Afghan Air Force Running Guns and Drugs
WashingtonPost: Fighting between Israel, Gaza continues for 3rd day
Cross-border fighting between Gaza and Israel, touched off by Israel's killing of a top Palestinian militant leader, showed no signs of letting up after
three days
Sunday. Gaza militants fired dozens of rockets at Israeli towns, hitting an empty school, and Israeli airstrikes killed three Gazans, including a boy and a farm guard.
NYT: In Iraq, Killings Strike Fear in Gay and Emo Youths
A recent spate of killings and intimidation aimed at gay Iraqis and teenagers who dress in brash Western fashions is sending waves of fear through
Iraq
's secular circles while casting doubt on the government's will to protect some of its most vulnerable citizens.
NYT: Egyptian Court Acquits Doctor Accused Performing 'Virginity Tests'
the following was linked at the Teaming Brain, Matt Cardin's excellent site
TheTeemingBrain: Rolling Stone: The Afghanistan Report the Pentagon Doesn't Want You to Read
WSJ: Israel's Crisis in Gaza Deepens With Strikes
- TEL AVIV—Israel and Gaza militants on Sunday traded cross-border strikes for a third day that killed a 12-year-old Palestinian child and blasted an empty Israeli school, as both sides said they were seeking to contain the worst violence in six months.
BlacklistedNews: British Special Forces fighting a covert war in Somalia
USAToday: New Israeli airstrikes kill 3 in Gaza
– Israeli airstrikes killed two Palestinian militants and a schoolboy in the Gaza Strip on Monday and Palestinian rocket squads barraged southern Israel, in escalating fighting that has defied international truce efforts.
Alternet: 18th journalist killed in Honduras in past two years
- A 54-year-old Honduran journalist was killed by a machete-wielding attacker, police said Sunday, in the 18th fatal attack on a member of the news media in the past two years.
Zerohedge: Aircraft Carrier Enterprise Sets Off On Final Journey - Direction Iran
BlacklistedNews: DARPA Unveils Drone-Slaying War Laser
- DARPA is unveiling a portable laser weapons system,
HELLADS
, which seems like something out of a sci-fi movie.
CNN: Taliban vow revenge for US soldier's shooting rampage
USAToday: Civilians 'massacred' in central Syria
AllAfrica: 10 Killed in Jos Reprisals After Church Bomb
- At least seven people including a pregnant woman were killed when a suicide car bomber struck the St. Finbarr's Catholic Church in Jos, sparking reprisals in which 10 people were lynched by mobs in parts of the city.
NYT: Syria and Rebels Trade Accusations Over Brutal Killings
GlobeAndMail: U.S. soldier accused of shooting 16 Afghans likely acted alone: official
TulsaWorld: Yemen: US airstrikes kill 18 al-Qaida militants
LATimes: Syria: Massacre in Homs leaves dozens more dead
OWS
FDL: From One Occupier to Another
FDL: OccupyAustin Mic Checks Arne Duncan
FDL: Occupy Nashville: Waiting For To Go
AlJazeera: 'Occupy' as a business model: The emerging open-source civilisation
Domestic Financial News
ModeledBehavior: Where Middle Class America Has Gone
CEPR: NYT Shows the Increasing Role of Luck and Randomness on Its Oped Page
The country is suffering as a result of continued high unemployment, growing inequality, and a the loss of trillions of dollars of wealth that has left the huge baby boom cohorts unprepared for retirement. In this situation what does the NYT put on its oped page? A
piece
by Todd and Victoria Buchholz complaining that young people increasing think that luck is the main determinant of economic outcomes in the United States.
MSNBC: Homeowners Battle the Banks to stop Foreclosures...and win
CharlesHughSmith: Money from Nothing: A Primer on Fake Wealth Creation and its Implications (Part 1)
BusinessInsider: US Debt Worse than Greece
CNNMoney: Big banks at center of interest rate probe
WashingtonPost: Default Swaps are Insurance Products, It's Time We regulated them as Such
NYT: News Stress Tests Expected to Show Progress at Most Banks
McClatchy: Money Markets Largely Unchanged
Time: Why A Stronger Economy Probably Won't Translate Into A Raise — Yet
Global Financial News
TAE: Greece is now on its way to a real disaster
After the Greek swap deal was signed, French President Nicolas Sarkozy declared: "The Greek problem is over". Sarkozy knows better, but he's desperate to be re-elected. Which will set him up to be forced out with pitchforks piercing his skin, by the way, but power makes blind.
Zerohedge: India Revokes Cotton Export Ban After China Complains: Limit Down Open For "Widowmaker" Trade?
BBC: Greece 'Meets Bailout Conditions' After Debt Swap
- Greece took an important step towards its second bailout after it managed to win a crucial debt swap, European leaders have said.
Reuters: Nikkei breaks above 10,000 on U.S. jobs, yen
NYT: Tax Cheats Become Italy's Public Enemy
- When five officials from
Italy
's internal revenue service entered the Dal Duca restaurant in Rome's trendy Trastevere neighborhood one night two weeks ago, they were not there to eat.
Mish: ECB Calls for "Naming and Shaming" of EMU Budget Violators; Public Warnings, My Goodness!
- After years of violating the 3 percent maximum budget deficit restriction as stated in the Maastricht Treaty, Germany is finally a solid citizen.
Zerohedge: Encumbrance 101, Or Why Europe Is Running Out Of Assets
- Since the much-heralded 3Y LTRO program was envisioned and enacted, we have been clear in our perspective that while this appears to have signaled a removal of downside (contagion-driven) tail-risk for banks (and implicitly to sovereigns), the market's perceptions are once again short-termist.
CNBC: 'Mistake' to Think Greek Crisis Over: German Finance Chief
- It would be wrong to assume that the euro zone has resolved Greece's sovereign debt crisis after the successful completion of the country's debt swap with its private creditors, German Finance Minister Wolfgang Schaeuble said on Friday.
Reuters: China banks face capital shortage in 2012 - c.bank chief
GlobeAndMail: Now get ready for the next crisis
FiscalTimes: The Greek Debt Deal: Austerity on Steroids
- What a week to be Greek—or Spanish, or Portuguese. The
debt-swap deal
that most of Greece's private creditors accepted last Thursday evening is of historic importance. Greeks now have at least a fighting chance of digging themselves out of debt and getting on with life. But the Greeks, the Spanish, the Portuguese, and who knows whom else are now on the European Union's fiscal hook, and it has a nasty barb on it.
IBTimes: Default Contagion Possible in Europe
- Friday seen one of the worst moments of the 2008 financial crisis played out, part of the European Union defaulted on their debt and with the help of the ECB, World Bank and
IMF
strong armed bond holders in to accepting massive write offs.
Peak Oil and Energy News
LAT: US report: Oil imports down, domestic production highest since 2003
- Against the backdrop of gasoline prices rising in an election year, a new Obama administration report cites "significant progress" in reducing foreign oil imports and increasing domestic oil and gas production.
Guardian: Tribes opposing solar power projects in Mojave desert
Statesman: Oil field traffic taking toll on rural roads
- Oil field traffic is crippling rural roads in the Eagle Ford Shale formation never built to withstand the beating of so many heavy trucks.
NYT: Gas Price Disparity Seems Here to Stay
MSNBC: How much would Keystone pipeline help US consumers?
Canadian firms behind it say it will supply Gulf Coast export markets
Often lost in the political wrangling over the controversial Keystone XL pipeline – on hold after President Obama rejected TransCanada's initial construction proposal – are some key findings that run counter to the rosy picture of abundant supply and lower prices so often painted by US politicians.
ArabNews: Saudi oil: The threat from within
- Oil consumption in Saudi Arabia is the highest in the world, despite the fact that the economy is not heavily industrialized. According to International Energy Agency (IEA), Saudi Arabia consumes about three million barrels a day or about one billion barrels each year.
ThinkProgress: Coal Power Drops Below 40% of U.S. Electricity, Lowest in 33 Years
Commodities/Metals
Mineweb: Gold goes up with inflation. Except when it goes up anyway..
Environmental
USGS
M 5.6, northwestern Kashmir
DesdemonaDespair: Brown bears poached to extinction in Austria, European wildlife under pressure
TruthOut: Monsanto's Roundup Shown to Be Ravaging Butterfly Populations
Reuters: CORRECTED-Saving biodiversity: a $300 billion-a-year challenge
CNN: What Fukushima accident did to the ocean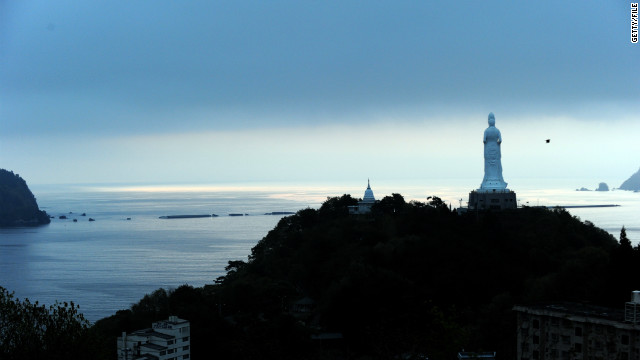 One year ago, a series of events began with an earthquake off the cost of Japan that culminated in the largest accidental release of radioactivity into the ocean in history.
MSNBC: Wild boars with razor-sharp tusks invade upstate New York
Officials aim to halt their progress, especially toward the six-million-acre Adirondack Park, the largest swath of pristine wilderness in the Northeast
MSNBC: Two more flares add to a string of fireworks from the sun
- Medium-sized outbursts could spark fresh wave of auroral displays on Monday
ArsTechnica: Before the Pacific: finding the lost islands of a Pangea-era ocean
America in Decline
When did the US constitution cease to matter? (Oh, and a comment on the alleged New York Madam.)
TheNation: This Week in Poverty: Welfare Reform—From Bad to Worse
- A stunning
report
released by the University of Michigan's National Poverty Center reveals that the number of US households living on less than $2 per person per day—a standard used by the World Bank to measure poverty in developing nations—rose by 130 percent between 1996 and 2011, from 636,000 to 1.46 million. The number of children living in these extreme conditions also doubled, from 1.4 million to 2.8 million. The reason? In short: welfare reform, 1996—still touted by both parties as a smashing success. The report concludes that the growth in extreme poverty "has been concentrated among those groups that were most affected by the 1996 welfare reform."
BusinessInsider: The 1% has Captured 93% of the Nation's Income Gains
TechReview: The Slow Death of Cash
Food and Water
Stateline: Water a concern in Western oil shale expansion
- Amid bickering on Capitol Hill about the scope of shale oil extraction on public lands in the West, environmentalists are calling for deeper study into whether the thirsty region could handle the industry's added strain to local and regional water supplies.
Undead laws: 'Ag-gag bills' are back to keep factory farm abuse a secret
- The progressive left likes to use the term "zombie lies" to refer to untruths that are repeatedly debunked and yet remain endlessly parroted by the media. The phrase may or may not have been coined by blogger Duncan Black (aka atrios),
who quipped
, "No matter how hard we try to kill them, they keep coming back to eat our brains." Perhaps now we should start another meme: zombie bills. Or legislation that opponents believe to be dead but rises up from the grave. Exhibit A: ag-gag laws.
HuffingtonPost: World Water Supply: Climate Change And Food Pressures Adding Challenges, UN Study Says
- The world's water supply is being strained by climate change and the growing food, energy and sanitary needs of a fast-growing population, according to a United Nations study that calls for a radical rethink of policies to manage competing claims. "Freshwater is not being used sustainably,"
Internet and Online Privacy News
DigitalLife: The Onion's Baratunde Thurston sees beyond the 'Internet of Crap'
Science and Technology
MSNBC: Will drug-free 'hacks' help you build a better brain?
- Ventures working on gadgets aimed at improving cognition, and even sex life
PopSci: Video: Slime Mold Inspires Autonomous Brainless Undulating Robot
Vitals: Hurt on the stairs: A child is treated every 6 minutes in the U.S.
USNews: Feds stop funding Texas women's health program over abortion dispute
MotherJones: Arizona and Kansas Pursue Laws Letting Docs Hide Information from Women
- Arizona
advanced a bill
this week that would make it legal for doctors to withhold information from pregnant women about birth defects and other health conditions that might cause them to choose an abortion.
The bill
barring "wrongful birth, life, or conception" claims passed in the state senate earlier this week and now advances to the house.
ScientificAmerican: A Bit of Progress: Diamonds Shatter Quantum Information Storage Record
Medical and Health
MSNBC: Tips to combat daylight saving time fatigue
TheBodyOdd: How do blind people dream?
BBC: Go-ahead for right-to-die hearing
- A paralysed man who wants a doctor to be able to lawfully end his life can proceed with his "right-to-die" case, a High Court judge rules.
Doomsteading, Gardening, Urban Farming
DustInTheWind: The Omen of a dying Racoon
A wonderful essay by Megadoom!
CanadianDoomer: Digging Through the Freezer
ModernSurvivalBlog: Power Outage – How Will You Deal Long Term?
Other News
WSJ: Crystal Cathedral's Schullers Resign
- More than four decades after founding an evangelical empire anchored by a soaring glass church, televangelist Robert Schuller and his wife, Arvella, resigned from the board of the Crystal Cathedral ministry.
NOC: Women Have New Weapon against Domestic Violence in Argentina
- The new device, the first of its kind to be used in Argentina, was officially launched Mar. 8, International Women's Day. When the panic button is pushed, the police immediately know who the victim is and who is stalking or harassing her, giving them the necessary elements to take action. In addition, a voice channel is activated. "As of that moment, everything that is said near the device is heard and recorded,"
NYDailyNews: Woman suffocates trying to escape clothing donation bin
A 51-year-old woman suffocated to death while trying to climb out of a clothing donation box on Staten Island, police said.
Witnesses often saw
Melissa Mazzeo
going into the bin to swipe clothes near the Victory Superette and Bagels on Victory Blvd., just four blocks from her home, police sources said.
Politics
CBSNews: Gingrich: It's time to leave Afghanistan
Gingrich, meanwhile, said the U.S. doesn't have the "willpower" or the "capacity" to "fundamentally change the region."
"We're not prepared to be ruthless enough to force them to change," Gingrich said, without expounding on what would he thinks would be necessary.
NYT: Centrist Women Tell of Disenchantment With Republicans
WashingtonPost: Texas Voter ID Law Blocked by US Justice Department as Biased
Forums
TinfoilPalace: Earthquakes, Volcanoes, Solar Flares, Landslides etc (Please Put Them Here)
TinfoilPalace: Stoned to death for being an emo: NINETY Iraqi students killed for having 'strange hair and tight clothes'
TheOilAge: The Revelation of The Pyramids
TheOilAge: brain development, addiction, compassion
HubbertsArms: Aircraft Carrier Enterprise Sets Off On Final Journey - Direction Iran
HubbertsArms: Greece Has Defaulted - Which Country In Europe Is Next?
SilentCountry: Is China trying to crush the US Economy by buying oil at high prices?
SilentCountry: American soldier kills 16 Afghan civilians