Hello and good Thursday to you all.
I hope everyone is having a good day today and that your weather is warm and beautiful where you are.
I got the nicest email from Jon and he has 2 great new sites for people interested in farming or wilderness survival. I've linked to them in the sidebar but would like to put them up here too for you all to see.
looks like a lot of good information and help for folks interested.
also, a favorite of this blog, Doug at
3Es Daily
, is doing a bit of reworking on his site, which is gorgeous I think, be sure to stop by and check it out.
Oh, and the biggest news today I'm posting for me and my grandson!
Here's something funny hub sent in. Hope you enjoy it as much as I did!
Be sure to visit RJ at the
Global Glass Onion
and the Ozarker at
Conflicted Doomer
. They send in links for us every day and this place sure wouldn't be the same without them!
And don't forget to swing by the forums later and join in the fun there! You'll be glad you did.
Global Conflict
CNN: Suspect in Afghan killings flown to Kuwait
- The U.S. soldier accused of killing 16 civilians during a weekend rampage has been transferred out of Afghanistan while awaiting charges, the NATO command said late Wednesday.
The still-unidentified Army staff sergeant was transferred on the recommendation of advisers to Gen. John Allen, the commander of U.S. and allied forces in Afghanistan, and because "we do not have the proper facility in Afghanistan to detain him for longer than he is being held," said Capt. John Kirby, a Pentagon spokesman.
FiscalTimes: Pentagon Pressed on Soldier's Mental Health
Military.comLeaked STRATFOR Memo Says US SOF in Syria
LegitGov: 'US forces burned bodies of Afghans after massacre'
- 12 Mar 2012 Afghan eyewitnesses say US troopers have burnt nearly a dozen bodies of the Afghan victims, whom American servicemen had killed during an earlier massacre. Early Sunday, US forces opened fire on Afghan civilians inside their homes in the district of Panjwaii in the southern province of Kandahar, killing at least 17 civilians and injuring several others. The Taliban militants said at least 50 people were killed in the massacre. Earlier reports said the assassin was a lone US sergeant.
(there are a lot of conflicting reports floating around about this incident and we'll just have to muddle through and see if we can find out what the truth is. If we ever do.
Some reports have said that a group of soldiers was sent out to look for the Sgt. when it was discovered he was missing and I'm wondering if perhaps those are the soldiers that witnesses have seen. At any rate, this is truly a terrible tragedy, all the way around.)
WashingtonPost: Taliban suspends peace talks with US as Panetta concludes Karzai visit
CNBC: Most Americans Would Back US Strike Over Iran: Poll
- A majority of Americans would support U.S. military action against Iran if there were evidence that Tehran is building nuclear weapons, even if such action led to higher gasoline prices, a Reuters/Ipsos poll showed on Tuesday. The poll showed 56 percent of Americans would support U.S. military action against Iran if there were evidence of a nuclear weapon program. Thirty-nine percent of Americans opposed military strikes. Asked whether they would back U.S. military action if it led to higher gasoline prices, 53 percent of Americans said they would, while 42 percent said they would not. The Reuters/Ipsos poll also found that 62 percent of Americans would back Israel taking military action against Iran for the same reasons. U.S. President Barack Obama has said all options are on the table in dealing with Iran's nuclear program, but he has encouraged Israel to give sanctions against Iran more time to have an effect.
Reuters: Karzai calls for NATO to leave villages; Taliban scrap talks
Spiegel: Neo-Nazis at Large: Police Reveal Figures on Far-Right Fugitives
- German police have been widely criticized for their handling of the Zwickau neo-Nazi terror cell case,
LegitGov: UK police arrest 2 Israelis for 'threatening comments' on Iran
13 Mar 2012 British Police have arrested two Israeli men at Heathrow Airport for making "repeated inappropriate and threatening comments" about Iran. The men, who were accused of being disruptive on a British Airways flight from Las Vegas to London, were arrested upon arrival at Heathrow's Terminal 5. The Metropolitan Police said the two Israeli passport holders, aged 28 and 33, were alleged to be making worrying remarks about Iran on the route of the aircraft.
USAToday: Karzai: US must pull back, let Afghans lead
CNN: One year later, Syrian unrest still boiling
NYT: Karzai Wants U.S. Troops Confined to Bases; Taliban Suspend Peace Talks
Prospects for an orderly withdrawal of NATO forces from Afghanistan suffered two blows on Thursday as President Hamid Karzai demanded that the United States confine troops to major bases by next year, and the Taliban announced that they were suspending peace talks with the Americans.
Telegraph: US 'tells Russia to warn Iran of last chance'
US-led military strikes against Iran are inevitable this year if Tehran does not give ground at multilateral talks next month over its nuclear programme, according to diplomatic sources in Moscow.
NYT: Iran May Not Open a Site to Inspectors
- Iran signaled on Tuesday that it was unwilling to grant a request by international nuclear inspectors for unfettered access to a restricted military complex that they suspect may house a chamber designed to test explosives used in atomic weapons triggers.
MSNBC: 'Insulting' Ahmadinejad angers Iran lawmakers during grilling
NYT: Aiding Yemen Rebels, Iran Seeks Wider Mideast Role
- WASHINGTON — In the past several months, Iran appears to have increased its political outreach and arms shipments to rebels and other political figures in Yemen as part of what American military and intelligence officials say is a widening Iranian effort to extend its influence across the greater Middle East.
MSNBC: Refugees flood out of Syria as Bashar Assad's military pummels rebels
Telegraph: Soldiers asked to disarm during Leon Panetta speech in Afghanistan
- US soldiers were asked to disarm during a speech by Leon Panetta, the American defence secretary, in a sign of grown concern over spates of seemingly random violence in Afghanistan.
Independent: Saudi Arabia closes embassy in Syria
WashingtonPost: Bo Xilai fired in Chinese Communist Party leadership shake-up
OWS
TransitionVoice: Can cowardly world leaders dodge Occupy Wall Street scorn?
RT: Occupy Miami raided by SWAT teams (VIDEO)
Hacker News
CNN: Anonymous members speak out at surreal SXSW panel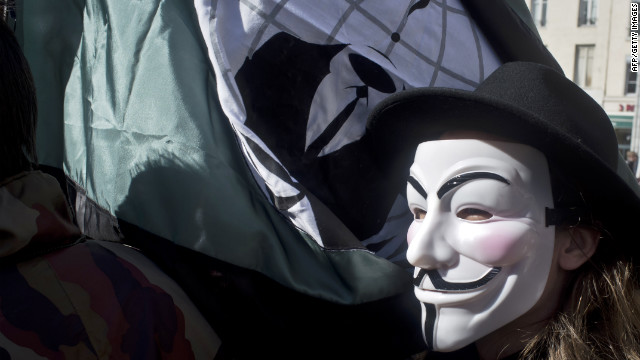 TechWorld: Iran Likely Suspect in Cyberattacks Against BBC
Domestic Financial News
CNNMoney: SEC crackdown ends Wild West days of private stock trades
ETFDaily: Video: 3 Signs a Market Sell-Off Is Coming Soon
TheStreet: Goldman's Greg Smith Just One More 1% Buddhist Convert
WSJ: Goldman Plays Damage Control
- Goldman Sachs Group said it will examine claims by an employee who quit Wednesday that executives "callously" talk about "ripping their clients off" in order to make more money for the securities firm.
Reuters: Jobless claims back at four-year lows
Zerohedge: As Whistleblowing Becomes The Most Profitable Financial 'Industry', Many More 'Greg Smiths' Are Coming
- Minutes ago on CNBC, Jim Cramer announced that Greg Smith will never get a job on Wall Street again as "
one never goes to the press. Ever.
" Naturally, the assumption is that the secrets of Wall Street's dirty clothing are supposed to stay inside the family, or else one may wake up with a horsehead in their bed.
DealBookNYT: Public Rebuke of Culture at Goldman Opens Debate
CNNMoney: Fear gauge at 5-year low 'an optical illusion'
FiscalTimes: High Gas Prices Help Automakers
Boston.com: Stocks surge after strong retail report
FiscalTimes: Over 200 Housing Markets Still in Decline
LAT: Construction jobs increase in California, 34 other states
GlobeAndMail: U.S. current account deficit widens more than expected
CNNMoney: Foreclosures fall, but there's a 'rising tide' ahead
Treasury.Gov: Treasury International Capital Data for January - WASHINGTON
– The U.S. Department of the Treasury today released Treasury International Capital (TIC) data for January 2012. The next release, which will report on data for February 2012, is scheduled for April 16, 2012.
Zerohedge: It's Official - Apple Is Now Bigger Than The Entire US Retail Sector
CNNMoney: Apple shares top $600
BusinessInsider: Moody's: Corporate Cash Reserves Are Still Climbing And Most Of It Is Overseas
: Corporations are holding record amounts of cash. And none of them wants to keep it in the U.S. Cash holdings for U.S. non-financial firms rose 3% to $1.24 trillion, according to Moody's. That tops last year's all-time high of $1.2 trillion. Moody's also estimates nearly $700 billion, or 57% of the corporate cash total, is held overseas. The ratings agency attributes this to emerging-market strength, dividends and high levies on repatriated cash. "Without permanent reform that lowers the tax on overseas profits, Moody's expects the absolute and proportionate amount of cash held overseas will continue to rise," the firm says in its release. Even among corporate behemoths, there's a 1%: Apple, Cisco, Google, Microsoft and Pfizer accounted for 22% of all cash balances. Apple alone represented 8% of all holdings.
CapitalSpectator: Jobless Claims Drop To Post-Recession Low For A 2nd Time
Time: The Government Bond Market Is Nervous That the Recovery Is Real
NYDaily: Goldman Sachs loses $2 BILLION same day as exec's farewell rant
Global Financial News
Zerohedge: Dear Germans: Bring Out Ze Checkbooks
Spiegel: Not Out of The Woods Yet: Despite Progress, Euro Crisis Is Far From Over
CNNMoney: Ready, set, free trade with South Korea!
MarketWatch: Merkel coalition threatened by vote for austerity
ETFDaily: Brazil Gears Up For The Next Round Of Currency Wars
Spiegel: State Challenge: Merkel May Have to Make Concessions for EU Fiscal Pact Support
Time: IMF Approves $36 Billion Funding for Greece
— The International Monetary Fund says it has approved $36.56 billion in funding for crisis-hit Greece over the next four years.
Peak Oil and Energy News
UPI: Analyst: Oil finds won't affect price
- LONDON, March 14 (UPI) --
Oil discoveries and advancements in exploration are easing supply concerns but it may be awhile for the market to feel the effects, advisers said.
Analysts at major investment firms told Bloomberg News that crude oil futures were on track to settle at around $100 per barrel by 2015, roughly 10 percent lower than current prices. Morgan Stanley said it expects offshore drilling to uncover around 25 billion barrels of oil this year.
Zerohedge: The Natural Gas Massacre
FiscalTimes: U.S., UK May Tap Oil Reserves
UPI: API sues EPA over biofuels
IBTimes: Feds Promise Action On Wall Street Speculation Blamed For High Gasoline Prices
Bloomberg: IEA Predicts Bumpy Ride for Oil Amid Non-OPEC Supply Cuts
- The International Energy Agency cut forecasts for oil supplies from outside OPEC this year because of lower exports from Sudan and Syria, cautioning that reduced spare output capacity raises the risk of a price surge.
TheOilDrum: World Energy Consumption since 1820 in Charts
Commodities/Metals
Mineweb: Investors backing vulnerable gold, for now
ETFDaily: Silver Prices: What Happened To The Anonymous London Trader's Intel?
ETFDaily: That's Right! By 2017, You'll Need Gold To Buy Silver
Environmental
USGS
M 4.4, Hindu Kush region, Afghanistan
Reuters: UPDATE 1-No damage reported after quake in Japan; tsunami warning lifted
TOKYO, March 14
(Reuters) - There were no immediate reports of damage after northern Japan was hit by an earthquake which the Japan Meteorological Agency said had a preliminary magnitude of 6.8.
Grist: Naomi Klein: Serious about climate? Throw out the free-market playbook
NOC: Feds Let BP Off Probation Despite Pending Safety Violations
Ecocentric: Climate: A Valuable New Tool Lets You See Where the Sea Will Rise
Entertainment: A Third Horse Dies, and HBO Cancels Luck
The show probably could not reasonably go on, but I'm still sad to hear it. We can argue about whether it's inherently cruel to create a show that re-creates racing, and at least some of the dangers of it. We can argue whether it's cruel to race horses for sport, to train them to strain their bodies to the breaking point, to watch and to bet on it. I eat too many hamburgers to be sanctimonious here.
America in Decline
WSJ: Would you pay $100 to fly with fewer security hassles?
IBTimes: Arizona Birth Control Bill Allows Employers To Fire Women On The Pill Based On Religious Beliefs
Businessweek: Highway Bill Would Let Companies Slash Pension Payments
Infowars: Major US Airport To Evict TSA Screeners
- One of America's busiest airports, Orlando Sanford International, has announced it will opt out of using TSA workers to screen passengers, a move which threatens the highly unpopular federal agency's role in other airports across the nation.
"The president of the airport said Tuesday that he would apply again to use private operators to screen passengers, using federal standards and oversight,"
reports the Miami Herald
.
(so, they'll still do it, just pay private gropers to feel up passengers. i got it.)
USNews: 14 years old: Too young for life in prison?
- Evan Miller and Kuntrell Jackson are lifers, condemned at 14 to spend their lives in prison without the possibility of parole for their involvement in separate murders. Their backers say their sentences are cruel and unusual, leaving them without the second chance the young are so often given. They hope the U.S. Supreme Court agrees.
Next Tuesday, the court will hear arguments in their cases and its ruling could have far-reaching effects. More than 2,200 people nationwide have been sentenced to life imprisonment without parole for crimes they committed as juveniles -- defined as 17 or younger -- according to the Equal Justice Initiative in Montgomery, Ala., a civil rights group that represents Miller and Jackson.
USNews: NH city's new military muscle raises some hackles
Salon: Congress's war on the post office -
After a stopgap measure last year, Congress will once again debate whether the United States Postal Service as we know it can survive. The better question is: Will Congress let it?
RepublicReport: ANALYSIS: When a Congressman Becomes a Lobbyist, He Gets a 1,452% Raise (on Average) - Republic Report
: Selling out pays. If you're a corporation or lobbyist, what's the best way to "buy" a member of Congress? Secretly promise them a million dollars or more in pay if they come to work for you after they leave office.
RawStory: GOP led Wisconsin legislature votes to ban private abortion coverage
- The Republican led Wisconsin assembly voted to ban private insurance coverage for abortions and mandate abstinence-only sex education classes Wednesday morning, according to
The Green Bay Post Gazette.
NYT: An Officer Had Backup: Secret Tapes
- One night in October 2009, a team of police officers, led by a deputy chief, raided the home of a police officer named Adrian Schoolcraft, and dragged him out of his bed and to the psychiatric emergency room at Jamaica Hospital Medical Center. He was held for six days in a locked ward. No judge was involved. There was no hearing.
The decision to take him to the hospital was made solely by armed men who happened to be his superior officers in the Police Department with a vested interest in shutting him up.
Food and Water
NPR: U.S. Sees More Female Farmers Cropping Up
MSNBC: Experts: 30 to 50 percent of world's food thrown away
'No matter how sustainable the farming is, if the food's not getting eaten, it's not sustainable and it's not a good use of our resources'
MSNBC: 'Pink slime'? It's up to schools, USDA says
NOC: Monsanto's Roundup Threatens Stability of Global Food Supply
Science and Technology
CNNMoney: Ex-Google employee says Google+ has ruined the company
UPI: 'Corpse plant' ready to bloom at Cornell
- A professor at Cornell University in New York state said the school's "corpse plant" is expected to bloom and release its signature stench later this week.
Alternet: Volvo Launches Pedestrian Air Bag
MSNBC: SpaceX aims for April 30 launch of milestone space station mission
- SpaceX's president says the California-based rocket company is preparing to launch the first commercial cargo ship to the International Space Station as early as April 30 — but whether that date holds will depend on what happens between now and then.
CSMonitor: Possible new human species unearthed in China
Scientists in China have found what may be a new species of human. Fossils show a group of people with similarities to and differences from modern humans.
MSNBCPhotoblog: Thrill to a sunspot's parting shot
ScientificAmerican: Jawless Vertebrate Had World's Sharpest Teeth
UPI: NASA releases images of Saturn moon
CosmicLog: Watch the moon evolve in 3 minutes
MSNBC: Radio glitch delays five-rocket launch extravaganza
NASA's suborbital barrage postponed until Friday at earliest due to malfunction
Medical and Health
ScientificAmerican: Worm Discovery Illuminates How Our Brains Might Have Evolved
TriCities: Reports of rabid animals appearing in Mountain Empire
(this is a local story but applies to anyplace where rabies is an issue)
ExtinctionProtocol: When the money runs out: cases of HIV, TB, and malaria explode in Greece, 'health system near collapse'
TheChart: Health care costs to surpass total income?
- Take a close look at the chart up above. It's taken from
a new paper
, in the Annals of Family Medicine. If you believe the doctors who put it together, it tells one of the scariest stories you'll ever hear.
Vitals: Mom's last resort: Opiate antidote saves addicts' lives
- A powerful antidote that can reverse the potentially deadly effects of opiate drug overdoses -- including those from prescription painkillers -- has saved more than 10,000 lives in 15 years, but it's still little-known and too hard to get, a new report shows.
Naloxone, a drug sold as Narcan, is so effective that it can revive virtually all victims of the ODs within minutes using a simple shot or, more easily, a nasal spray. It was first distributed through needle exchange programs in the mid-1990s to prevent deaths of injection heroin users.
Doomsteading, Gardening, Urban Farming
BackdoorSurvival: Taking Baby Steps to Reach Your Preparedness Goals
WaldenEffect: Mulching with what you've got
SFGate: 'Saving Seeds For Survival When The Food Supply Chain Breaks Down' WasPublished Today by The Absolute Rights Newsletter
Above link from our good friend Doug at
3Es News
. Be sure to check out his site, it's a wonderful resource!
Other News
TelegraphUK: Moroccan teenager's suicide after she was forced to marry her rapist
- A Moroccan teenager committed suicide after her family forced her to marry her rapist in a tragedy that has sparked outrage among Moroccan activists and demands for changes to the nation's laws.
BBC: Ofsted: Literacy progress stalled
- England's chief schools inspector says reading standards have not improved since 2005, and the country is being overtaken by other leading nations.
Telegraph: Screams of Swiss coach crash children 'impossible to describe', say rescuers
Hosted: Prison job, tedium await Blagojevich
WSJ: Just a Spoonful of Cinnamon Makes the Internet Rounds
The governor of Illinois did it live on a radio show. Two NBA players were chastised for videotaping it. A school in Pennsylvania banned open-top boots because of it.
What is it? Swallowing cinnamon.
RawStory: Pat Robertson on oral sex: 'If you feel it's sin, it's sin'
Reuters: NY state lawmakers to allow casino gambling
USAToday: Typewriters are making a comeback among collectors and users
CBSNews: Details emerge from deadly Texas court shooting
NYDaily: Military: WikiLeaks Army private aided Al Qaeda
Politics
FiscalTimes: Anti-Incumbent Rallying Cry: Throw the Bums Out!
RawStory: Colbert: GOP primary like 2008 minus women and black people
CBSNews: How Gingrich's candidacy could help Santorum
MSNBC: Violence Against Women Act divides Senate
Republican warns colleagues that GOP is at risk of being successfully painted as antiwoman
NOC: Though 69 Percent Of Americans Want Super PAC Ban, Super PACs Dominate GOP Race
RawStory: Author of South Carolina's GOP 'purity pledge' steps down
NYT: Violence Against Women Act Divides Senate
Time: Why Ron Paul May Cut a Deal With Mitt Romney
Atlantic: The Dutch Euthanize Their Elderly, and Other Scary GOP Lies About Europe
CBSnews: Romney wants GOP voters to be more rational
Forums
TinfoilPalace: Human-like fossils in China caves puzzle scientists
TinfoilPalace: Scientists Cure Cancer, But No One Takes Notice
TheOilAge: Understanding the new price of oil
TheOilAge: Attack on Leon Panetta !
HubbertsArms: Crude Oil Production of the Five Major Oil Companies: 2007-2011
HubbertsArms: Ha-Ha! Scumbag Copyright Infringement Lawsuit Firm Righthaven Dealt Death Blow
SilentCountry: Why I'm leaving the Empire
SilentCountry: WTF kinda of day