We really need a
"Do What???"
category for stories like this one.
A disgruntled 4-year-old Saudi boy fatally shot his father for not buying him a PlayStation, media reports said.

Saudi police in the southern Jizen area said the 4-year-and-7-months old child got hold of his father's pistol to shoot him right in his head from a close range, after the man returned home without the PlayStation, AFP reported. The boy grabbed the weapon, as his father put it down while undressing.
Kindest thanks also to RJ at the
Global Glass Onion
and the Ozarker at
Conflicted Doomer
, and to Doug at
3Es News
and David at
ETF Daily
, for sending in links today!
Also, don't forget to visit the forums linked at the bottom of today's post!
Peak Oil and Energy News
CommodityOnline: China's Iran oil imports drop 54% in March
MJPerry: Speculators Are Driving Natural Gas Prices DOWN, Not Up, Reflecting Market Forces: Supply, Demand
DownwardSpiral: Ha-Ha! Fracking Chesapeake Energy In Dire Fiscal Straits
Reuters: US refinery margins slip 7.4 pct-Credit Suisse
ScientificAmerican: Second Wind: Air-Breathing Lithium Batteries Promise Recharge-Free Long-Range Driving--If the Bugs Can Be Worked Out
Global Conflict
Hosted: EU imposes new sanctions on Syrian regime
Reuters: Egypt rejects licenses for U.S. groups
NYT: The New Islamists: In Egypt, Morsi Escalates Battle Over Islam's Role
BBC: Syria violence tests UN mission
- A sharp rise in the number of deaths in the Syrian uprising casts fresh doubt on the future success of a UN ceasefire monitoring scheme.
USAToday: South Sudan leader: Sudan's actions amount to war
UPI: New U.S. spy agency focuses on new targets
- A new spy service is to expand the U.S. military's espionage efforts beyond war zones to high-priority targets such as China and Iran, a Pentagon official said.
Reuters: Russian envoy warns on U.S. human rights bill
- Proposed U.S. legislation to punish Russian officials involved in human rights abuses could have "a significant negative impact" on U.S.-Russian relations, Moscow's envoy to the United States warned on Monday
Reuters: Exclusive: China firm boasts about missile-linked North Korea sale: envoys
- A Chinese firm that intelligence agencies believe provided North Korea with the body of an off-road transport vehicle used to carry missiles appears to have a press release on its website that boasts about the sale, U.N. diplomats told Reuters.
VOA: US Warns of Terrorist Attacks in Kenya
The U.S. Embassy in Kenya is warning of possible terrorist attacks in the capital, Nairobi, and is telling Americans in the city to stay alert.
The embassy issued a message Monday saying it has credible information about a possible attack on Nairobi hotels and prominent Kenyan government buildings.
HindustanTimes: Syrian officer killed, car bomb hits central Damascus
GlobeAndMail: Last year's Arab Spring is turning into this year's Islamic spring
Egypt votes for a new president in exactly one month, the remarkable culmination of a popular uprising that, with a lot of help from the country's military, removed the leader of the most populous Arab country and took a big step toward real democracy.
Reuters: Syrian forces kill 20 in Hama city - activists
OWS
NYT: Occupy Movement Looks Toward Political Conventions
MSNBC: Judge: DA can subpoena Occupy protester tweets
Information being sought is relevant, material to investigation, jurist rules
WSJ: Liberal Groups Plan to Protest at Shareholder Meetings
- Liberal and labor groups calling themselves
the 99% Spring
are planning to stage protests at annual shareholder meetings of a number of big corporations, including Wells Fargo & Co., General Electric Co., Bank of America Corp. and Wal-Mart Stores Inc. The protests are aimed at drawing attention to what the groups view as corporate greed, tax avoidance and abuse of their political power. The groups include SEIU, AFSCME,
MoveOn.org
, Rainforest Action Network, U.S. Public Interest Research Group, The New Bottom Line, Alliance of Californians for Community Empowerment and Americans for Democratic Action, according to a press release.
Hacker News
CNN: James Murdoch stands by phone-hacking denials
LAT: James Murdoch testifies about contact with British politicians
Domestic Financial News
Reuters: AMR fires opening shot in court battle with workers
- American Airlines defended its plan to abandon its union contracts on Monday as its workers picketed outside a Manhattan court house, in the first day of a high-profile court battle over the bankrupt airline's labor deals.
The company's parent, AMR Corp, told a judge at a hearing on its request to abrogate its union contracts, that it cannot survive without major concessions.
Jack Gallagher, an attorney for AMR, said the company needs 20 percent across-the-board reductions in employee costs, half of which must come from employee benefits.
"It's not the unions' fault we're in bankruptcy, but it's not about whose fault it is," Gallagher said. "It's about the facts of our business."
Reuters: New England's lack of violence reaps economic benefits
CNNMoney: U.S. companies dump billions into China
NEW YORK (CNNMoney) -- While U.S. businesses are still reluctant to invest in new plants and jobs in the United States, many are pouring money into China. But not for the reasons you'd think.
Rather than "outsourcing" their operations to China's low-cost environment to produce cheap goods for U.S. consumers, multinational corporations are pouring billions into China to meet demand from the rapidly growing Chinese middle class.
MJPerry: Markets in Everything: Pot Vending Machine
Zerohedge: How Much Bigger Can TARGET2 Imbalances Grow? Goldman Answers: "A Lot"
CNNMoney: Home prices hit new post-bubble lows
Slate: The Great Divergence Entry 2: The middle class no longer has any reason to root for the economy to get better.
BusinessInsider: STIGLITZ: America Is Being Devoured By Parasites
We are facing a very difficult transition from manufacturing to a service economy. We have failed to manage that transition smoothly. If we don't correct that mistake, we will pay a very high price. Already, the average American is suffering from the failed transition. My concern is that we have set in motion an adverse economics and an adverse politics. A lot of American inequality is caused by rent-seeking: Monopolies, military spending, procurement, extractive industries, drugs. We have some economic sectors that are very good, but we also have a lot of parasites.

Bottomline: DOJ opens Wal-Mart criminal investigation
MSNBC: U.S. New Home Sales off 7% in March
— Sales of new homes fell in March by the largest amount in more than a year, indicating that the U.S. housing market remains under strain despite some modest signs of improvement.
CNNMoney: Home prices lowest since 2002
Angry
Bear:
They Also Serve Who Only Stand and Graph: A Graphical Response to Paul Krugman on the Effect QE1 and QE2
Global Financial News
CreditWritedowns: Judging by Ireland, Spanish banks to take a lot more credit writedowns
NYT: In Europe, Now What?
- Is this the end of austerity? What happens to Europe if the Germany-France alliance is broken?
ProjectSyndicate: A World Adrift -
Europe's economic crisis dominated this year's IMF/World Bank meetings. The Fund is seeking to create an emergency rescue mechanism in case the weak European economies need another financial bailout, and has turned to major emerging economies – Brazil, China, India, the Gulf oil exporters, and others – to help provide the necessary resources. Their answer is clear: yes, but only in exchange for more power and votes at the IMF
IBTimes: Bank Of Japan Policy Board Meeting: Further Monetary Easing Expected
NYT: News Analysis: A Europe Tired of Cutbacks Has Few Alternatives
- Budget-cutting pain is fueling support for far-left and nationalist parties, but many European leaders simply cannot afford to spend more.
CreditWritedowns: Argentina Fundamentals Still Deteriorating
Bloomberg: Europe's Austerity Backlash Gathers Steam in Merkel Test
- Europe's backlash against austerity gained momentum, in a challenge to German Chancellor Angela Merkel's budget-cutting prescriptions for resolving the debt crisis. French President Nicolas Sarkozy lost the first round of his re-election bid and a revolt against extra spending cuts in the traditionally budget-conscious Netherlands propelled Prime Minister Mark Rutte's coalition toward an early breakup.
NYT: Dutch Governing Coalition Resigns After Failing to Pass Austerity Budget
StreetLightBlog: Eurozone Austerity by the Numbers
FiscalTimes: $14T Spent on Debt-Ridden Global Economy--So Far
- The amount of money thrown at rescuing the world economy since the Great Recession began is truly staggering, probably more than $14 trillion, and the financial spigots are still open.
NYT: China's Biggest Banks Are Squeezed for Capital
GlobeAndMail: Fitch cuts struggling Nokia to junk
Telegraph: Greece worse off staying in euro, says Ifo
Greece's ability to recover competitive economic standing will be severely constrained if it continues to use the euro, and other indebted eurozone countries will likely face similar struggles, the head of Germany's prominent Ifo economics institute has said.
CNNMoney: China offshores manufacturing to the U.S.
- NEW YORK (CNNMoney) -- Chinese conglomerates, on a mission to expand their global footprint and avoid "anti-dumping" tariffs, are shifting more of their production to America.In the United States,
cash-strapped states
desperate for revenue and jobs, are rolling out the welcome mat for foreign companies that can guarantee both.
NYT: A Europe Tired of Cutbacks Has Few Alternatives
- FRANKFURT — Citizens from Prague to Paris to Amsterdam have made it abundantly clear the last few days that they are tired of the economic austerity forced on them by the euro zone debt crisis.
Commodities/Metals
Zerohedge: Gold Outperforms As Stocks Suffer From Wal-Mart's 'Sinko-De-Abril'
ETFDaily: Surprise Second-Half Gold Rally, Says Guru Economist
CommodityOnline: Chinese Copper situation holding back prices: Commerzbank
Environmental
USGS
M 4.6, Ryukyu Islands, Japan
Fairwinds: Gundersen: Fukushima Meltdown Could Result in One Million Cases of Cancer
PRN: Guy McPherson on the Lifeboat Hour
BusinessInsider: While The US Was Basking In Warmth, China Just Had Its Coldest Winter In 27 Years
Now go watch this 2 pt. video
and
ClimateCrocks: The "Lack of Recent Warming" Crock: No Cigar, But Thanks for Playing! (be sure to watch the video at the end of the article)
HongPong: Wins in Minneapolis & Choppy seas indeed: Glowing Monsanto corn, Fukushima quake would make total Cesium northern hemisphere doom
IBTimes: Arctic Region Holds Huge Amount of Methane, Says Nasa
Nasa scientists have discovered an excessive amount of methane in the Arctic region. They claim as the earth's climate warms, the methane frozen in reservoirs stored in Arctic tundra soils or marine sediments, is released into the atmosphere and the harmful gas can add to global warming.
ClimateCrocks: SnowTober. Balmy Winter. Summery March. Earthday Snow. Nothing to See Here….
- Cue Twilight Zone Theme. Then look for the Fox News announcement that the Global warming scare is over.
LegitGov: Fukushima air to stay radioactive in 2022
WildlifeNews: Basin Creek, Little Lost River Drainage. Lost because of livestock
UPI: Russia says arctic oil spill controlled
"An accident occurred at the oilfield at 5:30 p.m. Moscow time on Friday, oil began rushing," a spokesman for the regional Emergencies Ministry was quoted by Russia's state-run news agency RIA Novosti as saying. "Rescuers arrived on Saturday and the rush of oil was terminated on Sunday."
Guardian: Shell Nigeria oil spill '60 times bigger than it claimed'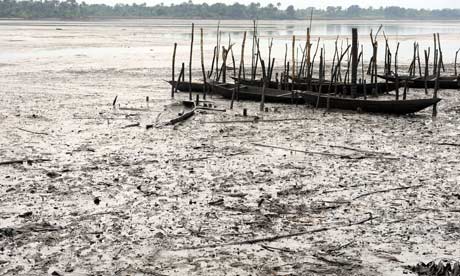 As the company faces a lawsuit by residents, an assessment by a US oil spill consultancy casts doubt on Shell's estimate of the Nigerian leak
VanityFair: Our Angry Planet: Snow in Late April
- According to CNN, "A large snowstorm came barreling through the Northeast on Monday, threatening to drop 16 inches in some areas and frustrate commuters." Parts of Pennsylvania and New York have already seen several inches of snow; there is also a snow advisory in effect in "extreme northeastern Ohio." Extreme northeastern Ohio lives for fresh powder, man. Extreme northeastern Ohio is going to round up some bros, call in sick to work, and fucking hit the slopes.
CNN: Mystery surrounds deaths of 877 dolphins washed ashore in Peru
(CNN) -- Environmental authorities are investigating the deaths of more than 800 dolphins that have washed up on the northern coast of Peru this year.


The dolphins may have died from an outbreak of Morbillivirus or Brucella bacteria, said Peruvian Deputy Environment Minister Gabriel Quijandria, according to Peru's state-run Andina news agency. Speaking to CNN, he said he expects test results to be ready within the week.

"Right now, the most probable hypothesis is that it's a virus outbreak," he said.
CNN: All-white killer whale spotted off Russia
America in Decline
Businessweek: Social Security heading for insolvency even faster
(nobody wants to sneak into the US anymore. They can stay home and be destroyed by poverty. Why make the trip? )
WSJ: Tide Turns on Border Crossing
- Net migration from Mexico has plummeted to zero thanks to changing demographic and economic conditions on both sides of the border, a new study shows, even as political battles over illegal immigration heat up and the issue heads to the U.S. Supreme Court.
After four decades that brought 12 million Mexican immigrants—more than half of them illegally—to the U.S., the curtain has come down on the biggest immigration wave in modern times.
ETFDaily: Massive Debt: Why Banks Will Own You For A Lifetime
BlacklistedNews: For First Time Since Depression, More Mexicans Leave U.S. Than Enter
WBIR: Welfare drug testing bills advance in TN legislature
Yahoo: Jailed for $280: The Return of Debtors' Prisons -
How did breast cancer survivor Lisa Lindsay end up behind bars? She didn't pay a medical bill -- one the Herrin, Ill., teaching assistant was told she didn't owe. "She got a $280 medical bill in error and was told she didn't have to pay it," The Associated Press reports. "But the bill was turned over to a collection agency, and eventually state troopers showed up at her home and took her to jail in handcuffs."
this next article is in response to yesterday's story about University of Florida killing off it's Tech dept.
Forbes: The University of Florida Responds
- A Forbes article by contributing writer Steven Salzberg falsely claims that the University of Florida is eliminating the Computer Science Department. The Dean of the College of Engineering has put on the table for discussion a budget plan to reorganize the Computer & Information Science and Engineering Department. Under that proposal, all undergraduate and graduate degree curriculum would remain the same and the college would maintain its brainpower and research capacity. The plan calls for no lay-offs of tenure-track faculty. Faculty lay-offs are expected, however, if across-the-board cuts are made in the College of Engineering. The proposed budget plan would grow the number of graduates from the CISE department because faculty members would be expected to assume a greater teaching responsibility. About $1.4 million in savings would come primarily from the elimination of graduate teaching assistants. We are aware faculty and students have expressed serious concern with this plan. We ask for everyone's patience as we work through this process.
Technolog: Drone-curious? FAA reveals UAV operators near you
The Archdruid Report: America: The Price of Supremacy
A complex and self-justifying mythology has grown up around the process by which, during and after the Second World War, the United States made the transition from regional power to global empire. That sort of thing is common enough that it probably belongs on the short list of imperial obsessions—Rome had its imperial myth, as did Spain, Britain, and just about any other empire you care to think of—but the American version of it deserves close attention, because it obscures factors that need to be understood as the American empire hurtles down the curve of its decline.
Internet and Online Privacy News
Arstechnica: Feature: "The hidden side of your soul": How the FBI uses the Web as a child porn honeypot
The e-mail arrived in James Charles Cafferty's inbox on July 14, 2011. Unlike most unsolicited e-mail on the Internet, the message did not pitch mortgages, get rich quick scams, or penis pills. Instead, it provided a link to an under-the-radar child pornography website and the password needed to access it. Cafferty, a diplomatic security officer working for the US government at its London embassy, waited for three days, then clicked on the link. This is what he saw:
Science and Technology
CNNMoney: Facebook tops 900 million users
Youtube: "Google Glasses Will Destroy Our Society" - M.O.C. #133 - YouTube
Lightyears: Companies plan to mine precious metals in space
- Could this century's equivalent of the 19th-century gold rush come in space? At least two start-up companies are putting money and impressive names in science, business and even entertainment behind the theory that platinum and other precious metals can be mined out of this world and brought back to Earth to become parts of our cell phones and other important electronic devices.
Medical and Health
WSJ: Outlook for Medicare, Social Security Dims
ScienceDaily: Computing the best high-resolution 3-D tissue images
TransHumanTech: Nano-Devices That Cross Blood-Brain Barrier Open Door to Treatment of Cerebral Palsy, Other Neurologic Disorders
TheChart: NIH: OK to publish controversial bird flu studies
- Two studies on the deadly H5N1 avian flu virus have been
steeped in controversy
because some experts view them as a threat to biosecurity. Now, the U.S. government is saying they should be published.
BodyOdd: Talking to yourself may boost brainpower
TheChart: Measles death rate drops; still a major public health concern
Doomsteading, Gardening, Urban Farming
NationalGeographic: National Geographic: Urban Farming Is Growing a Green Future
WaldenEffect: How to paint a bee hive
Other News
CBSNews: Resignation of Zimmerman case police chief refused
BBC: Row grows over 'social cleansing'
- The government has defended its housing benefit cap after it emerged London's Newham council was trying to find homes for some families 160 miles away.
BlackAgendaReport: What Could Your Organization Do With Its Own Radio Station?
- After twenty years of grassroots advocacy, the federal government is about to grant low power FM radio station licenses in hundreds of communities across the country. Unlike any other medium, low power radio binds communities together and can further the mission of your arts group or community group, union, neighborhood association or other civic body like nothing else. To find out more, join Black Agenda Report for a Thursday April 26 conference call at 9PM Eastern Time. To get your entry code contact us at
radio@blackagendareport.com
MSNBC: California voters to consider ending capital punishment
IBTimes: Bradley Manning Trial: Defense Seeks Dismissal of Charges At Pre-Trial Hearing
USAToday: Concern grows for missing Tucson girl
Politics
Politico: John Edwards case: Incredible vs. unbelievable
AlbanyTimes: Romney looks to win big
CBSNews: Is Newt Gingrich about to leave the GOP race?
CBSNews: Dickerson: Rubio not experienced enough to be VP
Fox: Key witness in Edwards case could pose 'risk' for prosecution
THE RACE: Endorsements keep rolling in for Romney
Forums
TinfoilPalace: I just saw this big shiny object fall out of the sky....
TinfoilPalace: Natural Remedies
TheOilAge: Serious Consequences In The Gulf Of Mexico
TheOilAge: Egypt cancels deal to supply natural gas to Israel
HubbertsArms: Guest Post: The Future Is Unknown, But We Know The Unsustainable Will Implode
HubbertsArms: Looks like someone hacked Irans' oil computer system on Sunday.
SilentCountry: Cape Alumina ready to mine wildlife reserve
SilentCountry: Car Made in Missouri Gets 358 Miles Per Gallon
DestinyCalls: Looking for an alchemy 101 type forum or info
DestinyCalls: I'll set my Time machine for a couple of seconds ago...