Friday, Friday, Friday! Let's do the happy dance!
I hope you all had a great week and are ready to enjoy the weekend. I'm hoping to get to work (play) outside all weekend!
This first story caught my attention because it happened to Geraldo Rivera of all people.
I just don't know what to think about it. Hopefully enough people will get tired of it and just stop flying on airplanes altogether.
Sincerest thanks to RJ at the
Global Glass Onion
and the Ozarker at
Conflicted Doomer
, and to Doug at
3Es News
and David at
ETF Daily
. They are a good bunch of folks that send in interesting links every day. Please take to visit their blogs and sites and let them know you appreciate their work.
also, don't forget the forums linked at the bottom of the post. and don't just lurk you lurkers! participate! LOL
this is an update, I saw this posted at Emeline's Tinfoil Palace and had to put it up. This is big news in the doomer/prepper community.
For those who have followed me for many years, and read the "map" I have constructed through my writings, you will recognize that in a real-life contextual sense, we have reached the end of my map. Our Mother Earth, humankind and every species that lives here is about to enter incomprehensibly uncharted territory. Whenever I have entered the wildernesses of my life, I have gone alone and that is the way I must travel now.
I wish him the best of luck and hope he knows how many people he has helped get on the right track over these many years. Good luck Mike, Gob bless.
Peak Oil and Energy News
UPI: Keystone XL company plans oil terminal
TheOilDrum: New IMF Working Paper Models Impact of Oil Limits on the Economy
ThinkProgress: Progressive Lawmakers Unveil Bill To Eliminate Subsidies To Fossil Fuels
Truthout: Koch Brothers' Activism Protects Their 50-Year Stake in Canadian Heavy Oils
David Sassoon, Inside Climate News: "Over the last decade, Charles and David Koch have emerged into public view as billionaire philanthropists pushing a libertarian brand of political activism that presses a large footprint on energy and climate issues. They have created and supported non-profit organizations, think tanks and political groups that work to undermine climate science, environmental regulation and clean energy.... What is less well documented are the many Koch businesses that benefit from the brothers' efforts to push the center of American political discourse rightward, closer to their own convictions."
Spiegel: Germany Rejects Fracking to Tap Natural Gas
Grist: Congressional report says 'drill, baby, drill' won't protect U.S. from oil price spikes
BusinessInsider: OPEC Is Pumping Oil Well Above Target
Reuters: UPDATE 1-BP Cherry Point refinery CDU restart stopped-sources
OGI: CBO study examines policy options to reduce oil price volatility
WSJ: Iran Oil Exports Fall as Sanctions Tighten
Businessweek: OPEC Says 'Plentiful' Global Oil Supplies Outpace Demand
BCAResearch: Oil: A Temporary Selloff?
PeakOil.com: Oil will bring downfall of Sudan government: Turabi
Sudan's loss of billions of dollars of oil revenues will bring down the government as inflation soars, the economy buckles and people grow hungrier, opposition leader Hassan al-Turabi said in an interview.
PeakOil.com: OPEC oil production climbs to 31.71 million barrels per day in April | Peak Oil News and Message Boards
- The latest Platts' monthly survey of OPEC production shows two highly significant trends: sanctions are starting to pinch Iranian output, and other OPEC countries are stepping in to fill the gap.
WSJ: Chesapeake Deals Carry $1.4 Billion in Undisclosed Liability
- Embattled Chesapeake Energy Corp. has saddled itself with about $1.4 billion of previously unreported liabilities over the next decade through off-balance-sheet financial deals. Most of these costs will hit this year and next, at a time when the company needs to raise substantial cash to cover operating expenses and its move into the more lucrative oil business. Chesapeake, the second-largest natural-gas producer in the U.S., has made a number of long-term commitments to Wall Street banks that require it to deliver specific amounts of oil and natural gas each month through 2022, in exchange for upfront cash.
ThinkProgress: Saudi Arabia Unveils $100 Billion Plan To Make Solar 'A Driver For Domestic Energy For Years To Come'
- Even the world's largest producer of oil understands the value of developing renewable energy.
Global Conflict
BBC: Underwear bomb spy 'was British'
- The undercover agent who infiltrated al-Qaeda and foiled an "underwear bomb" plot was a British man of Middle Eastern origin, US reports say.
McClatchy: For first time ever, Egyptians sees competing candidates debate
Reuters: Suicide bomb plot leak worries security experts
Spiegel: Relations Remain Icy Between Pakistan and the US
NYT: Airplane Security Debated Anew After Latest Bombing Plot
Guardian: US military course taught officers 'Islam is the enemy'
- Pentagon suspends course after study materials posted online suggested that Mecca and Medina may have to be obliterated
CNNMoney: Americans overwhelmingly favor big defense cuts
VOA: Protesters Rally in China, Philippines Against S. China Sea Claim
BusinessInsider: The US Is Now Worried That Israel Could Attack Iran At Any Moment
OWS
VancouverSun: Smoke bombs cripple Montreal subway system during morning rush hour
OrionMagazine: Punishing Protest: Patrick Shea and Heidi Boghosian Discuss Law and Civil Disobedience
TheNation: Charlotte City Manager Declares Bank of America Shareholder Meeting 'Extraordinary Event'
FDL: Why the Civil Rights Model Will Not Work for Occupy
Domestic Financial News
NYT: SEC Opens Investigation Into JPMorgan's $2 Billion Loss
Here's Max Keiser from yesterday
MaxKeiser: Keiser Report: I Steal, Therefore I Am (E286)
Reuters: JPMorgan's Dimon loses clout as reform critic
CNN: Rising GDP doesn't rule out recession
WSJ: J.P. Morgan Flags a $2 Billion Trading Loss
Forbes: The Rats in JPMorgan's Granary Exposed
Bloomberg: Facebook IPO Said to Meet Weaker-Than-Expected Investor Demand
BusinessInsider: GOODBYE, AMERICA: Billionaire Facebook Cofounder Renounces Citizenship
- Billionaire Facebook cofounder Eduardo Saverin is renouncing his citizenship ahead of the company's IPO at the end of next week.
WSJ: Economists See Growth, Inflation Modest in 2012
VancouverSun: Ben Bernanke says even worthy borrowers can't get mortgages
USAToday: FDIC's Gruenberg outlines new strategy for failing banks
TheFiscalTimes: Congress May Toss the Economy over the Fiscal Cliff
BBC: JPMorgan reveals shock $2bn trading loss on investments
JPMorgan Chase, the biggest US bank, has revealed a surprise trading loss of at least $2bn (£1.2bn) on complex investments made by its traders.
CNNMoney: (premarkets) JPMorgan loss to rattle stocks
FiscalTimes: How the Rich Make Us All Better Off
- Sunday's New York Times Magazine contained a
controversial article
about a former partner of Mitt Romney's at
Bain Capital
named Edward Conrad. Sounding a bit like the libertarian novelist Ayn Rand, Conrad argues, forcefully, that we are all better off because of rich people.
SeattleTimes: Poll shows Americans' pessimism on economy growing
- Americans are growing more pessimistic about the economy and handling it remains President Barack Obama's weak spot and biggest challenge in his bid for a second term, according to a new Associated Press-GfK poll.
Time: 'London Whale' Fail: JP Morgan's $2 Billion Credit Derivates Blunder Tied to Mysterious London Trader
- Almost immediately after the stock market closed yesterday, JPMorgan Chase asked Wall Street analysts to attend a highly-unusual, hastily-assembled, post-market conference call. Speculation was rampant: What could be so urgent? A credit-rating downgrade? A government investigation? CEO Jamie Dimon delivered the now-all-too-familiar-sounding bombshell: JP Morgan, the largest bank in the United States, had suffered a $2 billion trading loss over a recent six-week period on a complex derivatives portfolio — initially designed to reduce risk — that spiraled out of control.
SeattleTimes: US applications for unemployment aid dip to 367K
- The number of people applying for U.S. unemployment benefits ticked down last week following a sharp drop the previous week.
WSJ: Banks Back Obama's Fed Nominees -
President Barack Obama's two nominees to the Federal Reserve Board have received support from the financial-services industry, including Goldman Sachs Group Inc. and J.P. Morgan Chase & Co. Sen. David Vitter (R., La.) has effectively blocked Senate confirmation of the nominees, Harvard University economics professor Jeremy Stein and former private-equity executive Jerome Powell. Wall Street firms have been quietly pressing Mr. Vitter to drop his objections, an aide to the senator said.
TheNation: Don't Buy the Spin: How Cutting the Pentagon's Budget Could Boost the Economy
HuffingtonPost: Bernie Sanders, Keith Ellison Unveil Bill To End Fossil Fuel Subsidies
CharlesHughSmith: The Kobayashi Maru Test and the Job Market
Global Financial News
CNNMoney: Spain faces daunting task in bank reform
AdnKronos: Italy: Industrial output falls almost 6% amid recession
SFGate: Spain Underplaying Bank Losses Faces Fate Ireland Couldn't Avoid
NYT: Who Wants To Buy Honduras?
- Octavio Rubén Sánchez Barrientos had no idea how to undo the entrenched power networks. Honduras's economy is dominated by a handful of wealthy families; two American conglomerates, Dole and Chiquita, have controlled its agricultural exports; and desperately poor farmers barely eke out subsistence wages. Then a friend showed him a video lecture of the economist Paul Romer, which got Sánchez thinking of a ridiculously big idea: What if Honduras just started all over again?
McClatchy: Greece edges closer to default as latest attempt at coalition government fails
Reuters: China economy shows unexpected signs of weakness
Telegraph: It's too late for Germany to save the euro
NYT: Spain Is Likely to Take Steps to Strengthen Its Banking System
CNNMoney: Europe's rising risks from Greece
Bloomberg: Greeks May Hold $510 Billion Trump Card in Renegotiation
BusinessInsider: The London Olympics Are Looking Like A Financial And Organizational Disaster
Cryptogon: Banks Prepare for the Return of the Drachma
Reuters: Greece hurtles towards new election; hard left leads
Commodities/Metals
CommodityOnline: Chinese April Copper imports decline a beginning more to come: Commerzbank
Mineweb: Calls for Indian gold bonds grow louder
ETFDaily: Gold ETF Raid Imminent As China Flushes J.P. Morgan of Physical
Environmental
USGS
M 4.3, Antigua and Barbuda region, Leeward Islands
Arctic-News: Arctic - red alert!
ThinkProgress: NASA Study Finds Surprising New Methane Emission Source And Possible Amplifying Feedback: The Arctic Ocean
WSJ: Coast Girds for Tsunami Litter
DesdemonaDespair: Clear indications that climate change is affecting fish stocks
ExtinctionProtocol: Is Tokyo Bay becoming a radioactive hotspot?
BBC: Big Rise In North Pacific Plastic Waste
- The quantity of small plastic fragments floating in the north-east Pacific Ocean has increased a hundred fold over the past 40 years. Scientists from the Scripps Institution of Oceanography documented the big rise when they trawled the waters off California. They were able to compare their plastic "catch" with previous data for the region. The group
reports its findings in the journal Biology Letters
.
ThinkProgress: Shortsighted Republicans Eliminate International Climate Aid Funding. Again.
ENENews: Nuclear industry insiders say Fukushima Daini "damaged badly"
BusinessInsider: Bizarre Sea Monster Captured By Deep-Sea Drilling Camera
MSNBC: Tornado hits high school, topples train in Weimar, Texas
(special thanks to RJ at
Global Glass Onion
for the two following stories. )
EcocentricBlogs: Global Warming: An Exclusive Look at James Hansen's Scary New Math
- How can
NASA
physicist and climatologist James E. Hansen,
writing
in the New York Times today, "say with high confidence" that recent heat waves in Texas and Russia "were not natural events" but actually "caused by human-induced
climate change
"? It wasn't all that long ago that respected MIT atmospheric scientist Kerry Emanuel flatly refuted the notion that you can pinpoint
global warming
as the cause of an extreme weather event. "It's statistical nonsense," he
told PBS
. But Hansen's shot across the bow this morning indicates that the unwillingness to point fingers may be changing.
WashingtonPost: House slashes funding increase for NOAA climate website
- Of a possible $1.4 billion dollars in proposed spending cuts in the Departments of Commerce and Justice for 2013, the U.S. House Representatives voted to approve none of them. None of them except a piddly $542,000 for a NOAA climate website. The amendment was approved 219-189 Tuesday evening
TheHill.com reported
. The NOAA "climate website" is
Climate.gov
- a portal to NOAA's climate information. The website - currently in a prototype stage - provides a rich set of climate information, tools, and data resources. With a little investment, it has the potential to provide tremendous benefits to decision makers. One wonders, then, why the 56 percent funding increase for this website proposed by the President was the low-hanging fruit snipped off the vine. Congressman
Andy Harris
(R-MD), serving eastern Maryland, who offered the amendment, justified it as an effort to save taxpayers money. But couldn't the website provide a substantial return on the relatively trivial investment? In 2011, the U.S. experienced
14 separate billion dollar weather disasters
with more than $60 billion in damages.
DesdemonaDespair: Australia university reveals threats to climate scientists
America in Decline
CBSNews: Lesbian seeking marriage license arrested in NC
Truthout: Why Isn't Closing 40 Philadelphia Public Schools National News?
Cryptogon: Spy School Teaches the Basics of Intelligence Gathering to Kids, Teens
Truthout: "Breathing While Latino" Laws Boom for Private Prison Profits
Dina Rasor, Truthout: "For the past two weeks, I have written two columns on the biggest private prison companies, Corrections Corporation of America (CCA) and the Geo Group (GEO), to expose their efforts to elevate their profits by working to keep laws on the books that will maximize the number of prisoners in this country (one in 100 people, the highest in the world). They were successful by making certain that they had well-placed lobbyists and former employees to keep their product (the number of prisoners) high to keep beds filled in public prisons that they managed and private prisons that they owned."
Alternet: How the Corporate Right Hijacked America's Courts to Enrich the Top 1 Percent
TheNation: Throwaway People: Will Teens Sent to Die in Prison Get a Second Chance?
Airline pulls 18 month old girl off plane in 'no-fly' alert
- Officials say an 18-month-old girl was mistakenly pulled off a JetBlue flight before it left Fort Lauderdale because airline employees thought her name was on the U.S. no-fly list.
SeattleTimes: Guns for butter: House votes to stop Pentagon cuts
- Turning their budget knife to domestic programs to protect the Pentagon, House Republicans on Thursday approved legislation cutting food stamps, benefits for federal workers and social services programs like day care for children and Meals on Wheels for the elderly.
AJC: Video: Walker explains divide, conquer strategy
- MADISON, Wis. — Newly-released documentary film footage from January 2011 shows Wisconsin Gov. Scott Walker describing a "divide and conquer" strategy for going after the state's public employee unions that would begin with going after their collective bargaining rights, undermining his long-held claim that his divisive union rights law was meant solely as a budget-balancing measure.
Food and Water
FoodRenegade: Are Mason Jar Ferments Safe?
NOC: Jim Hightower: Agent Orange Corn? Dow and Feds Say: "Bon Appetit!"
McClatchy: Grant to boost use of food stamps at farmers markets
CNN: Showdown at the H2O Corral - Tombstone, Arizona (CNN)
-- There's a popular saying in the American West: Whiskey's for drinking, but water's for fighting over. This dusty little city, made famous by the Gunfight at the O.K. Corral, has a dilly of a water fight on its hands.
BPA: Agriculture News May 10, 2012
Wired: What Spam With Bacon Is Really Made Of
Internet and Online Privacy News
RedTape: The FBI took -- and mysteriously returned -- their server. Here's their story
Science and Technology
ScientificAmerican: Ancient Time: Earliest Mayan Astronomical Calendar Unearthed in Guatemala Ruins
Reuters: Crash deals blow to Russian aerospace revival
CosmicLog: SpaceX teams up with Bigelow on space station marketing
SciShow: Ten Things You Probably Didn't Know About DNA
CosmicLog: Maya calendar workshop documents time beyond 2012
BigThink: What Pronouns Can Tell You About Your Sex Life
PopSci: Chinese Physicists Teleport Photons Over 100 Kilometers
TechReview: Chinese Physicists Smash Distance Record For Teleportation
Medical and Health
ScientificAmerican: The Gloom-and-Doom Disease: Should Woody Allens Have a Home in the Manual of Mental Illness?
DoctorTipsters: Gene That Regulates Circadian Rhythms Linked To Weight Problems
HubbertsArms: When half a million Americans die, does anyone notice?
Vitals: Two children die in hot cars as risky season begins
GlobeAndMail: Our cars are killing us – and not just in the way you might think
CNN: Anti-obesity drug gets thumbs up from FDA advisory committee
NPR: Advocates: HIV Prevention Pill Could Save Lives
Reuters: Insight: America's hatred of fat hurts obesity fight
Doomsteading, Gardening, Urban Farming
SabreDancing: Wooohooo the engine fits like a glove!!…
CNNMoney: Selling America's bunkers
WaldenEffect: Bad tomato seeds?
PreppingToSurvive: 5 Business Skills That Will Help After TEOTWAWKI
CityFarmer: $750 fee for keeping chickens in Florida
CanadianDoomer: Off-grid - Solar or Wind?
UrbanFarmOnline: Seeds of Change
JustInCaseCookbook: Promises, promises
Other News
AJC: Police: Kidnap-slaying suspect slain; 2 girls OK
DailyMail: Woman, 22, given two life sentences for allowing professor, 49, to have sex with her five-month-old daughter
Reuters: Muslim Americans challenge "no fly" list in appeals court
USAToday: Fla. band director retires amid Champion hazing probe
CNN: Unique home in the Jersey woods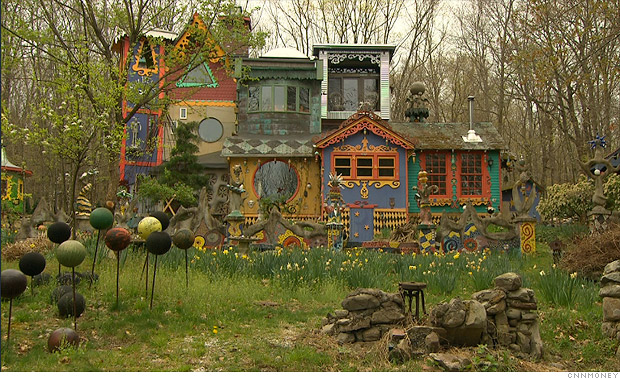 CNN: Artist creates unique habitat in New Jersey woodlands
GlobalPost: Colombia passes first draft of bill to legalize drug crops
- Colombia's House of Representatives passed the first draft of a bill that would decriminalize growing plants such as coca, marijuana, and opium poppies in the country.
Reuters: U.S. sues controversial Arizona sheriff for discrimination
BBC: Life term for eye-gouge attacker
BBC: Five children die in house fire
- A woman in her 20s is arrested on suspicion of murder after five children die in a house fire in Derby.
HuffingtonPost: John Travolta Sued By Masseur For Assault And Sexual Battery
IBTimes: Michele Bachmann Withdraws Swiss Citizenship: 'I'm A Proud American Citizen'
Rep. Michele Bachmann announced Thursday that she is renouncing her dual Swiss citizenship, only a day after news broke that the former Republican presidential hopeful had received citizenship from the European nation through her husband, Marcus Bachmann.
MSNBC: Suspected kidnapper Adam Mayes dead, 2 girls found unharmed
BBC: Shoe thrown at Breivik in court
Politics
Politico: GOP leaders on gay marriage: Sound of silence
ChicagoSunTimes: Bristol Palin blames Obama's gay marriage support on daughters, 'Glee'
DailyKos: Abbreviated Pundit Roundup: Mitt Romney, bully.
Rawstory: House approves amendment to prevent 'undermining' of DOMA
- The U.S. House of Representatives on Wednesday night approved an amendment to the Commerce-Justice-Science Appropriations bill to prevent the Obama Administration from taking legal action against the Defense of Marriage Act (DOMA) or state constitutional amendments prohibiting same sex marriage.
Forums
TinfoilPalace: FEMA Coffins Being Moved!!
TinfoilPalace: Blockers used on autistic kids to be debated at meeting Thursday night Please pray for us
TheOilAge: Doc Wallach on Alex Jones...
TheOilAge: UFO's Spotted in Israel - May 8th 2012
HubbertsArms: Greece just went ICELAND ON EUROPE'S ASS!!
HubbertsArms: Anyone here crazy enough???
SilentCountry: British Police Join Protest
SilentCountry: Fed clears China's first US bank takeover
DestinyCalls: Anthology on strange things in the simpson's cartoon
DestinyCalls: Parsons, crowley and others compilation of occult videos