Going to post a little early today, I've got a mountain of unfinished projects staring me in the face and think I'll just jump in and start swingin'. LOL
First off, these two courageous women in the news today.
MSNBC: In memoriam: 'Ride, Sally, Ride'
LAT: Amelia Earhart mystery: Expedition comes home with more questions
Much thanks to our good friends RJ at the
Global Glass Onion
and the Ozarker at
Conflicted Doomer
, and to Doug at
3Es News
and David at
ETF Daily
.
Do check out and support their work and stop by one of the forums for a chat! you'll find them linked at the bottom of this post.
Peak Oil and Energy News
TripleCrisis: Running on Empty: U.S. ethanol policies set to reach their illogical conclusion
- I'm as cynical as the next policy wonk, but sometimes even I am surprised at the perverse outcomes of some of those policies. Take the bizarre scenario outlined in the
new agricultural outlook report
from the FAO and the OECD regarding the projected rise in ethanol trade – ethanol traded for ethanol – between the United States and Brazil. That's right, 6.3 billion gallons a year sloshing between the world's pre-eminent ethanol producers by 2021. And all in the name of the environment, without a single drop helping people or the planet. Why would the United States, which now devotes 40% of its corn crop to the production of ethanol, import more than 4 billion gallons of ethanol from Brazil? And why would Brazil at the same time import a projected 2 billion gallons from the U.S.? Couldn't we just save all those transactions costs and shipping-related greenhouse gas emissions by keeping our ethanol and cutting our projected ethanol imports from Brazil in half? Not if your goal is to game the U.S. biofuel mandate.
Forbes: A Hungry World Population? Oh Well, Let Them Eat Ethanol!
- Here come the corn riots. Climate change policies—much more than the vagaries of climate–are now beginning to create the instabilities that cooler heads have been warning about for years. Corn prices on the Chicago Board of Trade are now at or near record levels, around $8.30 per bushel for spot delivery. The rise in recent weeks has been dramatic, driven by the perception of declining yields caused by hot and dry conditions mainly in the upper Midwest. Much of this corn is beyond redemption as grain. High temperatures render corn's pollen sterile, and the narrow pollination season—usually around ten days in a given field—dictates that once this time has passed, there's likely to be very few kernels set on each ear. While rain may allow the plant to recover, its value as feed is dramatically reduced.The Department of Agriculture's July 11 projection is for a 9% reduction from that nominal 160. But it's been pretty hot and dry since that estimate was made (with data from many days before 7/11), so things are going to drop further, which is why corn prices continue to climb. Which brings us to ethanol. It comes from corn. The amount to be produced is a mandate, not a choice. It's 13.2 billion gallons this year. Last year we burnt up 40% of our crop. This year, given the expected yield reductions, we could easily destroy over half of our corn.
AEI-Ideas: Merrill Lynch report: America's energy sector delivers an economic stimulus of almost $1 billion every day
- A new
global energy report
from Bank of America/Merrill Lynch estimates that the economic benefits to the U.S. economy from booming domestic energy production, especially from the surging output of unconventional shale gas and oil, are approaching $1 billion per day.
Statesman: Fracking researcher has ties to industry
CNNMoney: China oil giant buys into North America
Global Conflict
BBC: Syria chemical weapons: Obama says world is watching
WashingtonPost: Iraq attacks raise specter of al-Qaeda's return
CNN: Shudders, warnings over WMDs in Syria
Xinhuanet: Syria threatens chemical weapons against foreign attack
RealityZone: German intelligence: al-Qaeda all over Syria By John Rosenthal
Reuters: Egypt's Mursi names little-known water minister as PM
Independent: Syria rejects offer of safe passage for Assad family amid chemical weapons threats
- Regime turns down Arab League offer amid threats to use chemical weapons against 'external aggression'
CNN: Gunmen attack NATO supply convoy in Pakistan, killing 2
NBC: Afghan police commander leads defection to Taliban
NYT: Use of Warplanes Is Reported in Syrian Conflict
Reruters: Syria still in full control of chemical arms
OWS/Protests
LAT: Oakland protesters call on Obama to freeze pot clinic crackdowns
Hacker News
NBC: UK PM's ex-aide, Murdoch protege face charges in phone-hacking scandal
USAToday: UK charges Coulson, Brooks, others with phone hacking
Domestic Financial News
Why Corporate Fraud Is So Rampant: Wall Street's Cop
WashingtonPost: The economics of corporate crime
Why do companies break the law? Poor morals on the part of their executives, perhaps. But another basic economic explanation is that companies are more likely to break the law if the upsides of doing so outweigh the risks. If either the odds of getting caught or the penalties for lawbreaking are too low, then companies will find it profitable to engage in illegal behavior.
NewEconomicPerspectives: Reinventing Crony Capitalism: the Context of Geithner's Obscene Rant against Barofsky
- William K. Black - Neil Barofsky, the former Special Inspector General for the Troubled Asset Relief Program (TARP) (SIGTARP), was one of the officials that made one proud of America. Naturally, Treasury Secretary Timothy Geithner detested him.
WSJ: Excerpts: Geithner on Economy, Libor, Europe, Fiscal Cliff
CNNMoney: Cost of debt ceiling fight: $1.3 billion
FiscalTimes: Americans Retiring Abroad: What's Driving Them?
NakedCapitalism: Market Monetarism Or An Attempt to Speed Up the Decline in Real Wages
MSNBC: How to recognize the recession has ended
ConversableEconomist: How Did Time Use Change in the Recession? -
When U.S. unemployment rate started rising, going from 5.0% in January 2008 to 7.3% by December 2008, and thus on up to a peak of 10.0% in October 2009, many people had many fewer work hours. What did they do with those hours?
WSJ: Fannie Mae Cuts 2012 GDP Growth Forecast
- Fannie Mae has cut its U.S. gross domestic product growth projection for the year, citing an uncertain job market and weak consumer spending.
MSNBC: When eBay bidders see red, bids rise
CalculatedRisk: Zillow: "Housing Market Turns Corner"
Time: Every American Is Experiencing a Different Economy
- You don't have a real economic recovery until the majority of Americans are participating — and right now they aren't.
Reuters: As China costs rise, technology lures U.S. factories home
Global Financial News
Reuters: COLUMN-Italy, Spain and the war on short-selling: James Saft
Mish: Social Media Panic in Italy: "Enough of this Agony; Give Us Back the Lira"
- Black Monday messages on Facebook and Twitter have gone viral in Italy as people have had enough of austerity, job losses, and uncertainty.
CNNMoney: Moody's puts Germany on notice
Krugman: A Foolish Lack Of Terror
- Krugman -- Germany's vice chancellor
says that
the prospect of a Greek euro exit has "lost its terror".
CNBC: High Stakes Talks as Inspectors Arrive in Greece
MainlyMacro: Playing with Fire in the Eurozone -
Bloomberg
quotes
German Vice Chancellor Philipp Roesler as saying "What's emerging is that Greece will probably not be able to fulfil its conditions. What is clear: if Greece doesn't fulfil those conditions, then there can be no more payments." (HT
PK
) OK, this is just the kind of thing you would expect to be said in negotiations between creditors and debtors. We have been here before, and the rhetoric appeared to work on the Greek electorate. In the Cold War, we mercifully only had a few moments like this, and we were lucky. But if you keep playing this game, one day you will lose control.
IPEZone: Solar Wars: Now China Will Investigate US Firms
- When countries fight over trade, you usually assume that they have meaningful things to fight over. That is, there is something at stake. I am thus befuddled by the likes of the US, China and the European Union going at it tooth and nail over solar panels when (a) the global market for them is small and (b) they are seldom central to national interests.
CNBC: Relentless Pressure Pushes Spain Closer to Bailout
Mish: Spanish Finance Minister in Germany Pleads for Temporary Credit Line to Halt an "Imminent Financial Collapse"
Telegraph: Debt crisis: Spain and Italy ban short-selling
Spanish and Italian regulators banned the short-selling of financial stocks on Monday after stock markets fell sharply on fears that might need a full international debt bailout.
BBC: China manufacturing 'picking up', HSBC survey indicates
FT: A slowdown is good for China and the world -
Pettis - China's official
growth rate
has fallen sharply; its real growth rate may be substantially lower; the country is tipping into deflation; and
Premier Wen Jiabao
has warned, yet again, that the economy is under serious pressure.
Commodities/Metals
ETFDailyNews: Silver Prices: Is It Time To Buy Silver?
Jesse'sCafeAmericain: Gold Daily and Silver Weekly Charts - A War On Silver and Gold
Environmental
USGS
M 3.4, 5km SSW of Palmarejo, Puerto Rico
here is a wonderful article from an amazing blog that I found.
Wit'sEnd: The Mark of Zorro
ExtinctionProtocol: Torrential rains hammer central Nigeria, killing 35
Rendezvous: A Beijing Family's Holiday From Pollution
OBERTRAUN, Austria — Is it fair to compare the environment of Beijing, a city of nearly 20 million, to this village of about 700 in Austria, on the shores of the Hallstätter See in the Salzkammergut region?

Probably not. Yet, with ever more middle-class Chinese seeking rural hideaways — in Beijing, people who can afford to have begun renting holiday homes in the mountains north and west of the capital to get away from the city's choking smog — it's a comparison worth making. The environment is a pressing concern for many Chinese, and pollution is a key reason cited by many who decide to emigrate, as more and more are.
GreedGreenGrains: Fingerprinting Climate Change -
I'd like to think I helped inspire Krugman to write his
column today
, since he linked here the other day from his blog. Hardly anyone reads this thing, but if the right people read it, maybe it can have some second-hand impact? Hansen's climate dice paper shows how much the relative frequency of extremely warm temperatures has increased. But how is it that scientists know warming is due to greenhouse gas concentrations (primarily CO2)?
Guardian: BP 'missed big hazards' before Gulf oil spill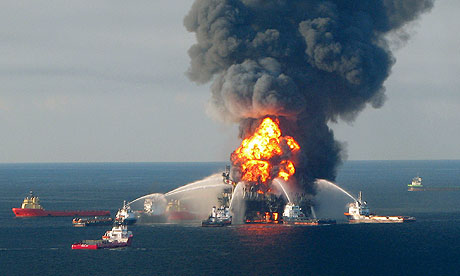 US government panel criticises oil firm's approach to safety on contracted rigs prior to the Deepwater Horizon disaster in 2010
America in Decline
Salon: Bachmann's teacher in hate
FiscalTimes: How the Feds Can Take Your Property
Op-Ed: During a routine traffic stop, the officer asks if you have any cash in the car. "Why, yes," you say, "$8,000 in business receipts that I'm taking to the bank." He seizes the money. After months and some $2,000 in legal fees, you might get it back.

An expensive boat that you own free and clear is docked at the local marina. Unbeknownst to you, underage teenagers have been using it at night as their clandestine drinking spot. When the Coast Guard finds out, it seizes your boat for committing the "crime" of contributing to the delinquency of minors. Local law enforcement sells the boat, and keeps the proceeds.

Throughout the country, legions of bureaucrats, DEA agents, and local law enforcement scour the country for lucrative property (and cash) to steal from innocent citizens. They do so under a capricious law known as "civil asset forfeiture" (CAF) – the bizarre notion that a thing or property "acted wrongly," and thus is being charged with a crime.
Prospect: Creating a Countercyclical Welfare System -
Welfare systems exist to reduce the worst excesses of poverty. When poverty increases during recessions, the welfare state is supposed to rush into countercyclical action, providing a firewall against a growth in destitution. That's the theory, anyway. In practice, it's never been the case. In recent years in particular, the American welfare system has increasingly shed itself of this key obligation.
Food and Water
Guardian: US food aid programme criticised as 'corporate welfare'
- Two-thirds of food for the billion-dollar US food
aid
programme last year was bought from just three US-based multinationals.
ThinkProgress: Satellite Image Shows How The U.S. Drought Is Stressing Crops
Potato industry discussing ways to deal with big crop
- The 2012 potato crop could be up to 41 million hundredweight bags larger than last year's crop, the head of United Potato Growers of America says.
GreedGreenGrains: The End of Farm Subsidies?
Science and Technology
ScientificAmerican: Government Researchers Really Did Invent the Internet
MSNBC: 'Wow, what have we done?' Tech firms worry gadgets exert too much power over us
Growing movement in Silicon Valley aims to get people to log off once in a while
InGame: $30 glasses let your eyes play 'Pong' ... and more
Medical and Health
Smithsonian: What Is the Nocebo Effect?
Vitals: 33 sick in 7 states from salmonella in beef
CNBC: More Americans Put Off Medical Treatment as Costs Rise
TechReview: Pfizer "Disappointed" with First Results for Alzheimer's Drug Candidate
Doomsteading, Gardening, Urban Farming
IfItHitsTheFan: New Documents in the Library
Other News
DenverPost: Aurora Shooting Mirrored Training Exercise on Same Day Near Denver
--

'The irony is amazing, just amazing.'
21 Jul 2012 The tragedy that played out in an Aurora movie theater Friday was ironically paralleled as a classroom learning experience in a medical school in Parker the same day. Rocky Vista University College of Osteopathic Medicine is in the middle of holding specialized classes in disaster life support for 150 second-year medical students. Along with response to natural disasters like hurricanes and floods and terrorist attacks,
one of the scenarios being used to train the students is how to respond if a shooter fires at people in a movie theater and also uses a bomb in the attack.
"The irony is amazing, just amazing," said Rocky Vista Dean Dr. Bruce Dubin.
Guardian: US evangelical Christians accused of promoting homophobia in Africa
AZCentral: Book revisits El Mirage sex cases ignored by Maricopa County Sheriff's Office
(hat tip RealityZone)
ABCNews: Bloomberg challenges Obama, Romney to address gun violence following shooting
Newsday: Amelia Earhart search returns without conclusive images
MSNBC: NY home explodes, killing girl, injuring 4 others
Bottomline: Muppets company severs ties with Chick-fil-A over gay marriage stance
DetroitNews: Carroll Shelby's wife, kids agree on his burial
USAToday: Philadelphia monsignor gets 3-6 years in abuse cover-up
Politics
CSMonitor: Colorado shooting: Why calling Obama 'anti-gun' is smart politics
WSJ/NBC Poll: Romney Leads on the Economy, Trails Elsewhere
Forums
TinfoilPalace: 2013 Llewellyn Astrological Forecast
TinfoilPalace: Curious Case of Criminal Last Names
OilAge: China offers $15 billion cash for Canadian oil company Nexen
OilAge: Stepped-up repression in India's auto industry
HubbertsArms: Politicians Shy Away From New Gun Control Efforts
HubbertsArms: Horrid Anti-Gay Hate Crime in Lincoln, NE
SilentCountry: Resources for drought
SilentCountry: Good drought news
DestinyCalls: Cold weather linked to witchcraft trials
DestinyCalls: Britain, America, The Bank of England, The Fed and Two World Wars