Middle East Turmoil
BusinessInsider:
Horrifying Images Are Coming Out Of Bahrain Right Now, As Protest Death Toll Escalates
CNN: Bahrain protests continue as 'those involved' in deaths are detained
Guardian: Bahrain police open fire on funeral procession leaving one dead
King pledges inquiry into 'regrettable' deaths as thousands of protesters set up camp in capital
Guardian: Bahrain: terror as protesters shot. Live updates
Bahrain -
four killed in police raid on Pearl roundabout
Libya -
protesters prepare for 'day of rage'
Yemen -
violence mounts in bid to remove President Saleh
USAToday: Police attack Bahrain protesters; 4 reported killed
Financial News
Bloomberg: Fed Tells U.S. Banks to Test Capital For Recession Scenario
The Federal Reserve ordered the 19 largest U.S. banks to test their capital levels against a scenario of renewed recession with unemployment rising above 11 percent, said two people with knowledge of the review.
Bloomberg: Fed Officials Split on Stimulus, Disappointed on Job Growth
ZeroHedge: Surging Gold Demand a "Global Phenomenon" - Chinese Demand For Silver "Voracious"
TheTelegraph: David Cameron hails 'radical' welfare changes
Prime Minister David Cameron published a reform package which he said would deliver ''the most ambitious, fundamental and radical changes to the welfare system'' since it was created.
PBS: Sen. Bernie Sanders: 'I've Got a Lot of Problems With the President's Budget'
ZeroHedge: Matt Taibbi's Latest: " Why Isn't Wall Street In Jail?"
Bloomberg: Consumer Prices in U.S. Probably Rose for Seventh Month
CharlesHughSmith: You Want Inflation? Here's How To Get It
MyBudget360: Collective financial insanity
– FDIC backing $5.4 trillion in total deposits on pure faith – US banking operating with negative deposit insurance fund and massive debt leverage. The greatest Ponzi scheme known in the financial world.
TheAmericanProspect: Business Is Booming
America's leading corporations have found a way to thrive even if the American economy doesn't recover. This is very, very bad news.
Reuters: Retailers beware! Tinker with fabric at your risk
Blame the high price of cotton for T-shirts that might feel just a bit scratchier this spring, or pants that seem to stretch out after one washing.
Alphaville: Richard Koo goes unconventional on China
HuffingtonPost: Wisconsin Governor Threatens To Replace Union Workers With National Guard
HuffingtonPost: Out Of 400 Amendments, Just One For The Jobless
nasdaq: China Inflation: Getting Worse and Coming To A Wal-Mart Near You
BusinessInsider: Here's The Entire Global Property Market In One Gigantic Chart
hat tip to Collapse Net for this story.
Much thanks to rj at the
Global Glass Onion
for the following links.
If you haven't checked out his site, I highly recommend it!
Economist's View: Changes in the Distribution of Workers' Hourly Wages Between 1979 and 2009
WashingtonPost: The hollowing of the middle in one graph
MoneyWatch: The Budget Deficit Debate: Avoiding the Real Problem
MarginalRevolution: Government is raising the value of a life
Peak oil and Energy News
PostCarbonInstitute: Earth's Limits: Why Growth Won't Return
TheTelegraph: Oil rises to $104 a barrel amid Middle East tensions
The price of oil held at two-and-a-half year highs amid fresh concerns that tensions in the Middle East could disrupt oil flows in the region.
Chron: Some oil from reserve to be sold
Problem with salt dome means $500 million in crude to go on block
The government is preparing to sell $500 million worth of crude oil the U.S. has stockpiled for emergencies because of problems with the integrity of one of the underground caverns where it is stored.

Energy Secretary Steven Chu defended the plan Wednesday amid concerns the sale of crude from the Strategic Petroleum Reserve would leave the U.S. more vulnerable to disruptions in the supply of Mideast oil.

Chu said it was better for the government to cash in on the crude rather than risk it seeping out of a salt dome cavern in southeast Louisiana or chance an overflow of oil as it is moved to other brimming storage sites.
Environmental News
BreitBart: Huge solar flare said to jam China communications
WiredScience: Giant Solar Blast Headed for Earth
MotherNatureNetwork: 12 ways the world (as we know it) could end
MotherJones: A Sticky Situation for TransCanada's Keystone XL Pipeline
Environmental activists have long criticized the production of tar-sands oil; this especially dirty form of fuel demands tons of energy to obtain and results in high greenhouse gas emissions, not to mention the toxic wastelands its extraction leaves behind. But a new report, "Tar Sands Pipeline Safety Risks" (PDF), looks more closely at the environmental costs associated with the oil's transportation—which might soon run straight down the middle of the continent. A proposed TransCanada pipeline, the Keystone XL, would carry billions of gallons of crude tar sands oil from Canada into the US. This raw oil—more corrosive, volatile, and acidic than the upgraded synthetic tar-sands oil we've become used to—would flow from Alberta to Houston, through some valuable wetlands and aquifers in the Midwest.
HurriyetDailyNews: Mysterious fish deaths fan villagers' fears in northern Turkey
ExtinctionProtocol: Twin cyclones create more weather havoc for Australia
Food and Water
TreeHugger: Monsanto Continues to Block Independent Analysis of GM Crop Safety
Public sector research has been blocked. In 2009, 26 university entomologists -- bug scientists -- wrote a letter to the Environmental Protection Agency protesting restricted access to seeds. The letter went public, but not most of the writers' identities. They were afraid of retaliation from the companies that might further hamper their research.

"No truly independent research can be legally conducted on many critical questions involving these crops," they wrote. Christian Krupke, a Purdue University entomologist who signed the letter, put it more succinctly to a reporter for a scientific journal. "Industry is completely driving the bus," he said.
Grist: no rain, no grain
The world is one poor harvest away from chaos
War, Conflict and Terrorism
Bloomberg: No Iranian Warships Scheduled to Cross Suez Canal, Official Says
This is a strange story, even as I found this article, Bloomberg radio is still reporting on the ships headed for the Suez Canal.
No Iranian warships have applied to cross through the Suez Canal, an official said, a day after Israel's foreign minister warned that sending such ships through the waterway to Syria would be a provocation.
MotherJones: We're Still at War: Photo of the Day for February 17, 2011
U.S. Army Maj. Rosemary Reed of the Khowst Provincial Reconstruction Team helps U.S. Army Sgt. 1st Class Paula Reill of the 3-19th Indiana Agricultural Developement Team with her head scarf before a women's shura held at Jaji Maidan in Khowst Province, Afghanistan, Thursday, Feb. 10.
Haaretz: Palestinian medics: IDF troops killed three on Gaza border
Residents of northern border zone where bodies were found report hearing gunfire over the course of the night; no militant group has yet claimed casualties as their own.
Guardian: Israel monitors Iranian warships near Suez canal
Ships suspected of carrying weapons for eventual delivery to Lebanese Islamist group Hezbollah
WPix: Baghdad wants U.S. to pay $1 billion for damage to city
Police State, Big Brother, Surveillance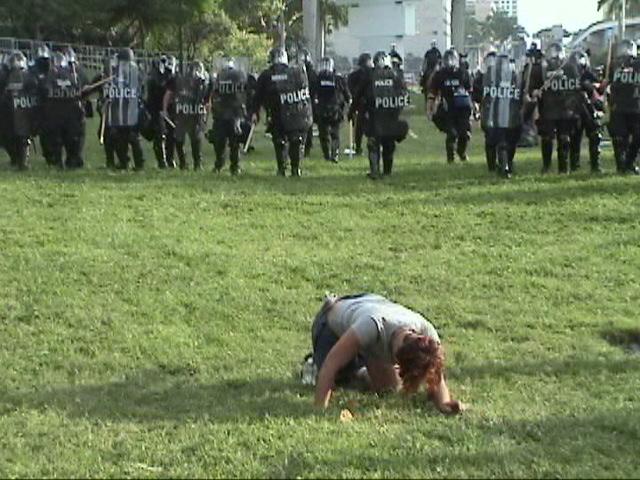 AmericanDream: Betrayed! Tea Party Politicians Vote To Renew The Patriot Act
As America Is Slowly Transformed Into A Big Brother Police State Worse Than George Orwell's 1984
Xinhuanet: U.S.-born cleric slams Obama's intervention to keep Yemeni journalist in jail
The U.S.-born Yemeni cleric Anwar al-Awlaki has slammed U.S. President Obama and Yemeni President Ali Saleh for arresting a Yemeni journalist over the revealing that U.S. warships fired missiles at south Yemen.
Science and Technology
Reuters: Ancient Brits ate dead and made skulls into cups
Researchers from London's Natural History Museum discovered 15,000-year-old human bones in southern England which showed signs of cannibalism and skulls made into drinking cups.
Medical and Health
ASM.org: Dry Copper Kills Bacteria on Contact
Other News
Miami-Dade: State may have missed chance to save girl found dead in truck
(this is a follow up to previous story about the sick people in the truck and the one dead.)
Forbes: Map: Where Americans Are Moving
More than 10 million Americans moved from one county to another during 2008. (interactive map)
The Forums
Where did LATOC members go? Well, they're in the forums linked below! Visit today!
TinfoilPalace: The best interpretation of "The Revelation of John" that I have ever read
TinfoilPalace: Sen. Brown: I Was Sexually Abused As Child (Massachusetts Senator)
TheOilAge: Mounting labor unrest in Israel
TheOilAge: A state of decline? (The United States)
Hubberts-Arms: The Most Disturbing Headline You'll Read This Week...
Hubberts-Arms: TSA workers caught stealing 40 grand from luggage
SilentCountry: Demopnstrations in Libya
SilentCountry: Einstein was right (honey bee collapse)