Well, the jobs report is out and looks like an increase in new jobs, until they have to revise the numbers! LOL
I hope everyone has a great weekend and gets to get outside and work in the gardens or yards. That's were I'm going to be if it doesn't rain too much.
Do visit the great forums linked at the bottom of this post and check out the weekly wrap-up at
Global Glass Onion.
(thanks rj for the links!) Also, check out the blogs linked on the sidebar as well. We have some great bloggers from the forums linked there. Support your fellow doomers!
I'll put us up a documentary to watch this weekend tomorrow.
Take care guys and stay informed. It's about the best we can do to protect ourselves.
Japan
BusinessInsider: TEPCO Confirms That Groundwater Radiation Is So Bad, Everyone Thought It Had To Be An Error!
CNN: Official: Tens of thousands of evacuees can't head home for months
okyo (CNN) -- Tens of thousands evacuated from around the stricken Fukushima Daiichi power plant may not be allowed home for months, a Japanese minister said Friday, with no end in sight for the nuclear crisis as fresh concerns mount about alarming radiation levels in beef, seawater and groundwater.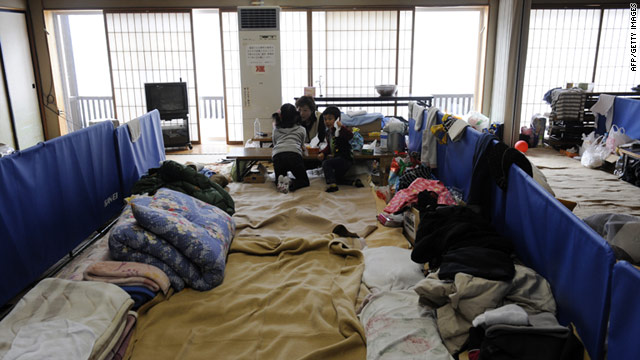 TheTelegraph: Japan nuclear crisis: Fukushima 50 'expect to die'
Workers who have been fighting to bring the reactors under control at Japan's strick nuclear plant expect to die from radiation sickness, according to the mother of one of the men.
MSNBC: Entomb? Cement pumps flown in to nuke plant
Same company that helped seal in Chernobyl is sending equipment
A truck carrying a cement pump that can extend nearly 200 feet is loaded onto an Antonov 124 plane in Stuttgart, Germany, on Thursday. The pump is being flown to Japan to help at stricken the Fukushima nuclear power plant.
Global Conflict
CSMonitor: What Qaddafi loses with Moussa Koussa's defection
Foreign Minister Moussa Koussa, who as former intelligence chief is intimately familiar with Qaddafi's most notorious operations, defected from the Libyan regime yesterday.
Project-Syndicate: The Arab Young and Restless
TimesOfIndia: Turkey says arming Libya rebels could spawn terrorism
WSWS: Libyan rebels massacre black Africans
BigNewsNetwork: 40 civilians suspected to have been killed in Tripoli strikes
PressTV: US-led airstrikes kill dozens in Libya
CNN: Battles rage in Libya amid defections of key Gadhafi allies
BusinessInsider: Chinese Growth Is Back As PMI Surges All Around
VOA: Fighting in Abidjan Surrounds Home of Incumbent President
Forces loyal to the internationally recognized Ivory Coast President Alassane Ouattara prepare to attack the Presidential Palace in Abidjan, April 1, 2011
Guardian: Ivory Coast's Alassane Ouattara calls on military to defect - video
Jubilant scenes in Ivory Coast's official capital Yamoussoukro, as rebel forces continue to heap pressure on incumbent leader Laurent Gbagbo. Presidential claimant Alassane Ouattara says the endgame is near
DW-World.DE: US 'concerned' as 150 protesters detained in Russia
PBS: 'Valuable' Libyan Defections Aid Coalition as CIA Assesses Rebels' Intentions
Financial News
TheDailyBail: Bill Gross: "Treasuries Have Little Value Given Our $75 Trillion National Debt; We Are Out-Greeking The Greeks"
Time: The Drop in the Unemployment Rate: A Bad Sign For the Economy?
Forbes: Stop Telling Me to Work Until Seventy
Exiledonline: The Gold-Standard Hustle: Does Anyone Here Speak Paul-tard?
MyBudget360: Federal Reserve punishes savers by subsidizing big banking bailouts
Two largest U.S. banks offer a paltry 0.05 annual percentage rate while increasing service fee charges and upping loan interest rates. S&P 500 not cheap.
WSJ: When Spending Cuts Raise the Deficit
CalculatedRisk: March Employment Report: 216,000 Jobs, 8.8% Unemployment Rate
AngryBear: EMPLOYMENT SITUATION
Spiegel: Irish Banks Fail Stress Tests
BusinessInsider: 3 Reasons That Today's Big Jobs Report Is An Even Bigger Deal Than Normal
WSJ: U.K. Manufacturing Growth Teeters
MoneyWatch: Why A Roth IRA or 401k Might Not Be a Good Idea if Tax Rates Increase
BusinessInsider: NASDAQ MAKES HOSTILE OFFER TO BUY THE NYSE
YahooFinance: How to reach $1 million in three easy steps
AngryBear: What Is to be Done ?
Bloomberg: Manhattan Apartment Prices Decline 9.9% as Condo Sales Tumble
CapitalGainsandGames: Dopiest Constitutional Amendment of All Time?
EconomistMom: "Three Stooges"-Style Budgeting
TaxFoundation: New York Demands Income Tax from Orbiting Astronauts
NakedCapitalism: David Apgar: Is That a Horse's Head Under the Sheets or Are You Just Happy to Fleece Me?
ZeroHedge: S&P Downgrades Ireland LC And FC Ratings From A- To BBB+
PBS: New Records Reveal Extent of Fed's Reach During Financial Crisis
BusinessInsider: Two Ugly Numbers From This Morning's Jobs Report
CNNMoney: Good jobs news is good news. Capisce?

Peak oil and Energy News
TheOilDrum: Japan's Liquid Fuels Crisis
BigPictureAgriculture: Obama's Pipe Dream: Cellulosic Ethanol
NewRepublic: We Aren't Going to Stop Buying Gas
Bloomberg: Saudi Arabia to Target Solar Power in $100 Billion Energy Plan
WSJ: Saudi Government's Break-Even Oil Price Rises $20 In A Year
Environmental News
NatGeo: Uncontacted Tribes: The Last Free People on Earth
Time: News Trickles Out of Burma's Fishing Disaster
NatGeo: Vital Whale Feeding Ground Threatened by Russian Drilling Platform?
ExtinctionProtocol: New fissure found in seismically-troubled region of Iceland
ClimateProgress: Study: Climate zombies threaten "collapse of society"
Bombshell epidemiology analysis finds, "Only quick, aggressive attacks can stave off the doomsday scenario"
EarthObservatory: Flying over Arctic Sea Ice
WesternFarmPress: Protecting bats could save billions for U.S. farmers
America's bats are dying in their hundreds of thousands due to a mysterious illness called white-nose syndrome, and efforts to save them could prevent billions of dollars in agricultural losses, scientists say.
America in Decline
WSJ: Where Are Americans Most Miserable?
HuffingtonPost: Ohio Collective Bargaining Restrictions Spark Strong Reaction From Police, Firefighters
WSJ: The Return of the Class System
Cruises Offer Private Areas and Perks to Lure New Passengers; Everyone Else Still Crowds by the Pool
LegitGov: Ohio governor signs anti-union bill
BBC: Is immigration policy killing the American Dream?
RawStory: Indiana lawmaker: Women will lie about rape to get abortion exemption
Indiana Republicans vote down rape exception, calling it a 'giant loophole'
Republican Indiana state Rep. Eric Turner insisted this week that women will pretend to be raped just to get around proposed abortion laws.
RawStory: Maine Republicans seek to loosen child labor laws
Food and Water
DailyCrux: AGFLATION: Shocking food and commodity inflation could be coming soon
LewRockwell: Survival Gardening
Bloomberg: Grains, Soybeans Jump on USDA Data, Signaling Higher Food Costs
Police State, Big Brother, Surveillance
IntelDaily: Cell Phone Surveillance: Some Cell Phones Record Your Location Hundreds Of Times A Day
Science and Technology
BBC: Gravity satellite yields 'Potato Earth' view
WiredDangerRoom: Night Vision Tech Tangles Troops in Afghanistan
Medical and Health
EpochTimes: Highly Contagious AIDS-Like Disease Spreading in China
Other News
ModernSurvivalOnline: The Berkey Guy Radio Show
CharlesHughSmith: You Want Real Change? Recycle 300 Congresspeople Every Two Years
WSJ: Chinese Police Quash Protest Over Land Rights
BerkeleyBlog: The Republican ignorance agenda
CSMonitor: Fat stigma spreads from Western countries
Fat stigma goes global: The Western desire for slimness has been spreading to cultures that previously celebrated larger bodies causing a fat stigma that never existed before.
(ok, this one is just cool! maybe one of you guys can figure out the code!)
WashingtonPost: FBI wants help in decoding mysterious notes found on man's body
MSNBC: Report: Child ID theft on the rise
The Forums
TinfoilPalace: 2011 12-Month Earthquake Forecast (Video)
TinfoilPalace: The Myth of the Panicking Disaster Victim
TheOilDrum: Garden like your life will depend on it -- it will
TheOilDrum: Orlov: nothing left to steal
Hubberts-Arms: Starman-the horrific story of the first man in space
Hubberts-Arms: Cuts threaten survival of Michigan libraries
SilentCountry: Pickens sees oil at $300 bl in 10 yrs.
SilentCountry: Stink Bugs Spread to 33 U.S. States - Pose Big Threat to Agriculture