James Howard Kunstler
Make No Mistake
How do these rogues survive the disclosure of their turpitudes? Is there no one at places like Harvard and Columbia who has any sense of shame or even an inkling of disappointment that they employ such odious hustlers? Apparently not. This is a system with no mechanism of self-regulation left. And there's Obama at the tippy-top of it serving like a department store mannequin with a Department of Justice that someone has hung a "gone fishin'" sign on. I voted for him in 2008, and I want to start a movement in whatever's left of the Progressive core to get rid of him.
Read the rest of Kunstler's latest piece at ClusterfuckNation.
Thanks to rj at
Global Glass Onion
for links today, I was running behind and they really came in handy!
Japan
CNN: Radiation levels in seawater off Japan plant spike to all-time highs
PhotoBlog: "Dear Mommy. I hope you're alive. Are you okay?" 4-year-old quake survivor writes
NYT: High Radiation Levels Found in Seawater Near Japanese Nuclear Plant
Bloomberg: Japan Weighs Entombing Nuclear Plant in Bid to Halt Radiation
RawStory: UN atomic watchdog raises alarm over Japan evacuations
BlackListedNews: Fears for food supply as radioactive water pours from stricken reactor
Guardian: Japan says battle to save nuclear reactors has failed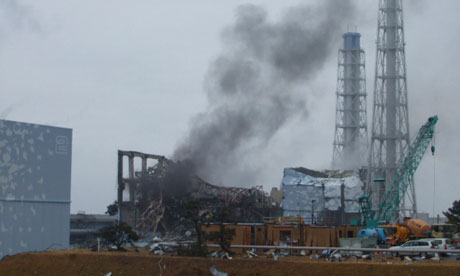 Tepco says it has 'no choice' but to scrap reactors No 1-4, but hopes remaining two can continue to operate
ABCNews: US Nuclear Emergency Response Marines Being Sent to Japan
Team Will Not Work in the Efforts at the Troubled Fukushima Daiichi Nuclear Plant
BusinessInsider: FUKUSHIMA: Radiation Levels In The Ocean Hit A Dangerous New High
A gruesome detail was revealed by Fukushima police today. They say up to 1,000 bodies of quake and tsunami victims have not been collected from the evacuation zone for fear that the bodies are contaminated with radiation and could harm visitors to the morgue.
Guardian: Japan may have lost race to save nuclear reactor
Fukushima meltdown fears rise after radioactive core melts through vessel – but 'no danger of Chernobyl-style catastrophe'
The radioactive core in a reactor at the crippled Fukushima nuclear power plant appears to have melted through the bottom of its containment vessel and on to a concrete floor, experts say, raising fears of a major release of radiation at the site.
ZeroHedge: TEPCO Stock Implodes As Radioactive Iodine In Fukushima Seawater Now 3,355 Above Limit
ZeroHedge: Japanese Economic Collapse Confirmed By PMI Plunge From 52.9 To 46.4, Largest Drop Ever
Global Conflict
EmptyWheel: Where Will Obama Try Himself for Material Support for Terrorism?
BlackListedNews: London set to limit right to protest
Guardian: Libya: Moussa Koussa, Gaddafi's foreign minister, defects to UK
Moussa Koussa says he is no longer willing to represent the regime in a morale boost for the rebels
Time: Crackdown: Bahrain Goes After The Blogfather
WarIsACrime: Our Billion Dollar Turd Sandwich
BBC: Ivory Coast army chief Phillippe Mangou 'seeks refuge'
CNN: NATO takes over air operations as CIA works the ground in Libya
Financial News
BusinessInsider: February Factory Orders Miss Expectations By A Mile, As Economy In Q1 Looks Worse And Worse
Guardian: Spain's unemployed: one in five under 30 still looking for that first job
With the 16-19-year-old jobless rate at 43%, the young think they face emigration or harder lives than their parents
WashingtonPost: What a shutdown could cost us
MSNBC: Banks may use small biz money to repay TARP
Official says none have asked, 'but they will' to use cash from Federal lending fund
MSNBC: Consumers still pay on cards before mortgages
DeclineoftheEmpire: General Electric's "Imagination At Work"
BusinessInsider: Now Turn Your Attention Back To Soaring Inflation Levels Around The World
WSJ: Fed to Name Banks That Sought Funding During Crisis
Gallup: Workers in Bad Jobs Have Worse Wellbeing Than Jobless
RobertReich: The Truth About the Economy that Nobody In Washington Or On Wall Street Will Admit: We're Heading Back Toward a Double Dip
WSJ: Dimon: Hitting Debt Ceiling Would Be 'Catastrophic'
DeclineoftheEmpire: Gotta Love That Worker Productivity!
MyBudget360: Federal Reserve silently grows balance sheet to approximately $2.75 trillion by a shadow bailout of residential real estate and commercial real estate. The continuing hidden CRE bailout imperils future economic growth.
BlackListedNews: Banks Still Earning Interest on $1 Trillion Reserves Thanks to Federal Reserve
Peak oil and Energy News
Gregor.us: Nuclear Optimism and the Reality of How Humans Price Risk
Scientificamerican: European Commission Aims to Phase Gasoline- and Diesel-Powered Cars Out of Cities by 2050
The body's new white paper outlines a complete transportation strategy that is one of the world's most ambitious efforts to cut oil use and greenhouse gas emissions
BusinessInsider: No More Storage In Cushing: WTI Will Be $90 In A Month
(we'll have to wait and see about that won't we?)
NewScientist: Wind and wave energies are not renewable after all
TheOilDrum: Understanding Global Refining Capacity
CBCNews: Record gas prices blamed on peak oil
Manitoba pump price has never been higher in March
(I posted the above story with hesitation as it is possible it is a hoax, at least I'm hoping it's a hoax. I googled it an right not unfortunately it appears to be true.)
CSMonitor: The inside story on cats – and songbirds
Our feline friends turn into furry predators when let outside. It's time to keep house cats just that – inside our homes.
ScientificAmerican: 2011 Atlantic Hurricane Season Will Be Active, Have More U.S. Landfalls
ZeroHedge: Low Level Radioactivity Found In US Milk, Despite Obama Promise That "Radiation Will Not Reach" America
CSMonitor: Fukushima warning: US has 'utterly failed' to address risk of spent fuel
Nuclear experts told Congress Wednesday that spent-fuel pools at US nuclear power plants are fuller than safety suggests they should be. They say the entire US spent-fuel policy should be overhauled in light of the nuclear crisis at Japan's Fukushima plant.
MotherJones: Did the BP spill kill 101 dolphins? Actually, it probably killed 50 times that. MJ's Julia Whitty explains how the calculations were done…and how they should have been done.
ZeroHedge: PoWeR CoRRuPTs; NUCLEAR POWER CORRUPTS ABSOLUTELY Independent: Government asked to investigate new pesticide link to bee decline ExtinctionProtocol: 101 hit by mountainside collapse: California's epidemic of landslides continue CNN: Fukushima shines light on U.S. problem: 63,000 tons of spent fuel NewKerala: NASA detect extensive drought impact on Amazon forests

California, Mar 30 : A new NASA-funded study has revealed widespread reductions in the greenness of the forests in the vast Amazon basin in South America caused by the record-breaking drought of 2010.




America in Decline


RawStory: Alaska governor's pick for key post wants to criminalize adultery, premarital sex WashingtonPost: Obama finally accepts his transparency award... behind closed doors (good Lord, what the hell?) MotherJones: The GOP's Pathetic Attack on Elizabeth Warren



Food and Water


FarmPress: Tax proposal stirs up California beekeepers
Guardian: North Korea 'on a knife edge' as aid agencies appeal for food donations

Domestic food production hit by bad weather and disease leave more than 6 million people in urgent need of aid




Science and Technology


ScientificAmerican: The Anti-Predictor: A Chat with Mathematical Sociologist Duncan Watts
The Yahoo! Labs scientist and author explains why the "law of the few" is bunk, why history is full of failed hedgehogs, and why we can't make good predictions about just those things we most want to predict BBC: China 'to overtake US on science' in two years



Medical and Health


AHN: Investigations underway after 9 die after being given contaminated IV fluid UPI: Maple syrup may help treat diabetes KSPR: Case of Bird Flu Quarantines Poultry Facility in Polk County
State Ag Officials: Human Infection "Extremely Rare" From This Strain

Other News
cbslocal: Threats Claim Nuclear Bombs Hidden All Over U.S. RawStory: Poll: Tea party favorability falls to record low RawStory: Angry Birds topple Middle East leaders Time: Edible Excretions: Taiwan's Toilet Restaurant YGlesias: Solving a Worker Shortage

Rick Santorum says we need to cut Social Security because "there aren't enough workers to support retirees."

Dan Savage sensibly suggests that we get some more workers:
If only there were a large country, maybe adjacent to ours, that was home to a lot of people who wanted to come to the United States to live and work. And if the people in this hypothetically adjacentish country tended to have large families, and tended to be religious, social conservatives would no doubt to create a path to citizenship for folks from this hypothetical country. Because American needs more people, right?
CSMonitor: The Band that Played On: The Extraordinary Story of the 8 Musicians Who Went Down with the Titanic
Who were the eight brave men who calmly and courageously played on until the very end?
The Forums
TinfoilPalace: European Parliament issues warnings on HAARP
TinfoilPalace: OPEN MINDED Examination of the Bible
TheOilAge: All this for earthquake preparedness??
TheOilAge: Dimon Says a Hundred Municipalities in U.S. Won't 'Make It'
Hubberts-Arms: Ivory Coast: San Pedro cocoa port 'seized by Ouattara'
Hubberts-Arms: Galactic Walls Contradict Big Bang Theory
SilentCountry: Raise the Roof or Hit the Ceiling?
SilentCountry: China says things are getting tense in Asia-Pacific