Hey guys. Hope everyone is making it ok through the awful storms.
Our friend rj up in Ohio is having a rough time there with all the rain.
Check out his blog and wish him well.
Global Glass Onion.
He updates it every Friday.
And if you haven't visited the Ozarker's site,
Conflicted Doomer,
you are missing a real treat. Be sure to stop by and read her beautiful and thoughtful articles. (and thanks for the great links this morning Ozarker!)
Also, here's Max Keiser. He cracks me up, but check out what Staci Herbert talks about in the first segment, about the guy in S Korea trying to manipulate the markets there. With homemade bombs!
It's a really good show. Enjoy!
One last thing before I post this. If you don't read another thing today, please read this exerpt from the book
"Voices From Chernobyl" by Svetlana Alexievich. Give yourself time enough to stop and cry from time to time.
Voices From Chernobyl
Japan
Cryptogon: Fukushima: Workers Suffer from Internal Radiation Exposure
Reuters: Toyota denies Japan output to return to 90 percent in June
Toyota Motor Corp (7203.T) denied media reports on Tuesday that its vehicle production in Japan would recover to 90 percent of pre-quake levels in June, higher than the 70 percent it had flagged on May 11.
WSJ: IAEA Launches Investigation into Japan Nuclear Accident
VancouverSun: Operator of Japan nuclear plant confirms meltdowns of 2 more reactors
Global Conflict
LegitGov: Thousands protest against US drone attacks in Pakistan
SeattlePI: Blast hits Iran refinery as Ahmadinejad visits
CSMonitor: On Europe trip, Obama to argue against a vote for a Palestinian state
Obama calls the statehood plan a misguided effort to isolate Israel. One factor Europeans might take into account at the time of a UN vote is whether the moribund peace process shows any life.
Time: The Specter of Civil War Grows in Yemen as Saleh Backs Out of Peace Deal
TheAtlantic: A Cornucopia of Hate Mail, Obama (and Goldblog) Edition
\Well, it seems that if you state that Barack Obama might be correct in his analysis of Israel's essential national security conundrum, and that Benjamin Netanyahu ought to think a bit more strategically about his relationship with the U.S., you're a self-hating Jew, a kapo, a Nazi, and also, for some reason, gay.
Telegraph: (video) Libya: Nato targets Tripoli with heaviest strikes yet
Nato forces have carried out an intense bombardment of central Tripoli, hitting a reserves' base and killing three people, according to Libyan officials.
BusinessInsider: Suddenly, The World Is Realizing That There's A Possible Revolution In Spain
StrategyPage: Morocco And The Murderous Militant Minority
BBC: Sudan's Abyei dispute: US aid warning
North Sudan has put at risk possible debt relief worth billions of dollars by seizing the disputed town of Abyei, US envoy Princeton Lyman has said.
TheTelegraph: Mexican police seize tank from drug gang
Police in Mexico seize a three-tonne homemade tank from the Zetas gang amid an escalation in drug-related violence.
Spiegel: 'A New Level of Escalation' Left-Wing Extremists Behind Berlin Arson Attack
NYT: NATO Bombs Tripoli in Heaviest Strikes Yet
Financial News
Peter Schiff on the IMF - 'They don't help the countries' (thanks rj!)
TheEconomist: The IMF after Strauss-Kahn Our turn again
Europe seems likely to get its way when the empty chair is filled
FTAlphaville: And now Goldman says the commodities correction is over [updated]
ZeroHedge: US Backs Egyptian Bond Issuance, Gives New $1 Billion Issue "Sovereign Guarantee"
BusinessInsider: Only 25% Of Americans Could Scrounge Up $2,000 In One Month
LegitGov: 7 US Corporations Advise Obama on Jobs While Investing Overseas
SeattleTimes: Gauge of economic activity falls in April
ABCNews: Ireland to Back France's Lagarde as Next IMF Chief
IntelDaily: Spanish Voters Reject Austerity
BBC: UK public borrowing higher than expected in April
The UK saw its worst April public sector net borrowing on record last month as tax receipts fell, the Office for National Statistics said.
RawStory: Sperm on maid's dress confirmed to be from IMF chief Strauss-Kahn
BusinessInsider: Despite $3 Billion Deficit, Nevada Republicans Block Plan To Tax Brothels
Bloomberg: ECB's Noyer Says Greek Restructuring a 'Horror'
USFunds: Asian Tiger Sinks Teeth Into Gold
MineWeb: Middle Kingdom turns to gold in one of greatest booms in gold's history
China's gold consumption is still surging after the final relaxation of strictures against holding the yellow metal in 2001 unleashed one of the world's greatest gold booms.
MyBudget360: The Federal Reserve's elaborate financial charade on the American people
Big banks hold excess reserves that represent 10 percent of U.S. GDP. Federal Reserve has failed on largest goals for our economy.
Bloomberg: Belarus Car Binge Defies Europe's Last Dictator
Nikita Shushko, waiting at the Lithuanian border to take used Toyotas and Peugeots to Belarus, is defying President Aleksandr Lukashenko as his country struggles to contain the ruble's plunge.
BusinessInsider: We Just Got The Ultimate Proof That Austerity Has Failed In The UK
Bloomberg: SNB May Raise Rates as Swiss Economy Grows
WSJ: Factory Blast Roils Tech Supply Chain
China's Hon Hai Closes Product Polishing Workshops; Preliminary Report Blames Combustible Dust
BBC: Greece default would hurt other countries, says Moody's
Any Greek debt default would likely hurt the credit rating of other peripheral eurozone countries, the ratings agency Moody's has warned.
BusinessInsider: The First Ever Foreclosure Sale Happened This Week In Dubai
MSNBC: Study tells students what their major is worth
Some disciplines can end up making 300 percent more than the lowest paying ones
TheStreet: Stripper Loans and Mortgage Smoking Guns
Just looking at one example of a busted loan cited in a mortgage putback claim by bond insurer MBIA(MBI_) illustrates just how complicated it is for regulators to figure out who to blame -- or if there's anyone not to blame -- for the multi-trillion dollar mortgage mess.
Peak oil and Energy News
Forbes: British Government Faces Up To Peak Oil
The UK Secretary for Energy and Climate Change, Chris Huhne, has committed to establish an "Oil Shock Response Plan" to cope with some of the consequences of peak oil.
Time: In China's Wild West, A 'Black Gold' Rush Takes Shape
Standing in front of a stopped truck in the desert, two workers in red overalls are pumping water out of an oil slick before installing a new derrick. The landscape is moonlike. Off on the horizon is the city of Karamay, a bona fide boomtown in northwestern China that has multiplied in only a few short years.
BusinessInsider: The Deepwater China Era Begins
China's first deepwater oil rig launched yesterday in Shanghai.
The CNOOC981, which cost $6 billion to develop, can drill in depths up to 12,000 meters -- potentially the deepest oil well in history. This is a huge increase for China, which was previously limited to 500-meter-deep seas.
BusinessInsider: Forget The Commodity Crash: Goldman Calls For $130 Oil
ibtimes: Technical Oil (2011-05-24) Morning Report for Crude Oil Futures for July Settlement
Once again the 96.60 level holds with daily closing, and this adds confirmation to the bullish formation above the mentioned level at the 61.8% Fibonacci level of the complete IM wave. The general down trend is still intact; nevertheless, we believe that there is a possibility for some upside correction. Therefore, we expect more upside attempts and a breach of 99.85 will confirm the move.
BusinessInsider: GOLDMAN: Here's How You Should Play The Coming Surge In Oil
Grist: Five hot, rockin' geothermal companies
Platts: The Barrel: China demand figures: "only" up 8.3%
Politico: Wall Street Journal praises Tim Pawlenty on ethanol
Environmental News
VancouverSun: Deadliest U.S. tornado in nearly 60 years destroys Missouri town, kills 116 people
DailyBail: BP Gets $13 Billion Tax Break For Destroying Gulf Of Mexico
ExtinctionProtocol: Meteorologist amazed by formation of Joplin super tornado
MailOnline: America's next disaster: Multiple floods in Western states as monster snowpacks melt
Kinston.com: Official: Ash will cancel up to 500 flights
Guardian: Volcanic ash cloud travel disruption - live updates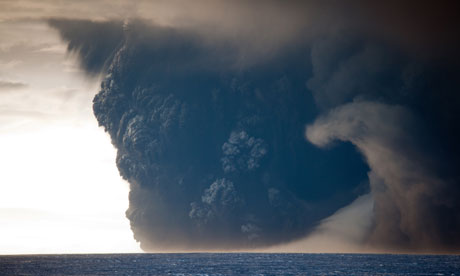 The ash cloud from the Grimsvötn volcano in Iceland is moving towards the UK prompting fears of a repeat of last year's travel chaos
ExtinctionProtocol: The Grímsvötn eruption captured in time-lapsed pictures
DesdemonaDespair: Indonesia deforestation moratorium gutted by plantation industry
Grist: How industrial agriculture makes us vulnerable to climate change, Mississippi floods edition
CNN: Volcanic ash from Iceland heads for British airspace
NatGeo: Photo Gallery: Hidden Alaska
Grist: Maybe fracked natural gas isn't dirtier than coal, after all
The climate story on natural gas is gnarlier than ever. First there was a paper from Robert Howarth of Cornell claiming that natural gas from fracking is worse than coal, as far as net warming effect on the earth. Now the Department of Energy's National Energy Technology Laboratory (NETL) has fired back, sort of, with a report that seems to have already been in progress when Howarth published his.
NatGeo: Pictures: See-Through Frog, Other "Lost" Species Found
America in Decline
VillageofJoy: Chernobyl Today: A Creepy Story told in Pictures
Michigan Central Station, Detroit, the waiting room
an interactive 360 degree photo tour of several spots in or around the ruins of Detroit
(rj recommends that we compare the two stories linked above. A good suggestion.)
CNN: Why is America the 'no-vacation nation'?
SoverieignIndependent: TSA to oversee searches at high school prom
Cryptogon: NSA Collects as Much Data as Is Stored in the Entire Library of Congress Every Six Hours [???]
LegitGov: Benazir Bhutto sought US security but was denied: WikiLeaks
FDL: "Let them eat their own Goodwill Store bootstraps!"
Republicans proposed cutting $832 million – or 12 percent – from this year's budget for the federal nutrition program that provides food for low-income mothers and children…Two analysts from the liberal research and advocacy group Center on Budget and Policy Priorities, Zoe Neuberger and Robert Greenstein, said Monday that the cuts could mean turning away as many as 475,000 people from the Women, Infants and Children program if food prices continue to rise.
BlackListedNews: Are american children to be used in medical experiments to test anthrax vaccine?
SovereignIndependent: Careful What You Wish For! A Warning to Politicians, Police and the Military: You're Building a Prison For Us all
DeclineoftheEmpire: Manufacturing — A Story Of America's Decline
CarpeDiem: 12% of Americans Are Immigrants, But the Top 70% of Science Students Are Children of Immigrants
Food and Water
PatNSteph: Monsanto Lawsuit
It's been mentioned now to me by several people, and I haven't posted about it yet. This is big news, especially for those of you in the US I think.
Most major OP/Heirloom seed companies (more than 60 plaintiffs) in the US have gotten together to pre-emptively sue Monsanto to prevent being held liable if genes from Monsanto's new GM varieties should end up in seeds belonging to others. In addition, they are challenging the validity of some of Monsanto's patents.
RareSeeds: Monsanto facing GMO Lawsuit
Monsanto Facing GMO Lawsuit
(An older article from April)
A class action suit has been filed by a group of plaintiffs connected with the organic/natural foods movement against the gene-splicing giant, Monsanto Corporation. The suit, filed March 29, 2011, in United States District Court, Southern District of New York, in Manhattan, seeks a declaratory judgment against Monsanto. If granted, the judgment will prohibit Monsanto from suing for patent infringement in the event that its patented genes, such as the glyphosate tolerance gene, should turn up in seeds or plants grown by organic or heirloom farmers.
BigPictureAgriculture: Agriculture News May 23, 2011
Today's Note: Ohio just experienced their wettest April in history, Illinois their wettest since 1895, and Wisconsin the wettest in 30 years. Early crop insurance estimates that South Dakota, Illinois, Indiana and Ohio each are looking at nearly $1.5 billion in crop losses. Corn Belt yields may be curtailed by 964 million bushels, according to WeatherBill. So much for the required perfect weather this growing season. Personally, I remain concerned about the world wheat prospects for this year. A lot hinges upon Russia/FSU's production.
NatGeo: Waiting for Water
Steep conical hills of brown sand and stone ring the city of Lima. Massive cement water tanks cap many of the summits, some bearing a slogan of the city's powerful water utility, Sedepal: Agua Para Todo: water for all. To an inhabitant of the eastern United States, where water is generally plentiful, and where few lack a working tap, the motto appears at first to be either simply a statement of fact or an easily achievable promise. Today I learned that the slogan is neither; for hundreds of thousands, if not millions (the numbers are in dispute), of Lima's poorest inhabitants have either no running water at all or supplies that flow only a fraction of the day.
Science and Technology
TechnologyReview: Multiverse = Many Worlds, Say Physicists
Two of the most bizarre ideas in modern physics are different sides of the same coin, say string theorists
Wired: Feds Seize 8 More Domains in Piracy Crackdown
GizMag: Portable microreactor to produce hydrogen from everyday fossil fuels
TechnologyReview: How Companies Are Using Data from Foursquare
The location-based service might feel like a game to its users, but it's producing worthwhile data for businesses.
AmericanDream: America 2011
What kind of place is America in 2011? Sadly, it is one giant sea of conformity.
NYT: When the Internet Thinks It Knows You
Medical and Health
WikiHow: How to Treat a Urinary Tract Infection
ABCNews: Abortion Rate Down Overall, Up Among Poor Women
Doomsteading, Gardening, Urban Farming
PatNSteph: Monsanto Lawsuit
It's been mentioned now to me by several people, and I haven't posted about it yet. This is big news, especially for those of you in the US I think.Most major OP/Heirloom seed companies (more than 60 plaintiffs) in the US have gotten together to pre-emptively sue Monsanto to prevent being held liable if genes from Monsanto's new GM varieties should end up in seeds belonging to others. In addition, they are challenging the validity of some of Monsanto's patents.
SHTFPlan: The Single Most Compelling Reason to Own Gold (These Pictures Should Convince You)
Other News
CNN: Palestinian prime minister suffers heart attack in Texas
SOTT: Toy tiger causes UK police alert
RawStory: Supreme Court orders California to free 40,000 prisoners
RawStory: Senators Leahy, Paul propose expanded oversight of PATRIOT Act
RawStory: Cisco Systems sued for helping China monitor Internet
Falungong members are suing Cisco Systems for custom-building "Golden Shield" Internet technology used by China to track down devotees of the spiritual movement.
Cisco dismissed the case Monday as being without basis and vowed to "vigorously defend" itself.
GlobeandMail: Canadians can't complain: Better Life Index
Guardian: All eyes on you: the employers keeping tabs on workers
A law firm has a novel way of improving productivity – shaming its underperforming employees. Have you been on the receiving end of overzealous bosses tracking your activities?
Guardian: Terror laws: 'Special branch asked me to keep an eye on the Muslim community' - video
Asians are 42 times more likely than white people to be held under UK anti-terror laws, official figures show. Asif Ahmed, 28, describes how he was detained and asked to spy after landing at Edinburgh airport
StrategyPage: China Reorganizes For Disaster
TheTelegraph: The Voynich Manuscript: will we ever be able to read this book?
A 15th-century manuscript is written in a language that has baffled every expert. Is it just a brilliant hoax, or will someone eventually decipher its meaning, asks Michael Day
BusinessInsider: HAROLD CAMPING: Actually, The World Will End On October 21
(third time's the charm. :D )
MotherJones: The Right's Top 5 EPA Conspiracy Theories
Bullets, cow farts, human respiration—and other outlandish things conservatives insist the agency's poised to regulate.

The Forums
TinfoilPalace: 4400 at Collapsenet
TinfoilPalace: I Sure as Shit Hope the Republicans that Voted for this Piece of Human Excrement are Happy
TheOilAge: Oh no, not Oct 21
TheOilAge: That magic CO2 number 390PPM - crossed this month.
Hubberts-Arms: KNOW YOUR DOMAIN HOST.. News From Wired...
Hubberts-Arms: Peak Oil Made Easy (To Understand, That Is)
SilentCountry: i think modernization and technology are causing problems.
SilentCountry: One in Ten Americans On Food Stamps