Had some ferocious thunderstorms here last night! All is well in the garden this morning. No harm done.
This post may be shorter than normal as my daughter and grandson are coming by for a visit today!
That's BIG news!
Also, I just saw this and am scratching my head over it.
ZeroHedge: China To "Investigate" Wreckage Of Top Secret Stealth Chopper Used In bin Laden Raid
oh, and this one too.
WashingtonPost: Mystery boom rattles parts of Va.A loud boom rattled Hampton Roads and the Eastern Shore but the source is a mystery.
any readers here know anything about that? Post something in the comments section if you heard it or have any ideas about what might have caused it.
Much thanks today to the Ozarker over at
Conflicted Doomer
and to rj at
Global Glass Onion
for their links to great stories today!
And here is a new piece by James Kunstler.
This is a nervous country. I'm not sure that hanging Osama Bin Laden on the White House wall like a coonskin really helps that much. Already, a familiar darkness sets back in, a loss of purpose of the kind that Lindsay Lohan must feel when she gets out of rehab. This is exactly the situation that empty rhetoric was designed for, so we got a week of talk about "bringing our nation together" when the truth is that Fox News would like to send Team Six into the oval office with guns blazing and helmet cams on "record."
Japan
Platts: Japan's Kyushu Electric to hike oil and LNG purchase in summer: sources
Guardian: After the tsunami: Japan's clear-up likely to take three years
People who lost their homes in Japan's 11 March disaster look on as their neighbourhoods are demolished
Masayuki Yamazaki takes a camping chair out of his car, unfolds it outside his home of 20 years and sits down to watch his street reduced to rubble in what is likely to become the world's biggest demolition operation.
CSMonitor: Japan's Fukushima crisis drives protests over world's largest nuclear plant in India
Even as Japan has decided to forgo nuclear expansion following the Fukushima crisis, India's government is insisting it will proceed with the world's largest nuclear facility despite mounting public opposition.
NaturesWrath: 2011.4.24 Japanese Great Quake and Tsunami Disaster II
Global Conflict
BBC: Syria tanks 'shell' protest city of Homs (video)
BBC: Schengen state Denmark to re-impose border controls
BBC: Libya rebels 'capture Misrata airport'
Libyan rebels have captured Misrata airport, driving back troops loyal to Col Muammar Gaddafi, reports say.
Hosted: New general strike over Greek austerity program
BBC: Taliban resistance 'under-estimated' by Britain
Britain failed to accurately gauge Taliban resistance to UK troops in Afghanistan's Helmand province, the head of the armed forces said.
Reuters: Protests bring two Yemen cities to standstill, 2 dead
RawReplay: Protesters of Uganda's 'kill the gays' bill sprayed with pink dye
Financial News
ZeroHedge: Energy Futures Market Halted
WashingtonPost: NYC jury convicts hedge fund founder of conspiracy, fraud in massive insider trading case
WSJ: Link Between Weak Dollar, Inflation Is Eroding
WashingtonPost: Wonkbook: Boehner's debt-limit demands would increase the deficit
WSJ: Top Oil Execs To Appear Before US Senate, Discuss Tax Breaks
BusinessInsider: Cocksure Trader Risks 45 Years In Prison, Rather Than Take Plea With No Jail Time
WSJ: Uncle Sam's 12% Exit from AIG
Bloomberg: Home Sellers Become Lenders to Poor-Credit Buyers
ZeroHedge: So Much For Reduced Volatility - Commodity Complex Slides Again
CBSMoneyWatch: Best (and Worst) States to Grow Old
ClimateProgress: ExxonMobil pays a lower effective tax rate than you*
*assuming you are an average American and not a tax dodger
BusinessInsider: Dollar Up, While Crude, Silver And Copper Are Getting Smoked
BusinessInsider: Goldman Sachs On The "Crescendo" Of Higher Food, Fuel, And Apparel Prices Coming Later This Year
MarketWatch: Microsoft-Skype deal shows need for tax reform
Commentary: By buying Luxembourg firm, Microsoft uses overseas cash
MyBudget360: Banking in darkness
FDIC system insures over $7 trillion in deposits with a dwindling insurance fund. Americans are offered close to zero percent interest rates to stuff their money into this banking vortex.
GlobeandMail: A recession is coming, but not just yet
BusinessInsider: The Amazing, Jobs-Killing Productivity Story At UPS
YahooFinance: FT's Wolf: They May Listen to U.S. but Ultimately China Does What's "Convenient"
MyBudget360: The financial bubble that is still popping
Home prices enter a deep double dip because household incomes are still in a rut. Housing bubbles in Los Angeles and San Francisco persist while Miami and Phoenix metro areas face double digit annual price declines.
DeclineoftheEmpire: Signs Of Decay During the "New Normal"
ZeroHedge: Steve Forbes: "The US Will Likely Have A Gold Standard Within The Next Five Years"
Cryptogon: Postal Service Reports Billions in Losses
Economix: Where the Jobs Were Lost
WashingtonMonthly: KYL Thinks Big
House Speaker John Boehner (R-Ohio) wants $2 trillion in spending cuts or his caucus will destroy the economy.
Peak oil and Energy News
Platts/TheBarrel: Nigeria: Delayed reforms leave investment climate uncertain
Reuters: OPEC sees enough oil supply, holds demand view
(Reuters) - OPEC held its forecast for world oil demand steady in 2011 on Wednesday and maintained its view that oil supplies are adequate despite the loss of Libyan barrels as its members and rivals pump more crude.
UPI: Dems put oil company subsidies on table
Environmental News
MotherJones: Green Is the New Red: The Crackdown on Environmental Activists
(this is a chilling article, a must read for people interested in environmental issues)
BBC: Mississippi flood: Southern states brace for crest
NPR: Across The Delta, Folks 'Watch In Awe' As Rivers Rise
Grist: Oil: A battle for the Earth's last remaining frontier
There are clear signs that a new Arctic oil rush has begun.
Earlier this month, Shell submitted plans to the U.S. government for new drilling in the icy waters off Alaska's north coast, and now a Scottish company has won permission to take a similar gamble near Greenland. Tomorrow, Hillary Clinton will fly to the picturesque town of Nuuk in Greenland to discuss how spill response equipment might work in one of the world's most extreme and beautiful environments. I can save her the trip -- it won't.
ExtinctionProtocol: Attenzione ai presagi! Thousands flee Rome over mounting quake fears
ActivistPost: Flood waters set sights on Louisiana oil refineries
SpaceWeather: Sun Diving Comet!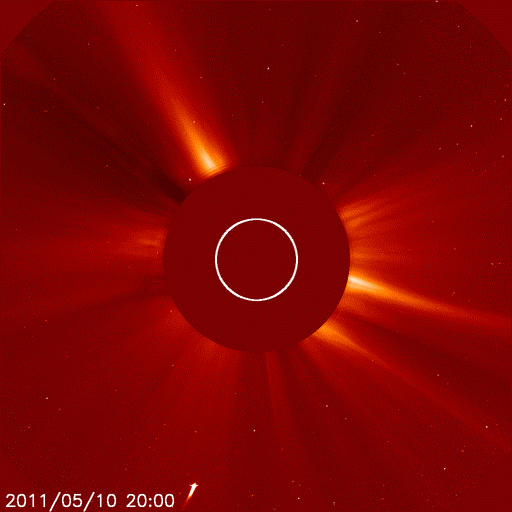 Publica: Scientific Study Links Flammable Drinking Water to Fracking ExtinctionProtocol: Doomsday fire: Millions of volcanoes are stirring beneath the world's oceans

In 1993, marine geophysicists aboard the research vessel Melville discovered 1,133 previously unmapped underwater volcanoes off the coast of Easter Island. Though some of the newly discovered volcanoes rose as much as one-and-a-half miles above the seafloor, their summits still remained half a mile below the water's surface- all this in a comparatively small area of only 55,000 square miles, about the size of New York State.

HuffPostGreen: Texas Drought 2011: State Endures Driest 7-Month Span On Record GreenProphet: Trees In Jordan's Ajloun Forest Still At Risk Grist: Nine of the ten loudest climate-denying scientists tied to Exxon

Climate change deniers like to point out that they have scientists on their side, too. But an analysis of more than 900 papers supporting climate skepticism showed that about 20% of those papers came from the same 10 scientists, and nine of them, according to The Carbon Brief, have ties to ExxonMobil.

ClimateChangePsychology: Jeff Masters: Great Texas drought of 2011 intensifies

April 2011 was the 5th driest and 5th hottest April in Texas history, going back 117 years.

America in Decline


Just wanted to say, the story below makes me sick. ABCNews: Airport Baby Pat-Down Out of Line? TSA Says Agents Followed Procedure in Kansas City MorningCall: Analysis: The push toward privatizing
States look to private sector for services once run by government. FDL: Update: Wisconsin Photo ID Requirement Would Take Effect After Recalls, Other Parts of Bill Would Take Effect Before BusinessInsider: Thieves Hack The Pump At Two California Gas Stations And Make Off With Over 2,000 Gallons MotherJones: Online Creationist Textbook Proposed In Texas

An online biology textbook up for approval by the Texas State Board of Education is drawing fire from scientific and education groups for tacitly pushing creationism. Created by the obscure, New Mexico-based International Databases LLC, the textbook seeks to justify the existence of a higher being while avoiding direct mention of God or the Bible. The Texas Freedom Network, which monitors the religious right in Texas, said in a press release that its adoption by the SBOE would be "a shocking leap backward."

TampaBay: Billionaire's role in hiring decisions at Florida State University raises questions WiredDangerRoom: You Can Take the 9/11 Security State From My Cold, Dead, Top Secret Hands
Osama bin Laden's death was the end result of a massive investment in surveillance and spy tools that arose after the 9/11 attacks, designed to end the emergency that al-Qaida posed. But according to the chairman of the House intelligence committee, rolling back that huge security state after bin Laden's death would not only miss an opportunity to destroy al-Qaida once and for all, it would effectively give bin Laden one last laugh.

"This is the time to step on the gas and break their back," Rep. Mike Rogers, a Michigan Republican and former FBI agent, told the Council on Foreign Relations in a Wednesday speech. The choice, as he laid it out, is between ratifying the post-9/11 redefinition of liberty and security and getting attacked again.
RawStory: Wisc. GOP rushes to restrict voters ahead of recall elections
Food and Water
ActivistPost: FEMA to confiscate food from local farms in emergencies?
With that in mind, would it surprise you to find out that if disaster strikes in your part of the country, the federal government is prepared to take over local food supplies, in part by confiscating farms?
ActivistPost: What you need to know about GMO "Franken-Foods" and where to get more information
BigPictureAgriculture: Dry Bean Production is Falling in the US
Science and Technology
PCMag: Copyright Group Goes After 23K BitTorrent Users Over Movie Downloads
It's bad enough to get subpoenaed for illegally downloading from BitTorrent. Worse still to get served for downloading 2010's aging-action star vehicle, The Expendables.
CNNMoney: Google wants to control your home
SkepticalScience: Infographic: 97 out of 100 climate experts think humans are causing global warming
Medical and Health
ScientificAmerican: Highlighting Drug Industry Influence, Watchdog Says Overmedication in Nursing Homes Is Troubling
Nursing homes are unnecessarily administering powerful antipsychotic drugs to many elderly residents, including those with dementia who could suffer life-threatening side effects, according to a new government watchdog report.
CTWatchDog: Granny Snatching: Death in British Columbia; Heart Attack Fells Elderly Icon
British Columbia resident Kathleen Palamarek, a patient in the Broadmead Lodge nursing home in Saanich, on Vancouver Island, who became an international symbol of the fight to prevent forced institutionalization of the elderly, died Wednesday, May 4, one day after a Canadian judge ruled that she must remain confined indefinitely.
WashingtonPost: Autism prevalence may be far higher than believed
A carefully conducted new study published online today in the American Journal of Psychiatry suggests that the prevalence of autism spectrum disorders (ASDs) may be far higher than we thought.
Other News
LegitGov: Mountain lion shot to death ahead of Obama visit
BlackListedNews: New Defense Bill Authorizes US Government To Launch "Defensive" Cyber Attacks
RawStory: Mississippi execution uses sedative for first time
Benny Joe Stevens, who was convicted of killing four people, including two children, has been executed by the state of Mississippi with a drug normally used to euthanize animals.
LAT: Navy reverses decision to let chaplains perform same-sex unions
More than 60 House members objected to the earlier ruling, which would have taken effect after a lifting of the "don't ask, don't tell" rules by the Pentagon.
WashingtonPost: On the menu in China: Middle class bounty, but lean times for urban poor
WashingtonPost: Obama administration boasting about border security
ModernSurvivalBlog: Frequently Asked Questions about Radiation

The Forums
TinfoilPalace: Radiation Spreads Worldwide. The Poisoning of Mother Earth
It would appear TEPCO dumped 11,500 tons of radioactive runoff into the ocean, 100 times the permissible amount. Although the diplomatic corps was informed beforehand and the Japanese foreign minister stated the release does not violate international law, Iodine-131 was found in seawater at 7.5 million times and radioactive Caesium at 1.1 million times the legal limit. 60,000 tons of radioactive water remain.
TinfoilPalace: Worth a look if you live in the new madrid zone
TheOilAge: New York City to impose severe austerity measures
TheOilAge: Iran going HOT
Hubberts-Arms: Italians evacuate Rome
Hubberts-Arms: Maine Town Declares Food Sovereignty From Feds
SilentCountry: Yet Another Day of Greek Protests and Mayhem
SilentCountry: Assange Awarded Peace Prize