Got to get out and do some stuff in the garden. Like pump life saving water! It's hot and I sure do wish it would rain!
I'd posted the next story in the forums last night. It's pretty awful.
MailOnline: Giant rats eat two babies in South Africa townships in separate attacks
and then this morning found the following story.
BusinessInsider: The World's Richest Dog Has Died -- And These 5 Pooches Are Set To Take Over The Title
read those two stories, and just let it sink in.
Special thanks to Travis for helping me last night. You're a good egg Travis! And very smart too!
Also, this story, that had us all tore up yesterday, and got pulled suddenly, is back again.
News10: Questions surround feds' raid of Stockton home
STOCKTON, CA - A federal education official Wednesday morning offered little information as to why federal agents raided a Stockton man's home Tuesday.
(how odd)
Thanks to my friends rj at
Global Glass Onion
for the links this morning, and to the Ozarker
at
Conflicted Doomer
for her help as well. (hope those tomatoes are doing ok Ozarker!)
Japan
Bloomberg: Power Cuts Spread to West Japan as Nuclear Restarts Put on Hold
BBC: Japan's economy will shrink this year, says IMF
The International Monetary Fund (IMF) has said it expects Japan's economy to shrink by 0.7% this year, compared with its previous forecast of 1.4% growth, because of March's massive earthquake.
Cryptogon: Japan: High Radiation on the Ground in Tokyo
Global Conflict
Time: The Post-Gaddafi Boom: In Libya, Foreign Bankers See a Coming Bonanza
(well, well, well. As my mom used to say, "The truth will out.")
Muammar Gaddafi remains hunkered down in Tripoli, ever defiant despite the the heaviest bombing of NATO's three-month campaign. But outside Libya, the talk has moved on from war to the business opportunities offered by a post-Gaddafi Libya.

It's hard to envision a booming Libyan economy with its communication infrastructure shattered by bombs and its oil fields abandoned and idle. Yet economists and investors say that as an intensifying NATO campaign brings Gaddafi's 42-year rule closer to its end, a bright future lies ahead — with Libya's mammoth energy reserves capable of financing a post-war development program strong enough to serve as a growth engine for the region. "Libya has $250 billion in foreign exchange reserves, and it can just keep on tapping into foreign currency because of its oil sales," says Jacob Kolster, North Africa director for the African Development Bank. "The potential is huge."
BBC: Strike action as Greece braces for cuts announcement
LegitGov: US wants 'joint bases' in Afghanistan, Gates says
CNN: U.S. resumes airstrikes in Yemen; top insurgent believed dead
CNN: U.S. pledges $26 million in aid for Libyan victims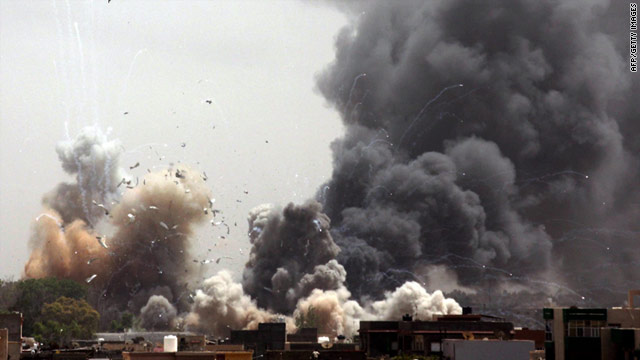 WashingtonPost: Low hopes for Afghanistan
Maybe this is how the Soviets felt in '89.
There was a heavy tone of defeat in the questions senators posed to Ryan Crocker Wednesday morning as they prepared to confirm the star diplomat as the new ambassador to Afghanistan.
Telegraph: Yemeni President Ali Abdullah Saleh is out of intensive care after "successful" surgery in Riyadh, where he is being treated for bomb blast wounds, the official Saba news agency said.
VOA: Report: US Intensifying Covert War in Yemen
VOA: Gadhafi Forces Attack Libyan Port City of Misrata
VOA: NATO Plans for Libya Without Gadhafi
Financial News
MaxKeiser: The Biggest Bank in France Has Suddenly Cut ATM Card Access to Cash in Half and People are Freaking Out!
CNNMoney: Unemployment benefits fading away
RawStory: Labor union urges recess appointment for Elizabeth Warren
AmericanDream: Are Ridiculous Airport Security Measures Killing Airline Profits?
MineWeb: Gold still consolidating, dollar steady, silver firms
AmericanDream: 10 Signs That Wall Street Is About To Go Into Panic Mode
FutureImperative: Bitcoins: The World's First Decentralized, Digital Currency
BusinessInsider: Homeowners Who Will Consider Strategic Default Doubles In One Year
Bloomberg: Initial Jobless Claims in U.S. Unexpectedly Increased Last Week
DOL.Gov: UNEMPLOYMENT INSURANCE WEEKLY CLAIMS REPORT SEASONALLY ADJUSTED DATA
Guardian: Austerity measures strangle Greece's recovery
Greece's cuts are strangling recovery and the economy, shrinking faster than predicted, will soon be in recession
Greece's crisis-hit economy expanded by a sickly 0.2% in the first three months of this year – even worse than first thought – as its fiscal austerity measures strangled demand, official figures have revealed.
The bailed-out economy is now shrinking at an annual rate of 5.5%, instead of an initial estimate of 4.8%, the Greek statistical agency said on Thursday.
FDL: Saving Money by NOT Privatizing
Bloomberg: Disasters Costing $100 Billion Begin to Lift Insurance Rates
CalculatedRisk: Hamilton on the OPEC Announcement
MSNBC: Thousands of Citi customers at risk after hacker attack
BusinessWeek: The Financial Sector Keeps Shrinking
Bank of America, Citigroup, and other big banks are stymied by a sluggish economy, low interest rates, and new regulations
WSJ: What a China Slowdown Means for the World
WSJ: The Great Property Bubble of China May Be Popping
CreditWritedowns: A personal anecdote on why the facts don't really matter
Politico: Public pays price for privatization
USAToday: Fed: Dallas is only area of country to show improving growth
PolicyShop: The Jobs Emergency and America in Crisis
StarTelegram: D-FW existing-home sales drop for 12th consecutive month
CNNMoney: One economist's even bleaker economic view
MarketWatch: Economy not collapsing, Beige Book reports
Commentary: It's been battered and flooded out, but it's still growing
Fortune: U.S. recovery, rest in peace
DoctorHousingBubble: The housing crash sequel in California
Foreclosure sales made up 45 percent of sales in Q1 of 2011 with an average discount of 33 percent. 431,000 jobless Californians have exhausted unemployment insurance.
TheStreet: Stocks Extend Losing Streak After Beige Book
McClatchy: Is high unemployment the 'new normal' even in a recovery?
Peak oil and Energy News
Platts: Russian naphtha exports expected to fall by 30%: sources
Russian naphtha exports are expected to fall by up to 30% following a rise in export taxes but any market support may be offset by a lack of arbitrages to the east, according to sources Wednesday.
"On its own this [Russian exports] should tighten up the European market as there will be less supply," said one source.
In June, Russia enforced a 90% tax on naphtha exports in June, up from 67% in a bid to deal with a domestic shortage of gasoline.
The move was aimed at limiting exports as part of extraordinary measures to resolve the product deficit in domestic markets.
Reuters: Oil jumps as OPEC talks fail, eyes Saudi solo hike
UPI: Obama may open Strategic Petroleum Reserve
Reuters: UPDATE 2-Moscow refinery to cut June gasoline output
EnergyBulletin: The peak oil crisis: the gathering stormby Tom Whipple
TheOilDrum: The OPEC meeting - How much will production really increase?
Environmental News
NYT: The Earth Is Full
You really do have to wonder whether a few years from now we'll look back at the first decade of the 21st century — when food prices spiked, energy prices soared, world population surged, tornados plowed through cities, floods and droughts set records, populations were displaced and governments were threatened by the confluence of it all — and ask ourselves: What were we thinking? How did we not panic when the evidence was so obvious that we'd crossed some growth/climate/natural resource/population redlines all at once?
TechReview: Natural Earthquake Protection System Discovered in Caribbean
Ancient buried mangrove swamps seem to absorb much of the energy from tremors in some parts of the Caribbean, say seismologists
Bloomberg: Heat wave on the East Coast: How bad will it get?
New York Temperatures May Soar to Surpass 78-Year-Old Record
ArchaeologyNewsNetwork: Climate may affect human plague severity
NPR: Arizona Blaze Threatens Multistate Electrical Grid
ABCnews: Arizona Wallow Fire May Hit Power Lines, Cause Blackouts
NewScientist: Wired Californian forests to guide response to climate
SHAFTS of sunlight penetrate the canopy of Douglas firs as a creek gurgles in the valley below. It's an idyllic scene, typical of northern California's coastal hills. Then a data logger whirs into life, and the moment is broken.
The forest I am standing in is in fact far from typical. Over about 8000 square metres, it has been wired with instruments that track water from the moment it hits the ground as rain, as it moves through the soil, rock and trees, until it leaves the system down the creek or as evaporated moisture.
WashingtonPost: Romney draws early fire from conservatives over views on climate change

America in Decline
AmericanDream: China Wants To Construct A 50 Square Mile Self-Sustaining City South Of Boise, Idaho
Thanks to the trillions of dollars that the Chinese have made flooding our shores with cheap products, China is now in a position of tremendous economic power. So what is China going to do with all of that money? One thing that they have decided to do is to buy up pieces of the United States and set up "special economic zones" inside our country from which they can continue to extend their economic domination. One of these "special economic zones" would be just south of Boise, Idaho and the Idaho government is eager to give it to them. China National Machinery Industry Corporation (Sinomach for short) plans to construct a "technology zone" south of Boise Airport which would ultimately be up to 50 square miles in size.
MotherJones: Herman Cain's Immigration Plan: A Great Wall of China and Alligators in a Moat
The longer Herman Cain is on the campaign trail, the more bizarre and error-filled his pronouncements become. On the day he officially announced his candidacy, for instance, Cain made a huge blunder as he pounded home the importance of reading the US Constitution:
RealitySandwich: Freedom Gets Bodyslammed
TheAtlanticWire: Talk Radio's Long War on the Fairness Doctrine Is Over
Right-wing radio's long battle against the Fairness Doctrine is over. Today, Federal Communications Commission chief Julius Genachowski said he's removing the Fairness Doctrine from the agency's rulebook. "I fully support deleting the Fairness Doctrine and related provisions from the Code of Federal Regulations, so that there can be no mistake that what has been a dead letter is truly dead," Genachowski wrote in a letter. For the uninitiated, the doctrine required that broadcasters "cover controversial public issues in a manner deemed fair and balanced by the FCC." The agency stopped enforcing the rule in 1987 after it was deemed unconstitutional. That decision made sense: it's silly to try and enforce objectivity among individual radio shows.
Food and Water
Grist: What Dow Chemical doesn't want you to know about your water
Grist: Genetically engineered salmon's fishy promises
DesdemonaDespair: Billions needed to boost food production, says DuPont committee – 'One of the greatest challenges facing the human race'
KANSAS CITY, Missouri (Reuters) - High-tech seeds and innovations in chemicals and farming will not be enough to solve looming food shortages for the world, according to a report issued Tuesday by a committee formed by food and chemicals conglomerate DuPont.
FarmWars: 6 Real Examples of Food Terrorism
BigPictureAgriculture: Distillers Grains Exports are Slowing
Science and Technology
WSJ: Citigroup Confirms Data Breach
Citigroup Inc. said hackers have viewed some of its credit-card customers' account information in North America.
Medical and Health
LegitGov: Germany's superbug is weaponized with Bubonic Plague DNA
Germany's superbug is weaponized with Bubonic Plague DNA 09 Jun 2011 "On Tuesday [May 31], the German newspaper Süddeutsche Zeitung reported that [leading German E. coli researcher Helge] Karch had discovered that the O104:H4 bacteria responsible for the current outbreak is a so-called chimera that contains genetic materia from various E. coli bacteria. It also contains DNA sequences from plague bacteria, which makes it particularly pathogenic."
SalemNews: Generic cannabis pills planned for wide use.
LegitGov: Germany's superbug is weaponized with Bubonic Plague DNA
Germany's superbug is weaponized with Bubonic Plague DNA 09 Jun 2011 "On Tuesday [May 31], the German newspaper Süddeutsche Zeitung reported that [leading German E. coli researcher Helge] Karch had discovered that the O104:H4 bacteria responsible for the current outbreak is a so-called chimera that contains genetic materia from various E. coli bacteria. It also contains DNA sequences from plague bacteria, which makes it particularly pathogenic."
SOTT: Extraverts More Likely to Believe in Free Will
M&C: Hand, foot and mouth disease nearly doubles in southern Vietnam
Hanoi - Cases of hand, foot and mouth disease have increased more than 90 per cent in southern Vietnam, killing at least 20 children and infecting nearly 4,000 since the start of 2011, health officials said Thursday.
There are no national statistics, but Pham Viet Thanh, director of Ho Chi Minh City's Department of Health, said the disease had killed 13 children in the city and infected more than 3,000 this year.
Doomsteading, Gardening, Urban Farming
DoomerinCanada: Water, water, everywhere
ExtinctionProtocol: Yellowstone: the next 'big one' is anyone's guess — but you don't want to be here scientist warn
ModernSurvivalBlog: Sig Sauer 2022 9mm – not for me
Other News
ArchaeologyNewsNetwork: Second Jewish Temple just 'waiting to be unearthed'
One of the most prominent Israeli archaeologists declared today that remains from the First and Second Jewish Temple period – including the Second Temple itself – lie underneath the Temple Mount surface, just waiting to be excavated.
TheAtlantic: I Am Number 35
The Jerusalem Post has just released its list of the world's 50 most influential Jews, and Goldblog comes in at number 35.

Spiegel: 'A Fetish of the Modern Age'
Container Art Examines Life in a Globalized World
In the age of globalization, the health of the world's economy can often be seen in the state of its shipping containers. Empty ships and beat-up old containers can be a bleak symbol of tough economic times. However, a new exhibit in Düsseldorf proves that an empty container can also offer exciting possibilities.
Discovery: Living the Life of a Professional Tightrope Walker
BusinessInsider: Woman Poses As A Sexy Teen On Facebook, Tricks Her Husband And Learns He's Trying To Kill Her
BorowitzReport: Weiner Resigns; Will Run for Prime Minister of Italy (thanks for the laugh rj!)
Stunning Comeback for Embattled Lawmaker
WASHINGTON (The Borowitz Report) - Embattled congressman Anthony Weiner (D-NY) sent shockwaves across the political landscape today, resigning from his seat in Congress and announcing a run for Prime Minister of Italy.
"Today is bittersweet for me," he said in a resignation speech on the floor of the House of Representatives. "But it is time to say goodbye to the past and buongiorno to the future."
Mr. Weiner said that before resigning his seat, he briefly considered running for Prime Minister of Italy while still serving in the House: "I've shown that I'm good at multitasking."
The Forums
TinfoilPalace:Decline and fall of the American empire
TinfoilPalace:Facebook now knows what you look like as it rolls out face recognition by stealth
TheOilAge:A link between climate change and Joplin tornadoes? Never.
TheOilAge:China swings from record drought to record flooding
Hubberts-Arms:Savage editorial cuts at Scottish newspapers
Hubberts-Arms:Humans become 'pets' in rise of the machines: Apple co-founder
SilentCountry:No Revolt in Saudi
SilentCountry:The ApocaDocs - or Everything's Going Down!