This from RJ this morning. Also, here's a cool blog recommended by RJ.
RealityZone; A New Era
NakedCapitalism: The Real Reason for Obama's Threat to Veto the Indefinite Detention Bill (Hint: It's Not to Protect Liberty)
- Obama Wants to Veto the Indefinite Detention Bill Because It Would Hold the U.S. to the Geneva Convention I – like everyone else – am horrified by the Senate's passage of legislation that would allow for
indefinite detention of Americans
. And at first, I – like many others – assumed that Obama's threat to veto the bill might be a good thing. But the truth is much more disturbing. As former Wall Street Street editor and columnist Paul Craig Roberts correctly
notes
: The Obama regime's objection to military detention is not rooted in concern for the constitutional rights of American citizens. The regime objects to military detention because the implication of military detention is that detainees are prisoners of war. As Senate Armed Services Committee Chairman Carl Levin put it: Should somebody determined "to be a member of an enemy force who has come to this nation or is in this nation to attack us as a member of a foreign enemy, should that person be treated according to the laws of war? The answer is yes." Detainees treated according to the laws of war have the protections of the Geneva Conventions. They cannot be tortured. The Obama regime opposes military detention, because detainees would have some rights. These rights would interfere with the regime's ability to send detainees to CIA torture prisons overseas. [Yes,
Obama is still apparently allowing "extraordinary renditions" to torture people abroad
.] This is what the Obama regime means when it says that the requirement of military detention denies the regime "flexibility."
Thanks to RJ at
Global Glass Onion
and the Ozarker at
Conflicted Doomer,
for their contributions and help. Be sure to check out their great blogs today!.
Japan
CNN: Tsunami that struck Japan in March resulted from merging waves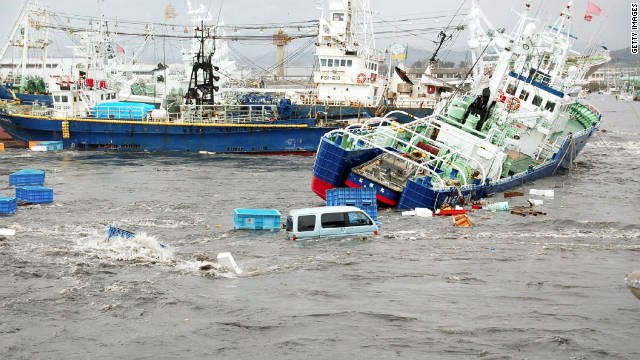 Global Conflict
Fox: US Military Sources: Iran Has Missing US Drone
LAT: Mysterious blasts, slayings suggest covert efforts in Iran
JerusalemPost: Nasrallah comes out of hiding, calls to arm against Israel
JerusalemPost: 'US army: Iran is in possession of our spy drone'
MSNBC: 'Grim new precedent': Dozens die as sectarian violence erupts in Kabul
Boston.com: AP Source: US to weigh gay rights in foreign aid
Bloomberg: U.S. Senate Approves Sanctions on Iran Oil as EU Blacklist Grows
Telegraph: Iran Revolutionary Guard prepare for war
TheTelegraph: Iran's Revolutionary Guards prepare for war -
Iran's Revolutionary Guards have been put on a war footing amid increasing signs that the West is taking direct action to cripple Iran's nuclear programme.
NYT: Explosion Seen as Big Setback to Iran's Missile Program
- WASHINGTON — The huge explosion that destroyed a major missile-testing site near Tehran three weeks ago was a major setback for Iran's most advanced long-range missile program, according to American and Israeli intelligence officials and missile technology experts.
Time: Occupy the Kremlin: Russia's Election Lets Loose Public Rage
-
On Monday night, Moscow saw the biggest protest against Vladimir Putin since he came to power 12 years ago. Between 5,000 and 7,000 people showed up, packing a square in the center of the capital, hanging from the lampposts in the rain, blocking traffic on the surrounding streets and chanting for Putin's arrest. They were furious at the elections this weekend that let his party hang on to its majority in parliament, and unlike the much smaller protests Moscow sees from time to time, this one was not populated by Communist grannies or flare-waving nationalists. This was Russia's Internet generation, the yuppies and the college students, whose anger has finally spilled from the blogosphere onto the streets of the capital.
OWS
BlacklistedNews: UK Police include Occupy movement on 'terror' list
WashingtonPost: Occupy Congress on Jan. 17: 'Largest Occupy protest ever'
- In the two weeks since the New York Police Department cleared New York's Zuccotti Park of its camping protesters, the Occupy Wall Street movement has increasingly turned its attention to Washington. Last week, some
50 marchers
arrived at McPherson Square from New York and then
marched on the Capitol
. Yesterday, Occupy DC targeted congressional Democrats at a campaign fundraiser. Now, protesters say they plan to
Occupy Congress
on Jan. 17, in the "
largest Occupy protest ever!
" The protest is being timed with the start of the 2012 legislative session for Congress. Protesters say they hope to set up
1 million tents
in front of the Capitol. "We're taking the movement straight to their doorstep," the protest's Facebook page wrote. Although branded by some as a liberal movement, Occupy has repeatedly stated that it does not ally with any political party, and will
take aim at the Democrats
as well as Republicans when it Occupies Congress in January.
ThinkProgress: Ron Paul Defends The 99 Percent: 'It's A Very Healthy Movement'
NYT: N.Y.C. Police Maligned Paradegoers on Facebook
- They called people "animals" and "savages." One comment said, "Drop a bomb and wipe them all out." Hearing New York police officers speak publicly but candidly about one another and the people they police is rare indeed, especially with their names attached. But for a few days in September, a raw and rude conversation among officers was on
Facebook
for the world to see — until it vanished for unknown reasons. It offered a fly-on-the-wall view of officers displaying roiling emotions often hidden from the public, a copy of the posting obtained by The New York Times shows. Some of the remarks appeared to have broken Police Department rules barring officers from "discourteous or disrespectful remarks" about race or ethnicity.
Financial News
BusinessInsider: Deutsche Bank: The Renminbi Will Be The World's Next Major Reserve Currency
MarketWatch666: TARP times eleven
- a john stewart video
BusinessInsider: REPORT: Jon Corzine Threatened To Quit If MF Global Didn't Let Him Bet Aggressively On European Bonds
VancouverSun: Italy pushes deep austerity to avoid Greek-style 'collapse'
MSNBC: Germany, France call for new EU treaty amid debt crisis
Reuters: S&P downgrade threat a clarion call for euro reform
CNN: CALM BEFORE THE STORM
Bloomberg: S&P Jumps Into Politics Again With EU Warning
ThinkProgress: Gap Between Rich And Poor Widening Across The Developed World, As Bankers And Executives Reap More Income
Reuters: The eurozone's terrible mistake
-
The FT
is
reporting
today that the new fiscal rules for the EU "include a commitment not to force private sector bondholders to take losses on any future eurozone bail-outs". If this principle really does get enshrined into some new treaty, it will be one of the most fiscally insane derelictions of statesmanship the world has seen — but it certainly helps explain the
short-term rally
that we saw today in Italian government debt.
NYT: Many Workers in Public Sector Retiring Sooner
Salon: Kids, stop dreaming of Wall Street -
Amid fears of high youth unemployment creating a "lost generation," there is suddenly a bright spot: Apparently, fewer young people are going to work in the industry that destroyed our economy.
DailyBail: VIDEO - Hank Paulson Speaks At Dartmouth: "My Bailouts Saved The World From A 21st Century Meltdown!"
ProjectSyndicate: What Can Save the Euro?
- Just when it seemed that things couldn't get worse, it appears that they have.
BlacklistedNews: Over 46 Million Americans On Foodstamps For The First Time Ever
DailyBail: Bob Ivry On Bernanke's Trillion Dollar Honey Pot
MyBudget360: A College Siren Call –
Going to a for-profit college today is like purchasing a home with a subprime loan at the peak of the housing market – The massive student debt bubble expanded from $200 billion to over $960 billion from 2000 to 2011 with a big push from for-profits at a time when incomes contracted.
TaxPolicyCenter: Pick Your Poison: VAT or Higher Income Tax Rates
NakedCapitalism: On the Austerity and Rule by Big Finance in Greece
- This Real News Network interview nominally is about whether Greece should leave the Euro. But it is really about the struggle between the bondholders, who are crushing Greek democracy and society, versus the population. The interviewee Costas Lapavitsas makes an forceful case why defying the banks is the best route for Greek society, even thought the transition will also be difficult.
Economix: Raising Taxes on the Rich: Not Whether, but How
BusinessInsider: TIMBER! Home Prices Are Crashing In China's Most Famous Ghost City
SeattleTimes: IMF sends $2.95B in rescue loans to Greece -
The International Monetary Fund is sending $2.95 billion to Greece, the latest installment in a joint effort to help the ailing government avoid a default on its debt.
Zerohedge: Art Cashin On The Possibility Of A "Christmas Rally", And The Certainty Of "The Post Christmas Crash" That Will Follow
Salon: Why Germany opposes a powerful euro solution -
Despite rising international pressure, Merkel refuses to allow the ECB to act as the lender of last resort
HousingWire: Three more notaries charged in Nevada robo-signing scanda

l
UPI: Many in France want to dump the euro
ThinkProgress: Former Chase Banker Admits His Bank Pushed Minorities Into Subprime Mortgage Loans
- One of the most pernicious practices in which the nation' biggest banks engaged during the lead up to the financial crisis was pushing minority borrowers into subprime loans, even when many of them qualified for prime loans. This rampant predatory lending helped inflate the housing bubble; a Center for American Progress investigation actually
found huge racial disparities
in lending at the big banks that wound up getting bailed out, with minority borrowers
far more likely
to receive high-priced loans. One former banker for Chase — James Theckston — told the New York Times' Nick Kristof that not only did his bank push minority borrowers into higher-priced loans, but senior executives then tried to
cover up the racial disparity
in their banks' lending:
He says that some account executives earned a commission seven times higher from subprime loans, rather than prime mortgages. So they looked for less savvy borrowers — those with less education, without previous mortgage experience, or without fluent English — and nudged them toward subprime loans. These less savvy borrowers were disproportionately blacks and Latinos, he said, and they ended up paying a higher rate so that they were more likely to lose their homes.
TheNation: Why Hasn't the Government Gone After Mortgage Fraud?
Economist: Southern discomfort
-- RUM
news
out of Brazil this morning; the Brazilian economy failed to expand in the third quarter, according to a new statistical release. Brazil's red hot economy slowed steadily from last year, thanks in part to efforts to rein in domestic inflation.
Peak oil and Energy News
WSJ: Oil's Growing Thirst for Water
- Water has always been a concern for 65-year-old Joe Parker, who manages a 19,000-acre cattle ranch here in South Texas. "Water is scarce in our area," he says, and a scorching yearlong drought has made it even scarcer. What has Mr. Parker especially concerned are the drilling rigs that now dot the flat, brushy landscape. Each oil well in the area, using the technique known as hydraulic fracturing, requires about six million gallons of water to break open rocks far below the surface and release oil and natural gas. Mr. Parker says he worries about whether the underground water can support both ranching and energy exploration.
ClimateProgress: Fox Absurdly Denigrates The "ENTIRE Solar Industry"
TheOilDrum: Iran - Possible Implications of an Oil Embargo
MarketWatch: How low can oil prices really go? - Commentary: OPEC nations need the money
LifeInc:$9 for a gallon a gas in Alaska? What's the cost in your state?
CBSNews: World Watch Real cost of gas at Afghan bases: $400/gal.
CNNMoney: Big Oil sees energy bonanza ahead
EnergyBulletin: Playing with fire: Obama's risky oil threat to China
Commodities/Metals
Mineweb: Gold falls on euro debt fears, S&P downgrade warning
MSNBC: Massey to pay $210 million for mine disaster
Environmental News
ExtinctionProtocol: Mountain explodes violently in Vietnam as earth cracks- scientist warn of a coming quake
Reason: Delusional in Durban
- Reason's science correspondent sends a first dispatch from the U.N. Climate Change Conference.
AdelaideNow: Scientists say Himalayan glaciers melting
- GLACIERS in the Himalayas have shrunk by as much as a fifth in just 30 years and scientists say climate change is to blame.
DesdemonaDespair: BP says Halliburton destroyed Gulf oil spill evidence
MSNBC: BP accuses Halliburton of destroying evidence following Gulf spill
Grist: Amazon deforestation decreasing … but not for long
Guardian: BP accuses Halliburton over Gulf of Mexico oil spill
DesdemonaDespair: Simultaneous ice melt in Antarctic and Arctic – Sea levels will rise much faster than previously predicted
America in Decline
BlacklistedNews: U.S. Government Now Asserts More Power Than Hitler or Stalin
NPR: Look, Up In The Sky! It's A Drone, Looking At You
FAS.org: Civil Liberties Oversight Board Still Dormant
- The Privacy and Civil Liberties Oversight Board that was supposed to provide independent oversight of U.S. counterterrorism policies remains dormant and out of service because its members have still not been named and confirmed.
SOTT: US: Mom arrested for trying to sell baby for $7,000
BlacklistedNews: Martial Domestic Policing: The Pentagon Is Offering Free Military Hardware To Every Police Department In The US
KCRA:
5-Year-Old Handcuffed, Charged With Battery On Officer - Earlier this year, a Stockton student was handcuffed with zip ties on his hands and feet, forced to go to the hospital for a psychiatric evaluation and was charged with battery on a police officer. That student was 5 years old.
BlacklistedNews: 20 Things You Should Know About the Bill That Could Ruin America
YouTube: 75 Years in Prison For Videotaping Police
- YouTube (more states are passing laws against videos of police activity)
UppityWisconsin: Want a protest permit? That'll be $15-million
- Gov. Scott Walker's administration could hold demonstrators liable for costs for extra police presence or cleanup and repairs following protests at the Capitol, under a new policy unveiled Thursday. Using FitzWalker math, that would have been $15-million for the protests last winter and spring -- $8M for police and $7M for putting tape on the walls. And this is not a proposal, but a rule the Walker administration just announced and will put into full effect in two weeks.
Food and Water
NYT: In Nepal, Farmers Struggle as City Dwellers Fight Monsanto
Is it just me, or does this article feel a bit 'pro Monsanto'? The phrasing of the title kind of gives it away I think.
Science and Technology
RawStory: Santorum thinks role of science should be to say 'we'll never know'
- Would-be presidential candidate Rick Santorum just can't seem to get his head around the scientific method, which involves looking for explanations of things you don't yet understand and developing possible answers in the form of testable hypotheses. Instead, he apprears to believe that anything for which science doesn't currently have an explanation should be treated as proof of the existence of a Divine Creator and taught to as such to schoolchildren.
CNN: Tech firm wants to ban office e-mail -
Imagine: A workday without e-mail.
PopSci: Kepler Team Confirms First Earth-like Planet in a Habitable Zone, And Finds 1,094 More Worlds
Discovery: Woolly Mammoth to be Cloned
- Within 5 years, a
woolly mammoth
will likely be cloned, according to scientists who have just recovered well-preserved bone marrow in a mammoth thigh bone. Japan's
Kyodo News
first reported the find. You can see photos of the thigh bone at
this Kyodo page.
WashingtonPost: Newest alien planet is just the right temperature for life
PopSci: Two Behemoth Black Holes, the Largest Ever Discovered, Could Swallow Billions of Suns
ScientificAmerican: Egg Timer: Separate Biological Clocks Govern Female Fertility and Life Span
Slate: Michael Crichton's Last Stand -
What the Jurassic Park author's posthumous novel Micro tells us about how scientists talk to the public.
MSNBC: A 'major milestone' in search for Earth's twin
- NASA's Kepler telescope confirms first alien planet found in habitable zone
CosmicLog: Alien planets get pigeonholed
Medical and Health
M&C: Hand care in winter
NHS:UK: Low-fat foods 'could cause weight gain'
TheChart: Teeth-grinding could signal sleep problems
BodyOdd: A clue found to seizures that cause helpless giggles
MSNBC: 91-year-old yoga teacher asks, 'Why should I quit?'
CNN: Cyberchondria could save your life
Doomsteading, Gardening, Urban Farming
Other News
(here's something funny from hub this morning, goes well with the car wreck story I think. LOL)
Bloomberg: Eight Ferraris Crash at 'Gathering of Narcissists'
CBSNews: Boston professor charged with running meth lab, police say
Cryptogon: Supreme Court Will Hear Case of Man Arrested After Telling Cheney What He Thought About Iraq War
CBSNews: Rita Hayworth's grandson found dead in an apparent suicide, police say
Politics
Politico: Newt defends Trump from Paul
RawStory: Gingrich: 'File charges' against Pelosi if she releases dirt on me
TheAtlantic: Ron Paul, Zionist -
In the New York Sun, Seth Lipsky makes the case that Ron Paul should be included in tomorrow's Republican Jewish Coalition beauty contest:
WashingtonPost: Gingrich rebukes Pelosi for hinting that she'd air details of ethics charges
ABCNews: Trump, Gingrich To Create Apprentice-Style Program for Poor School Kids -
Donald Trump may not have officially endorsed
Newt Gingrich's presidential bid
, but the billionaire businessman gave his hat tip of approval to Gingrich's plan to put poor schoolchildren to work. Gingrich, who found himself in hot water last month for saying America's child labor laws are "truly stupid," called on Trump to create an "Apprentice"-style program for 10 inner-city New York children to teach them "work ethic." "We're going to be picking 10, young, wonderful children, and we're going to make them 'apprenti,'" Trump said after a
high-profile meeting with Gingrich
on Monday. "We're going to have a little fun with it, and I think it's going to be something that is really going to prove results. But it was Newt's idea, and I think it's a great idea." While it is unclear if the program will run as a reality TV show, like Trump's NBC show "The Apprentice," Gingrich said the program is intended to give students "an opportunity to earn money, and get them into a habit of showing up and realizing that hard work gets rewarded."
The Forums
TinfoilPalace: Are you Multi-Dimensional?
TinfoilPalace: The "Israelification" of America's Police Departments
TheOilAge: The Oil Surge Begins
TheOilAge: Merkel-Sarkozy "agreement," again. HA!
HubbertsArms: Secret war against Iran's nuclear threat is build-up to allies' blitz
HubbertsArms: EMERGENCY HEAT FOR APARTMENT/TRAILER DWELLERS
SilentCountry: Michael Lewis: Advise from the 1%
SilentCountry: Breaking News: UK Court to allow Assange to appeal extradition