This is one of the stories sent in by the Ozarker today and I thought it might be good to put it up here for folks to see since so many will be shopping online this year. Be careful out there!
MSNBC: New Scams use fake Amazon gift cards, Adobe updates to lure victimsClicking redeeming links will lead to malware, harvesting of banking credentials
I know I say this everyday but I mean it. Much thanks to RJ at
Global Glass Onion
and the Ozarker at
Conflicted Doomer,
for their contributions and help. Be sure to visit their blogs and support their work, they do a lot to help this blog be what it is.
Also, don't forget to visit the excellent forums linked at the bottom. Good people there and you will learn a lot and make new friends.
Gotta make a run to get art supplies now so I'll see you all again tomorrow!
Japan
NYT: Japan Split on Hope for Vast Radiation Cleanup
Global Conflict
Cryptogon: Troops Deployed in Moscow to Deal with Anti Putin Protests
LegitGov: Israel stole uranium from U.S., report will show
TheAtlantic: Prepare for War: The Insane Plan to Outlaw Diplomacy with Iran
BlacklistedNews: Chinese President urges navy to prepare for combat
Time: Why Burmese Are Studying Nuclear Technology in Russia
LAT: Drone that crashed in Iran may give away U.S. secrets
CSMonitor: Mexico drug war casualty: Citizenry suffers post-traumatic stress
CNN: Gadhafi son tried to go secretly to Mexico
Reuters: 1-INSIGHT-Social media makes anti-Putin protests "snowball"
CNN: Gorbachev calls for new Russian elections
Reuters: Egypt's Islamists claim most seats in run-off vote
MSNBC: 'Silent coup' rumors swirl as Zardari leaves Pakistan
CNN: Opposition groups report clashes in northern Syria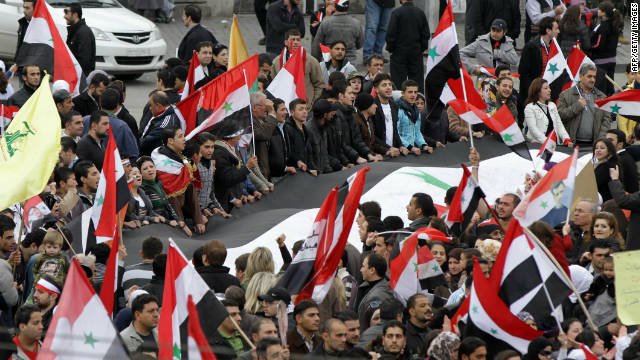 OWS
Hosted: Occupy protests move to foreclosed homes
MercuryNews: Police clear Occupy SF in early morning raid
WashingtonPost: 70 arrested as police clear Occupy camp in San Francisco and dismantle around 100 tents
USNews: Activists show up to 'retake' Congress
TruthOut: Families Join the Occupy Movement as the 99 Percent Takes On the Housing Crisis
McClatchy: Jobless take their grievances directly to Congress
CnnReligionBlogs: My Take: Jesus was a free marketer, not an Occupier
- One of the last instructions Jesus gave his disciples was "Occupy till I come."
Financial News
Reuters: ECB ready to push boundaries of crisis role
CNNMoney: This is what a real market crash looks like -
Investor Jeremy Grantham thinks stocks are overpriced, and he shows how long it could take the market to recover after another crash.
BusinessInsider: NIALL FERGUSON: Forget Weimar, People In Germany Are Missing The Real Historical Parallel
TheTelegraph: Eurozone rescue 'will survive downgrade'
- Eurozone leaders have insisted their rescue plans for the single currency are on track despite a furious row over Standard & Poor's (S&P) actions that threatened to de-rail their efforts and drive a deep wedge between Europe and America.
Bloomberg: Europe Bailout Fund Faces Downgrade If Any AAA-Rated Member Lowered by S&P
- The European Financial Stability Facility may lose its top credit rating if any of the bailout fund's six guarantors face a downgrade from AAA, Standard & Poor's said.
Reuters: Economists see France losing AAA in 3 months: Reuters poll
BlacklistedNews: 60 Minutes - Prosecuting Wall Street Fraud At Citigroup And Countrywide - DOJ On The Defensive
Zerohedge: The Five D's Of Dystopian Markets
BusinessInsider; Goldman Sachs On The One Massive Area Of Disagreement Between Merkel And Sarkozy
- Goldman is already trying to tamp down investor expectations for Friday's big Eurozone summit.
NakedCapitalism: "No People, No Problem": The Baltic Tigers' False Prophets of Austerity
- The Baltic states have discovered a new way to cut unemployment and cut budgets for social services: emigration. If enough people of working age are forced to leave to find work abroad, unemployment and social service budgets will both drop.
CBS:Prosecuting Wall Street
RobertReich: Most Important Economic Speech of His Presidency
- The President's speech today in Osawatomie, Kansas is the most important economic speech of his presidency in terms of connecting the dots, laying out the reasons behind our economic and political crises, and asserting a willingness to take on the powerful and the privileged that have gamed the system to their advantage.
Slate: How technology and winner-take-all markets have made income inequality so much worse
NakedCapitalism: Bernanke Escalates Foodfight with Bloomberg: Score Bloomberg 1, Fed 0
ProjectSyndicate: The Impoverished "Asian Century" -
By 2050, Asia will have more than five billion people, while the European Union's share of the global population will decline from 9% to 5%. Annual economic growth in Asia over the past 30 years has averaged 5%. Its GDP is projected to increase from $30 trillion to about $230 trillion by 2050. The balance of power in the twenty-first century is shifting – in social, economic, and, arguably, political terms – from west to east.
MarketWatch: Workers need more income, and more power
GlobalSpin: Crunch Time for the Euro Zone:

Taking Note of the Elephant
TheAtlantic: Obama: America's 'Basic Bargain' is Broken
NYT: Angela Merkel Nears a Remaking of Euro Zone
DigbysBlog: The trauma of unemployment -
This is an interesting post
about a new study tracking the attitudes of people who have lost jobs in the Great Recession. You can click the link to get to the original data, but it's distilled nicely here, where the authors have divided the results into several different categories:
Peak oil and Energy News
TheOilDrum: Thoughts on why energy use and CO2 emissions are rising as fast as GDP
VancouverSun: orthern Gateway pipeline decision will be delayed until late 2013: panel
AlJazeera: Is oil the future of energy? -
For the first time in its history, the Middle East is hosting the World Petroleum Congress.
The Oil Drum: A Reality Check on U.S. Oil Imports and the Shale Revolution for Mortimer Zuckerman
- Mortimer Zuckerman, the chairman and editor in chief of
U.S. News & World Report
, announced on November 25, 2011 that America's energy problems are over thanks to the shale gas revolution. He delivered the good news in an op-ed in
The Wall Street Journal
called
"How American Can Escape the Energy Trap"
. The article's subtitle is:
"Soaring natural gas production has already cut the share of oil consumption met by imports to 47% last year from 60% in 2005."
Unfortunately, this is not really true.
ScientificAmerican: Bio–Jet Fuel Struggles to Balance Profit with Sustainability
Bloomberg: Shale-Gas Drilling to Add 870,000 Jobs by 2015, Report Says
MJPerry: New Report Shatters the Myth of Energy Scarcity and Highlights America's Vast Energy Resources
- Here are some excerpts from a new energy study titled "
North American Energy Inventory
" from
The Institute for Energy Research
: North America is blessed with enough energy supplies to promote and sustain economic growth for many generations. The government's own reports detail this, and Congress was advised of our energy wealth when the Congressional Research Service released a report showing that the United States' combined recoverable oil, natural gas, and coal endowment is the largest on Earth. Despite this overwhelming evidence of energy abundance, many continue to proclaim that an energy problem or "crisis" exists that justifies increased central planning, increased expenditures of public money, increased energy taxes and increased diktats on American citizens in order to solve "the problem." For forty years, politicians and special interests have argued successfully that energy production requires more regulations, more taxes, and more restrictions and the result has been less domestically produced energy, less economic growth, and fewer jobs. The truth that is finally becoming clear is that North America is not only blessed with huge quantities of energy, but also could become the single largest producer in the world, with all of the attendant manufacturing, technological innovation and re-industrialization that would provide generations with good jobs and sustainable futures.
(above, posted without comment.)
SFGate: Chevron may pay $40 billion for 5 billion barrels
Reuters: UPDATE 2-Russia rejects Iran oil ban -energy min
Reuters: Asia refiners seen cutting Saudi buys, may cut runs
UPI: Oil tougher to extract, official suggests -
Major oil producers are looking at complex extraction procedures because the era of "easy oil" is coming to an end, the Emirati oil minister said.
Reuters: U.S. EIA raises U.S. oil output forecast for 2012
UPI: Who wins, who loses if Iran's oil is cut
Environmental News
ClimateProgress: What Are the Near-Term Climate Pearl Harbors? What Will Take Us from Procrastination to Action?
Grist: Bad guys bicker over Gulf oil spill
SOTT: Extreme weather creates havoc in Perth, Australia
FlagInDistress: Corporations versus People
: In a very short amount of time, in just a few decades, a large percentage of the planet's inhabitants have woken up to the reality that that we have very little time remaining to literally recreate our lives and our communities, to start living as if we really get it—that our Mother Earth, Gaia, is a finite, floating sphere and offering us her amazing services if only we would live in a way that is truly sustainable for the next thousands of years.
DesdemonaDespair: From Cairo to the Cape, climate change takes hold of Africa – 'A new and harsh reality'
NYT: Smog Closes Beijing Airport -
BEIJING — Capital International Airport in Beijing was forced to cancel hundreds of flights on Monday because of heavy smog and weather conditions. The cancellations were the latest sign that pollution in China's largest cities, among the worst in the world, is leading to significant economic losses.
TruthOut: Marching Off the Cliff
America in Decline
HoustonChron: State: Mom who shot kids, self denied food stamps
SOTT: Are Americans in Line for Gitmo?
MSNBC: Feds: Couple claimed welfare, lived in $1.2M home
MSNBC: Baby Boy Abandoned at Queens Burger King
Cryptogon: Class of Homebuyers Claims BofA Found a New Dirty Trick
Food and Water
ScientificAmerican: Earth Likely to Become Increasingly Hostile to Agriculture
FP: Trickle-Down Economics -
There's a free-market solution to the world's water crisis. Make people pay by the drop.
Science and Technology
SubredditumScientiae:NASA to build the world's most powerful telescope, 100x the sensitivity of Hubble, by 2018
Discovery: Asteroid Vesta Not An Asteroid After All
- Seems like the second-largest object in the asteroid belt is really not an asteroid at all, conclude scientists working on
NASA's Dawn mission
, which is currently studying a 330-mile wide body called Vesta.
"Vesta is unlike any other asteroid we have visited so far. There is nothing in the asteroid belt that you can actually compare directly with Vesta," Vishnu Reddy, a Dawn co-investigator at the Max Planck Institute for Solar System Research in Germany and at the University of North Dakota, said at the American Geophysical Union conference in San Francisco this week.
CBSNews: Clinton: Gene synthesis raises bioweapon threat
(ya think?)
Lightyears: Spacecraft enters 'cosmic purgatory' -
NASA's Voyager 1 spacecraft is 11 billion miles from our sun and has entered a region NASA is describing as a "cosmic purgatory," a part of space where there is very little solar wind.
CosmicLog: Is the case for Mars facing a crisis?
CosmicLog: Clone a mammoth? Not so fast
Medical and Health
Why Sugar Makes Us Sleepy (And Protein Wakes Us Up)
TheNation: Why Did the GOP Oust a Respected Healthcare Official?
M&C: Scientists find potential cancer drug in snake venom
CNN: Night shift work may raise diabetes risk
MSNBC: FDA favors more risk info on newer birth control pills
Yaz, other new contraceptives, have higher risk of blood clots, studies suggest
MSNBC: FDA warns against HCG hormone diet pill fad
Doomsteading, Gardening, Urban Farming
SHTFPlan: Advice From A Collapse Survivor: "RUN!" From Major Cities
ModernSurvivalBlog: Survival Hygiene
this from Container Gardening
Other News
CNN: Dog rescues two abandoned kittens
MSNBC: Pearl Harbor from above, 1941-2011
CBSNews: Naked bodybuilder attack leaves couple badly hurt
- COLTON, California - Police say a naked, 300-pound bodybuilder savagely beat a Southern California couple at their home, leaving them in critical condition.
EurekAlert: Growing income and gender gaps in college graduation -
A new study shows that the gap in rates of college completion between students from high-and low-income families has grown significantly in the last 50 years.
Telegraph: Pygmy elephant gores Australian woman to death
BeforeItsNews: Beware Nano Chemtrails
McClatchy: Miss USA Rima Fakih: Hezbollah babe or just a girl in a bikini?
Fox: Alabama AG Calls for Changes to State Immigration Law
"
It is a violation of human rights when people are beaten or killed because of their sexual orientation, or because they do not conform to cultural norms about how men and women should look or behave. It is a violation of human rights when governments declare it illegal to be gay, or allow those who harm gay people to go unpunished. Being gay is not a Western invention; it is a human reality, and protecting the human rights of all people, gay or straight, is not something that only Western governments do.
" -
United States Secretary of State Hillary Clinton
.
Politics
NYT: Filibuster by Senate Republicans Blocks Confirmation of Judicial Nominee
NPR: 5 Things You May Not Know About Ron Paul
RawStory: Surprise: Gingrich ethics files are public info
McClatchy: In lofty speech, Obama appeals for a new commitment to a fair America
The Forums
TinfoilPalace: Mother denied welfare shot children, self
TinfoilPalace: Early Warning Signs of Fascism
TheOilAge: Total Lunar Eclipse Sat Dec 10th (early morning)
TheOilAge: OH SHIT !! R Paul's Bluff kills terrorist detainee amendment
HubbertsArms: USPS cutting 28000 jobs
HubbertsArms: Mystery Company Buying Up U.S. Gun Manufacturers
SilentCountry: Pro-gold commercials rejected by all major USA TV networks
SilentCountry: The Automatic Earth does it's 1,000th Blog Post!!!!!!!!