and also don't miss this one.
It's a girl, a film being released this year, documents the practice of killing unwanted baby girls in South Asia. The trailer's most chilling scene is one with an Indian woman who, unable to contain her laughter, confesses to having killed eight infant daughters.
Much thanks to RJ at the
Global Glass Onion
and the Ozarker at
Conflicted Doomer
for their help today! Check out Ozarker's Blog, it's blacked! LOL I hope this sends a message to the boneheads in Washington and an end is put to this nonsense!
Japan
ABCNews: Radioactive Concrete Is Latest Scare for Fukushima Survivors
- The Japanese government is investigating how radioactive concrete ended up in a new apartment complex in the Fukushima Prefecture, housing evacuees from a town near the crippled nuclear plant.
Global Conflict
PopSci: The Army's Newest Surveillance Drone Can Shoot 80 Years' Worth of Video In a Day
ExtinctionProtocol: Russian billionaire warns of 'violent revolution' in Russia if democracy fails
RT: Iran to return US secret drone… as a toy
CNN: Iranian company wants to send toy drone to Obama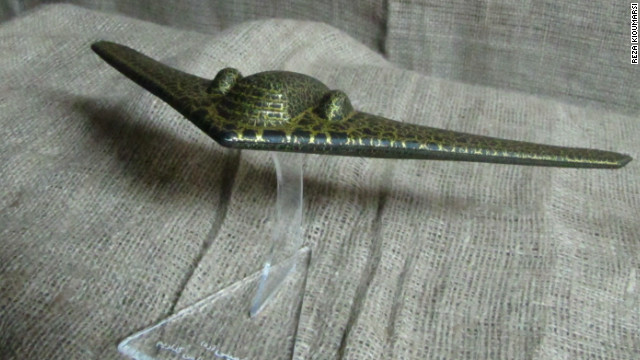 NYT: Iran Tightens Its Security for Scientists After Killing
Telegraph: Israel doing 'immense damage' to peace process
- Nick Clegg tilted Britain's Middle East policy sharply towards the Palestinians on Monday with an attack on Israel's settlement policies in the West Bank.
SeattlePI: Israeli PM: Palestinians not interested in talks
TulsaWorld: No Arab Troops Allowed, Syria says
BusinessWeek: U.S. Envoy Says Japan Agrees on Need to Raise Pressure on Iran
SeattlePI: Israel's Barak: Decision on Iran attack 'far off'
Statesman: Turkey reacts to Rick Perry's terrorist accusation
TimesofIndia: Not-so-covert Iran war buys West time, raises tension
SOPA
temporary section until this thing gets resolved
NYT: Web Site Will Shut Down to Protest Antipiracy Bills
WashingtonsBlog: The Web to "Go Dark" January 18th to Protest Censorship Bills
- Less than 24 hours after I
noted
that we've won a brief respite from SOPA, the bill's chief sponsor said
it's back on track
for mark up in February.
Minyoaville: Cheezburger Network Goes Dark in SOPA Protest
AJC: Thousands of websites offline to protest SOPA, PIPA
FreakOutNation: This site has been blocked in protest of the SOPA (Stop Online Piracy Act) and PIPA (Protect IP Act) two bills which will allow the government to censor the internet.
CNN: White House blasts Internet piracy bills
CNN: SOPA explained: What it is and why it matters
NYT: Web Protests Piracy Bills, and 2 Senators Change Course
OWS
D.C. Protesters Occupied House Office Buildings
Reuters: Occupy London campers told to leave cathedral
Domestic Financial News
TaxPolicyCenter: Congress Is Back, and So Are Its Battles Over Tax and Budget Policy
- The least popular Congress in memory is back. Tax policy will be at the center of much of the partisan squabbling, but it is hard to imagine Congress achieving more than a temporary truce in its ongoing battle over last year's unfinished business.
NewDeal20: The Federal Reserve Knew About the Housing Bubble in 2004…
The data — both anecdotal and otherwise — was out there, and the Fed even discussed it internally. Let's not let it off the hook
DeclineoftheEmpire: Wealth And Energy Consumption Are Inseparable
Exonomix: Capital Gains: Romney and the 1%
CNBC: Fed to Weigh Further Easing Amid Doubts About Recovery
- Federal Reserve officials are seriously considering giving the US economy—and especially the housing market—an added jolt with more quantitative easing.
CharlesHughSmith: You Can't Fool Mother Nature For Long: Financial Markets
ThinkProgress: How Today's Income Inequality Kills Tomorrow's Economic Mobility
- America is supposedly a land of opportunity, but increasingly the data shows that we are a country where parents' earnings are paramount in determining their children's future earnings.
RobertReich: Free Enterprise on Trial
- Mitt Romney is casting the 2012 campaign as "free enterprise on trial" – defining free enterprise as achieving success through "hard work and risking-taking." Tea-Party favorite Senator Jim DeMint of South Carolina says he's supporting Romney because "we really need someone who understands how risk, taking risk … is the way we create jobs, create choices, expand freedom." Chamber of Commerce President Tom Donahue, defending Romney, explains "this economy is about risk. If you don't take risk, you can't have success." Wait a minute. Who do they think are bearing the risks?
WashingtonPost: Vulture capitalism on trial
CNBC: Obama's Jobs Panel Pushes Corporate Tax, Energy Reforms
Reuters: Insight: Recovery at risk as Americans raid savings
MSNBC: FBI Makes More Wall Street Corruption Arrests
CNNMoney: Kraft Foods to cut 1,600 jobs
Time: Who Are the Big Winners in the Great Recession? (Yes, They Exist)
Reuters: More arrests in insider trading probe
Global Financial News
CreditWritedowns: Robert Shiller: "Sweden has a bubble"
Reuters: Greece's endgame looms
- The
big deadline
in Greece is March 20 — that's when the country has a €14.4 billion bond maturing that it can't afford to repay. So Greece and its creditors are playing chicken with each other right now.
Zerohedge: IMF Says 2 Year "Funding Gap" Hits $1 Trillion
Zerohedge: Fitch Says Greece Will Default By March 20 Bond Payment
NYT: Greek Premier Says Creditors May Be Forced to Take Losses
CNBC: The Worst Is Behind Us in Euro Crisis: Ex-ECB Economist
MSNBC: 'Uncertainty and danger': World Bank warns of downturn worse than 2008
- International body cuts growth forecast for US in 2012 from 2.9 percent to 2.2 percent
UPI: Oil market not good for Europe's economy
GlobeandMail: Natural gas prices crumble to near 10-year lows
Peak Oil and Energy News
LAT: Obama administration to deny Keystone XL permit
EnergyBulletin: Sinking the Petrodollar in the Persian Gulf
MarketWatch: Natural gas plunges to lowest since 2002
- Natural-gas futures plummeted Tuesday as expectations of warmer weather have undercut demand expectations for the fuel amid ongoing production growth.
PeakOil.com: World Bank slashes global GDP forecasts, outlook grim
BusinessInsider: Natural Gas Prices Are Plummeting
- Despite the across the board rally in commodities, natural gas for February 2012 delivery is off a staggering 7.26%.
GlobeandMail: Saudis target 'triple-digit' oil price for the first time
OilVoice: OPEC pumps 30.83 million barrels of crude oil per day in December
UPI: Canadian PM: Oil policy set here, not U.S.
LAT: Americans cut consumption in face of record gasoline prices
Commodities/Metals
Mineweb: The phenomenal rise of the Chinese gold market
Environmental
ABCNews: Project to Pour Water Into Volcano to Make Power
- Geothermal energy developers plan to pump 24 million gallons of water into the side of a dormant volcano in Central Oregon this summer to demonstrate new technology they hope will give a boost to a green energy sector that has yet to live up to its promise. They hope the water comes back to the surface fast enough and hot enough to create cheap, clean electricity that isn't dependent on sunny skies or stiff breezes — without shaking the earth and rattling the nerves of nearby residents.
SOTT: US: Hurricane-force winds expected to pummel central Oregon Coast early Wednesday
CNN: U.S. bans imports of 4 exotic snake species
ExtinctionProtocol: What are they? Mysterious unexplained noises now being reported across the globe
LunarMeteoriteHunters: Breaking News - Caribbean Meteor News -Puerto Rico, Aruba, Curacao, Jamaica, Dominican Republic Meteor Fireball 16JAN2012
ExtinctionProtocol: NASA image and documented video provide first glimpse of new island formed in the Red Sea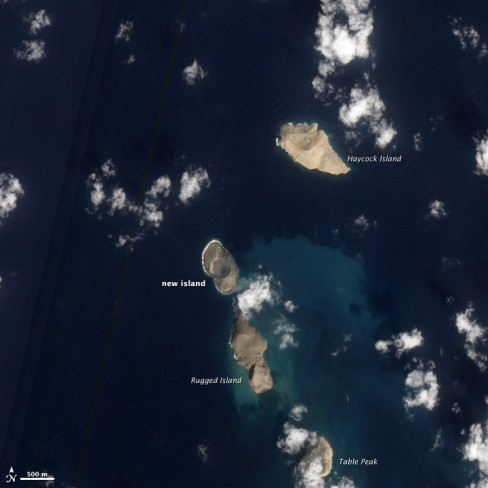 SOTT: Southern India Shivers: 7 die in AP; Karnataka Coldest in 100 Years
CNN: Twin winter storms slam Pacific Northwest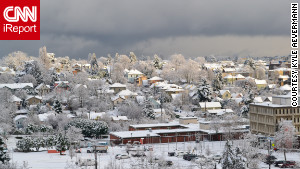 This picture is from iReporter Kyle Aevermann's Seattle neighborhood, First Hill, next to the downtown area.
ExtinctionProtocol: Winter returns with a vengeance: Seattle to be hit with biggest snow storm in decades
- January 18, 2012 – SEATTLE – The snow into Thursday could end up being one of Seattle's biggest snowstorms on record.
CNN: EPA, job killer or people saver?
JuneauEmpire: Ultra-harsh Alaska winter prompts fuel shortages
TreeHugger: Indigenous Amazonian Child Burned to Death by Loggers
and also,
Telegraph: Loggers 'burned Amazon tribe girl alive'
- Loggers in Brazil captured an eight-year-old girl from one of the Amazon's last uncontacted tribes and burned her alive as part of a campaign to force the indigenous population from its land, reports claimed on Tuesday night.
Huge iron ore deposits and valuable timber have encouraged mining and logging companies to enter the forests of Maranhão despite laws designed to protect the few remaining uncontacted tribes, often leading to violent clashes.
MNN: Satellite snaps stunning figure 8 in ocean
(Just as an aside, in numerology, 8 is the number of karmic destiny. just sayin'.)
KXNET: ND seeing increase in radioactive oil waste
America in Decline
Salon: Should the government search your brain?
- In this brave new world of invasive technology, one of the easiest way to understand the relevance of the Fifth Amendment of the U.S. Constitution is to understand it through the prism of the Fourth Amendment's prohibition of "unreasonable searches and seizures." Essentially, the Fifth Amendment's notion that you cannot be "compelled in any criminal case to be a witness against oneself" is a declaration that self-incriminating information in your mind is privileged, and that government efforts to get that information is, in fact, an "unreasonable search and seizure." Put another way, these constitutional protections say the government cannot get a search warrant for your brain, nor can it hold you in contempt of court for refusing to disclose any self-incriminating information in your cortex.Enshrined in our highest governing document, this principle had been considered uncontroversial for most of American history. But then we saw the advent of state-sanctioned torture and forced confessions in the last decade, and now a new criminal prosecution in Denver may end up with a court declaring that the mind can be forcibly opened to searches under a threat of jail time.
LegitGov: Guantanamo commander: Contractors read inmate lawyers' mail
WashingtonPost: 10 reasons the US is no longer the land of the free
Cryptogon: New York Police Will Scan Pedestrians for Concealed Weapons
MSNBC: TSA Admits Elderly Screenings Violated Policy
AZCentral: More older Americans on job than ever - Main reason is a lack of retirement security in age of 401(k) plans
Food and Water
TheTennessean: Backyard chickens approved in Nashville
BlacklistedNews: Scientists Grow Meat in Labs (OMG!)
Science and Technology
BusinessInsider: Sprint Is About To Remove Some Nasty Tracking Software From HTC Phones
Sprint will be issuing an update for HTC phones soon that eliminates Carrier IQ, the controversial tracking software hidden in many phones
SFGate: Google Plans Home Page Protest Against U.S. Piracy Measures
RedditScience: Research Works Act, a proposed policy prevent free access to academic publications
PopSci: Metamaterials Can Exert a Whole New Kind of Force
ScientificAmerican: SOPA Opera: White House Shuts Down Proposed Online Anti-Piracy Bill
BlacklistedNews: The cyborgs are coming! Living brains implanted with electronic chips to replace 'faulty' parts
Time: Gravitational Lensing: The Optical Illusion That Explains the Cosmos
WashingtonPost: Martian rocks fall to Earth, say meteorite experts
DiscoveryNews: 'Thar She Blows!' NASA Designing a Comet Harpoon
CosmicLog: Scientists to catch a black hole
Medical and Health
RedditScience: Do you remember the saying that you should never go to bed angry? Recent study suggests that sleep preserves and enhances unpleasant emotional memories.
ExtinctionProtocol: Doctors baffled by mysterious illness outbreak among teens at NY school
TheAtlantic: Medical Research on Chimps May Decline
Telegraph: A sausage a day increases risk of deadly pancreatic cancer
- Eating 50g of processed meat every day - the equivalent to one sausage or two rashers of bacon - increases the risk by 19% compared to people who do not eat processed meat at all.
Vitals: Toddler with blistering skin disease dies in his mother's arms
TheChart: Why you can't sleep when you're in pain
TheChart: U.S obesity rates unchanged
Boston.com: NH bill bars contracts with abortion providers
Doomsteading, Gardening, Urban Farming
CanadianDoomer: Simple Aged Cheese
UrbanFarmingGuys: Timelaps, How to grow Shitake Mushrooms
WoodfiredPizza: Bread/ Pizza Oven Construction
Other News
RedditScience: Humble Leaders Are Better Liked and More Effective
SOTT: India's Black Hole: A Bleak Fate for Delhi's Vanishing Children
LAT: Head found in park may be result of recent slaying, police say
SOTT: Australia: Mother raped own daughter for 'sex education'
NYDailyNews: Cops discover 128 dogs crammed in U-Haul
Politics
USAToday: Bid to recall Wis. governor files more than 1M signatures
DailyBail: Ron Paul Annihilates Fox Debate Moderator Gerald Seib: "I Want To Cut Military Money, NOT Defense Spending, You Need To Learn The Difference!"
Time: Wisconsin Dems' Million-Signature Show of Force in Walker Recall Effort
NYT: Money Flows to G.O.P. Backers of Gay Marriage in New York
TheNewYorker: The Republican Party, from Nixon to Romney
RawStory: Democrat seeks GOP names on Countrywide VIP loan list
ThinkProgress: Michigan Democrats Unveil Plan To Finance Free College Tuition By Eliminating Corporate Tax Credits
MotherJones: How Rick Santorum Ripped Off American Veterans
Alternet: Kansas GOP House Speaker "Prays" That Obama's "Children Be Fatherless and His Wife a Widow"
ThinkProgress reported last week that Kansas House Speaker Mike O'Neal (R) was forced to apologize to First Lady Michelle Obama after forwarding an email to fellow lawmakers that called her "Mrs. YoMama" and compared her to the Grinch.
Earlier that same week, the Lawrence Journal-World was sent another email that O'Neal had forwarded to House Republicans that referred to President Obama and a Bible verse that says "Let his days be few" and calls for his children to be without a father and his wife to be widowed.
ThinkProgress: Republican National Committee Files Brief Seeking To Allow Corporate Funding Of Campaigns
Forums
TinfoilPalace: Poverty trap set at birth - study
TinfoilPalace: The Strange Case of Carey and Steven Stayner
TheOilAge: The Abject Failure Of Corporate Media
TheOilAge: White House on Lockdown
HubbertsArms: Death Be Not Proud: Indiana Casket Company Lays Off 100, May Shut Down
HubbertsArms: The Orwell Prize
SilentCountry: Iran Mocks US With Toy Drone
SilentCountry: Kraft Foods to Lay Off 1,600