Good morning guys! hope everyone has a good day today.
check out this article from Extinction Protocol!
ExtinctionProtocol: Large blast at Russian power plant stops motorists in their tracks
LOL I know I'd have had a heart attack if I saw something like that.
The comments at Youtube are interesting too.
But, I have to say that wacky story of the day award goes to the Ozarker for the following story.
FOOTBALL FANS in the central African state of Congo were hurling accusations of witchcraft at each other yesterday after a freak blast of lightning struck dead an entire team on the playing field while their opponents were left completely untouched.
The bizarre blow by the weather to all 11 members of the football team was reported in the daily newspaper L'Avenir in Kinshasa, the capital of Congo.
Much thanks to RJ at the
Global Glass Onion
and the Ozarker at
Conflicted Doomer
who help make this blog worth reading. Thanks guys! Please support their blogs and their good work.
p.s. still trying to figure out the problem some are having with the donate button. If you'd like to make a donation to the blog you can send it to p.a.turner.art@gmail.com
Your support as always, is sincerely appreciated.
Global Conflict
Reuters: Scenes of horror as Syria's Homs bleeds from siege
- Makeshift hospitals in besieged opposition areas of the Syrian city of Homs are overflowing with dead and wounded from government bombardments and snipers, according to a report by international monitor Human Rights Watch.
NYT: U.S. Said to Target Rescuers at Drone Strike Sites
- WASHINGTON — British and Pakistani journalists said Sunday that the
C.I.A.
's
drone
strikes on suspected militants in
Pakistan
have repeatedly targeted rescuers who responded to the scene of a strike, as well as mourners at subsequent funerals.
Hosted: Sarkozy advises against military strike on Iran
Atlantic: Egypt Willing to Lose $1.5 Billion in U.S. Aid to Prosecute Americans
NYT: Tough Words From Iran's Leaders as Sanctions Cut Deep
WSJ: Maldives Rocked by Protests After Coup; 2 Die
VOA: Syrian Troops Pound Homs as Russia Warns Against Intervention
WSJ: Taliban: U.S. Kills Commander
MSNBC: Israel teams with terror group to kill Iran's nuclear scientists, US officials ...
VOA: White House Underscores Displeasure with China, Russia Votes on Syria
JDNews: US, Japan closer to moving Marines
McClatchy: The Greening of Guántanamo
PopSci: Video: DARPA's Legged Squad Support System (a.k.a. Big Dog) Goes Outside to Play
Time: Why Syrians Fight, and Why Their Civil War May be a Long One
eXiled: Romney-geddon! Mitt's Foreign Policy Team Run By Ultra-Neocon Loons & Failures Itching For Nuclear War With Iran
Alternet: State Department Preparing To Cut Iraq Embassy Staff By Half
Telegraph: Tin hats at the ready as Tel Aviv squares up to Tehran
CSMonitor: US drone strikes in Pakistan on rise again
AJC: US, Japan closer to moving many Okinawa Marines
SeattlePI: Report: Iraq has executed 65 so far in 2012
SeattlePI: Israel's president sends message of peace to Iran
Independent: Assad's slaughter of the innocents
Atlantic: Waging War in Secret vs. American Democracy
- By fighting terrorism with covert CIA actions, President Obama deprives us of the ability to meaningfully evaluate American foreign policy.
CBSNews: Syria's weeklong Homs assault rages on
BusinessInsider: Gloria Steinem: 'Rape And War Didn't Always Go Together'
Alternet: US to ease restrictions on women in combat
VOA: Israel Debates Possible Fallout From Attack on Iran
- In recent months, Israeli leaders have stepped up their rhetoric about Iran's nuclear capabilities and increasingly are warning that Israel might attack Iranian nuclear installations to prevent Tehran from developing a nuclear weapon. Lately they are warning that such an attack could come this year. This is sparking widespread debate in Israel, where memories are still vivid of missile attacks on the country two decades ago during the Iraq war.
Domestic Financial News
WSJ: :Energy Boom Lifts Economy
ETFDailyNews: Jim Rickards: "Chaos" To Dollar Endgame "Most Likely"
CalculatedRisk: Zillow: House prices declined 4.7% in 2011, Forecasts 3.7% decline in 2012
NakedCapitalism: The Top Twelve Reasons Why You Should Hate the Mortgage Settlement
MyBudget360: The banking protection racket
– 5 charts highlighting the laundering and dismantling of the middle class. New methods of looking at employment. Peak debt and tweaking statistics.
LibertyStreet: Do Payday Lenders Target Minorities?
BusinessInsider: The World's Richest People Adjusted For Age
- Mark Zuckerberg is the world's richest person when adjusted for age according to The Economis
t
JaredBernsteinBlog: I Gotta Give Ben His Props -
I thought Federal Reserve chair Ben Bernanke once again showed some mettle in these
remarks
to the Senate Budget Committee on the economic outlook. He's not at all swept up in optimism about recent improvements—he's particularly on point regarding continued weaknesses in the job market—and he clearly cites all the reasons to keep pressing on monetary stimulus.
WSJ: Study Finds Lack of Mobility Not Holding Back Employment
- Negative housing values haven't prevented enough homeowners from moving to get a new job to have a big impact on overall unemployment in the U.S., a paper from the Federal Reserve Bank of Boston said.
Forbes: American Migration [Interactive Map] -
Close to 40 million Americans move from one home to another every year. Click anywhere on the map below: blue counties send more migrants to the selected county than they take; red counties take more than they send.
MSNBC: Jobless want you to quit already!
FiscalTimes: Will the SEC Kill the Money-Market Funds Business?
FiscalTimes: Homeless Oil Workers Are Camping Out at Walmart
SFGate: 88 million out of work and not looking for a job
WSJ: Jobless Claims Fall Again
NYT: Mortgage Plan Gives Homeowners Bulk of the Benefits
Time: Unemployment Aid Applications Near a 4-Year Low
- The number of people seeking unemployment aid fell to nearly a four-year low last week, an encouraging sign of continued improvement in the job market.
WSJ: Little Room for New Workers
- A humming economy usually means a high rate of "churn" in the work force: employees voluntarily leaving one job for another in search of higher pay and new challenges. One worker's exit from a job opens the way for someone else to jump on to the ladder. But through the recent recession and recovery, that churning process has slowed and shows little sign of picking up.
Bloomberg: Tie U.S. Recovery Program to Economic Indicators:
- According to early forecasts, the U.S. economy should already have recovered from the financial crisis. Despite some recent encouraging news, though, we still don't know when things will be back to normal.
WSJ: Wholesale Inventories Increased in December
BusinessInsider: Dick Bove Goes Ballistic Over The 'Mortgage Deal From Hell'
ChrisMartenson: Why Our Currency Will Fail
Global Financial News
BusinessInsider: GOD SAVE THE QE: Bank Of England Expands Asset Purchases By £50 Billion
Atlantic: Razing History: What Beijing's Breakneck Development Is Destroying
Zerohedge: ECB Leaves Key Refi Rate Unchanged At 1%
CreditWritedowns: Majors Trading Flat ahead of the ECB
NYT: Breakthrough on Austerity Clears Way for Greek Deal
ETFDailyNews: Baltic Dry Index: Why Is Global Shipping Slowing Down So Dramatically?
CNBC: The Dark Side of Germany's Jobs Miracle
Chron: Holiday hits China auto sales in January
IBTimes: Greek Debt not Sustainable with 70% Haircut: S&P
BBC: Greece bailout: Coalition fails to agree cuts
Bloomberg: UBS Posts 76% Drop in Quarterly Profit, Investment Bank Loss
CBSNews: Greece fails to agree EU bailout terms
FuelFix: Pepsi to cut 8,700 jobs worldwide
Peak Oil and Energy News
Pennsylvania Set to Allow Local Taxes on Shale Gas
TheOilDrum: After The Gold Rush: A Perspective on Future U.S. Natural Gas Supply and Price
CNN: New nuclear reactors set to be OK'd for Georgia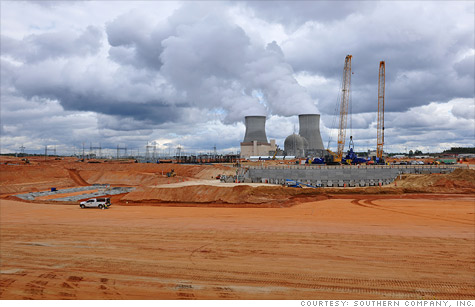 ETFDailyNews: Expect $200 Oil Prices & $6 At The Pump as Iran Is Now A Full-Blown Crisis
BBC: Glasgow solar study: 'We could put oil back in ground'
- The sun gives its energy away for free. We can harvest it with solar cells and wind turbines to make electricity. That's the good news. The bad? It's electricity. It's difficult stuff to store and sometimes, just when you need some, it's dark or the wind's stopped blowing. That's why Glasgow University's Solar Fuels Group want us to make the leap from solar power to solar fuel.
ETFDaily: Commodity Trading Trends: Crude Making Its Way Up?
Commodities/Metals
Mineweb: Gold firm as Greece bailout hopes lifts Euro
ETFDailyNews: Jack Lifton: Graphite and Rare Earth Metals For The 21st Century
CommodityOnline: Gold fails as inflation hedge: Credit Suisse
Environmental
DesdemonaDespair: Meteorologist Jeff Masters: 'The climate has shifted to a new state capable of delivering rare and unprecedented weather events'
ExtinctionProtocol: Magma plume: large explosions seen at Mt. Etna volcano
RawStory: Judge dismisses suit accusing SeaWorld of enslaving whales
FuelFix: Opinion: Fracking's toll on pets, livestock chills farmers
GreenBlogsNYT: From 2 Satellites, the Big Picture on Ice Melt
- Melting glaciers and ice caps are perhaps the most striking illustrations of the effects of global climate change. Surprisingly, however, there is relatively little data on just how fast the ice is disappearing. Now,
a new paper
from researchers at the University of Colorado, Boulder offers the most up-to-date and comprehensive numbers on glacier and ice cap melt worldwide. The research, published in the journal
Nature
, calculates that from 2003 to 2010, the world's glaciers and ice caps lost about 150 billion tons of ice each year.
NOLA: Louisiana officials establish formula for anticipating sea-level rise
CNN: Ukraine's emergency services under pressure as winter bites
USNews: Earth's Polar Ice Melting Less Than Thought
- Better technology yields better data. The bad news is the extra water from 2003-2010 would fill Lake Erie eight times
Onearth: The Battle for Jeju Island: How the Arms Race is Threatening a Korean Paradise
CaliforniaWatch: Calif. cement plant has one of nation's highest mercury emission levels
USNews: Toilet paper taking out tiger, elephant habitat, WWF says
Grist: Whales get stressed out by noise from shipping
OilPrice: Are There Holes in Pipeline Transparency?
- An assistant attorney general in Montana announced this week he was trying to decide whether or not to move ahead with claims against Exxon Mobil for a July oil spill in the Yellowstone River. Exxon had agreed to a million-dollar settlement for environmental damage that resulted from the rupture of its Silvertip oil pipeline that, at the time, was buried just four feet below the riverbed. A state attorney general was quoted by local media as saying all of the environmental issues weren't resolved yet but statements last year suggested all was well, so what gives?
America in Decline
McClatchy: Westboro Church to protest Powell boys' funeral; Occupy Seattle to counter-protest
BusinessInsider: The Corruption Of Our Entire Political Class Explained In One Paragraph
CBSNews: Congressional approval hits another all-time low
CharlesHughSmith: Social Fractals and the Corruption of America
WashingtonPost: Tenn. sheriff: Facebook spat led to shooting deaths of couple; 2 men charged
TruthOut: Noam Chomsky | Anniversaries From 'Unhistory'
LAT: Economy toughest on young adults, study finds
- Difficulties are shaping their decisions about careers, schooling, marriage and parenthood.
MSNBC: US finds democracy a tougher sell abroad
- A backlash emerged in Russia, Central Asia, China and parts of Africa and Latin America after the Iraq War, expert says
ScientificAmerican: U.S. State Science Standards Are "Mediocre to Awful"
SeattleTimes: EPA: US needs $300B in sewer, water work
- A federal study shows municipalities nationwide need more than $300 billion worth of essential upgrades to long overlooked water and sewer systems over the next 20 years.
Atlantic: The Contraception Coverage Debate Isn't Just About the Bishops
TruthOut: Book Burning in Arizona
"[At] the present moment in American society, human solidarity and democratic values are scorned just as a moral response to the plight of the other is viewed with disdain and seen as a sign of weakness. Witness the culture of cruelty touted by the current run of Republican presidential candidates, who barely blink when asked about how capital punishment embodies the legacy of slavery, who unapologetically suggest that child-labor laws be suspended so poor youth of color can work as janitors in their schools, or who endlessly complain that the poor lack a work ethic and are undeserving of social protections."
Grist: America has 40 million big houses that no one wants
Americans, especially generations X and Y, want shorter commutes, walkability and a car-free existence. Which means that around 40 million large-lot exurban McMansions, built primarily during the housing boom, might never find occupants.
Only 43 percent of Americans prefer big suburban homes,
says Chris Nelson
, head of the
Metropolitan Research Center
at the University of Utah. That mean demand for "large-lot" homes is currently 40 million short of the available stock — and not only that, but the U.S. is short 10 million attached homes and 30 million small homes, which are what people really want.
Cryptogon: Detroit Citizens No Longer Rely on Police as Self-Defense Killings Skyrocket
BrilliantAtBreakfast: I've been saying for years that once they get abortion, they're going after birth control
Food and Water
this is a crazy story!
Grist: Sh*t happens: Mysterious 'manure foam' causes pig farms to explode
TruthOut: Farmers Go Wild
Volatility: Food Sovereignty, Raw Milk, and the Commerce Clause
YoungFarmers: New Campaign Urges Labeling Of Genetically Modified Foods
- A new campaign, Just Label It, has been launched to require that the U.S. Food and Drug Administration (FDA) label foods from genetically modified organisms (GMOs). An accompanying
video
, Labels Matter, was also just released to educate people about the risks of eating genetically modified foods and to encourage people to fight to know what's in their food.
Internet and Online Privacy News
ArsTechnica: Google paying users to track 100% of their Web usage via little black box
NYT: Facebook Is Using You
CNN: Megaupload case spurs other sites to step up anti-piracy enforcement
CNN: Google knows too much about you
ArsTechnica: GDrive at last? Google reportedly ready to launch online storage service
(hmmmm....get rid of Megaupload and then come out with this? interesting.)
Science and Technology
WashingtonPost: FBI's Steve Jobs file: He will 'distort reality ... to achieve his goals'
NewScientist: What the latest LHC revelations say about the Higgs
ArsTechnica: TuneCore: first iTunes Match royalties are "magic money" out of "thin air"
PopSci: Video: Creepiest Mirror Ever Displays Ghostly Animal Heads Mimicking Your Facial Expression
Wired: Bitly Fights for Social Analytics With Weapons-Grade Math
NewScientist: Nerve probe controls cyborg moth in flight
TheBulletin: The science fiction effect
New supercontinent 'Amasia' will form over the Arctic with North and South ...
PhotoBlogMSNBC: Mars orbiter spies on past probes
Medical and Health
MSNBC: Texas begins enforcing strict anti-abortion sonogram law
- Fewer abortions? Better-informed patients? Insulted women? The impact of a controversial new Texas law that requires women to have a sonogram – and listen to a description of the fetus as well as its heartbeat – at least 24 hours before they can get an abortion is far from clear.Texas state health officials began enforcing the sonogram provision – which critics say is the most extreme sonogram-related law in the nation – on Tuesday.
Reaction has been decidedly mixed.
ScientificAmerican: Fasting Might Boost Chemo's Cancer-Busting Properties
AJC: GOP vows to reverse Obama birth control policy
ScientificAmerican: Sight Seen: Gene Therapy Restores Vision in Both Eyes
Alternet: Obama Administration Defends Contraception Rule Amid Mounting Criticism
FDL: Plan to Pay for Doc Fix with War Funding Savings Rejected
- House Republicans have decided against using savings from war funding
offset a permanent "doc fix,"
which means that Medicare doctors could see their reimbursement rates fall as much as 27% by the end of the month.
CNN: Are depressed kids bully magnets?
TheChart: Could stimulating the brain one day treat Alzheimer's disease?
TheChart: Closing schools could stop the flu
MSNBC: Teen pregnancy, abortion rates at record low
TodayHealth: Americans significantly lower trans fat over decade
Doomsteading, Gardening, Urban Farming
ModernSurvivalBlog: Survival Kits
PreppingToSurvive: First Aid Refreshers, part 5: Serious Burns
- In the last installment of the First Aid Refreshers, I covered minor burns. This time, I want to look at the more serious ones...
Other News
NJHerald: Rescued dog bites TV anchor during broadcast
Independent: I was born to be a killer. Every night I see the Devil in my dreams
- Sharon Carr, a girl obsessed with death and violence, secured her place in criminal history yesterday as Britain's youngest female murderer.
She had killed at the age of 12 - a savage attack in which a teenage hairdresser was mutilated with 29 stab wounds. The victim, Katie Rackliff, had been picked out at random as she walked home from a nightclub in June l992.
PopSci: The EU is Considering Using Drones to Police Farm Subsidies, Enforce Environmental Rules
MSNBC: Official: 10 states given waiver on No Child Left Behind learning laws
McClatchy: Mental problems plagued Afghan shooting suspect, his father says
Telegraph: Lizard survives washing machine spin
WBIR: Cocke Co. man charged with shooting rifle at bus full of children
Atlantic: Afghanistan's Opium Child Brides
Cryptogon: Los Angeles County OKs $1,000 Fine For Throwing Football, Frisbee On Beaches
Politics
Guardian: Santorum ready for long contest as hat-trick of wins sends GOP reeling
McClatchy: In North Texas, Santorum tells pastors about his faith and family
Forums
TinfoilPalace: Obama's Domestic Surveillance Drones - Bill Passed
TinfoilPalace: Iran Didn't Bring Down the RQ-170. A Chinese Cyber Whiz Team Did
TheOilAge: Pentagon Oil Spending May Snarl Efforts to Trim $490B
TheOilAge: TAE: German employment = poverty
HubbertsArms: Transparent iron?
HubbertsArms: Russia Is Ready to Use Military Power to Defend Iran and Syria (Maybe...)
SilentCountry: It's A bird,It's A Plane,NO It's...
SilentCountry: Drop dead date for Greece is the 27th of March