Happy Tuesday to everyone, hope you are having lovely weather at your house like we are here today.
I have to run to town today and will put this up early. If anything epic happens while I'm gone I'll update it when I get back later.
Sorry about posting early but Art has to happen! LOL
Be sure to drop by and visit RJ at the
Global Glass Onion
and the Ozarker at
Conflicted Doomer
and thanks to them for their tireless efforts in rooting out good stories for us.
also, go by the forums and join in the fun. you'll find them linked at the bottom of the blog.
Japan
Reuters: Fukushima: Japan leaders feared "devil's chain reaction"
Global Conflict
WSJ: Afghan Handover Plan Roiled
McClatchy: Violence suggests 'Afghans hate us, and we don't trust them'
Koran Burning May Be Beginning of the End for Afghan War
Salon: The growing U.S.-Israel divide over Iran
Zerohedge: The Final Final Greek PSI Decision Tree
BBC: Homs rescue bid ends in failure
WashingtonPost: Syrian activists: 64 bodies found near Homs in one of the worst mass killings
CNN: Syrian official: No one dying from hunger, sickness even as deaths mount
CBSNews: Journalist wouned in Syria said to be out safe
Reuters: Syrian military pounds rebel areas, foreign journalists escape
NYT: Gunmen Ambush Bus in Pakistan, Killing at Least 18
WashingtonPost: Israel will keep US out of the loop if it decides to strike Iran's nuclear program
A U.S. intelligence official says Israel warned that it will keep the Americans in the dark, to decrease the likelihood that Americans would be held responsible for failing to stop Israel's potential attack.
CBSNews: Israel could strike Iran without warning US
JapanTimes: Threatened Goldman Japan Workers Unionize
OWS
NationOfChange: Day 162: Live Coverage of the Occupy Movement - Special Coverage:
As we enter Day 162 of the Occupy movements the protests have spread not only across the country but all over the globe. Thousands of activists have descended on Wall Street these past weeks as part of the #OccupyWallStreet protest organized by several action groups. What follows is a live video stream and live Twitter feed of this event.
BBC: St Paul's protest: Occupy London camp evicted
Time: U.K. Police Arrest 20 as They Dismantle Occupy Camp
FDL: What's The Difference Between A Chicago Minister's Squat And Occupy Chicago?
DailyKos: Tennessee Legislature Takes On Occupy Nashville!
Domestic Financial News
Zerohedge: Dow Jones Crosses 13,000 22 Times And... Closes Under
BusinessWeek: Student Debt Is Stifling Home Sales
CNNMoney: Germany backs second Greek bailout
BusinessWeek: The Warren Buffett Haters Club
CharlesHughSmith: The Perfection of Crony Capitalism: Use Regulation to Destroy Competitors
IBTimes: HP Gets A Whopping $47M Contract from U.S. GSA for Homeland Security Program
USNews: Why We Should Still Be Worried about a Double-Dip Recession
WSJ: Slower Foreclosures for Costliest Homes
- Michael Underwood hasn't made a full mortgage payment on his four-bedroom house in San Francisco's East Bay area since early 2008. But he has yet to be evicted from the home, which includes a lagoon-style pool carved into the property's natural sandstone.
CNNMoney: 'Double-dip recession inevitable'
Zerohedge: Chatham House: Gold Standard Impractical But Gold Hedge Against Declining Values of Key Fiat Currencies
CNNMoney: Stocks to advance as oil prices pause
Global Financial News
ArsTechnica: Spain asks: If Google search results make your business look bad, can you sue?
CNNMoney: S&P downgrades Greece
BoomBustBlog: What's the Possibility of Certain European Banks Having a Loss Given Default Approaching 100%?
Telegraph: Britain becomes a nation of debt slaves as regulation and inflation deter
- Now that interest on debts absorbs nearly a quarter of British households' net income,
according to the Consumer Credit Counselling Service (CCCS)
, many families are discovering how cruel a taskmaster compound interest can be.
BBC: India braces for general strike
MSN: Default still stalks Greece, bonds burden its banks: Moody's
Courant: Greek banks continue to hemorrhage deposits: ECB data
BusinessWeek: Europe Left to Dig Deeper After G-20 Rebuffs Call for Help
TheAustralian: China hard landing to hit bank ratings
- THE nation's banks could suffer one to three-notch credit downgrades, with the four major banks surrendering their coveted AA rating, if China has a hard economic landing, Standard & Poor's says.
Reuters: S&P downgrades Greece to selective default
Reuters: 'Big Four' auditors brace for big changes in China
BlacklistedNews: IMF LoanSharks Smell Blood: Britain has run out of money, chancellor warns
BBC: Barclays to pay £500m avoided tax
BusinessInsider: The Athens Market Is Getting Clobbered, And Banks Are Getting Destroyed
Japan Retail Sales Rise Unexpectedly On Vehicle Demand
BusinessWeek: German Stocks Climb as Merkel Wins Greek Aid Vote; Banks Rally
BoomBustBlog: No Matter How Much Room Some May Think Is Available, There Is But So Long One Can Play Hide The Greco-Sausage
MacroBusiness: Can China avoid the middle-income trap?
-The World Bank has just released its detailed report (below), China 2030: Building a Modern, Harmonious, and Creative High-Income Society, The World Bank believes that the export-led model that has delivered the past 30-years of growth and development in China has now run its course and that China can only succeed in becoming a modern, high income country if it implements a six-step series of reforms, namely:
Peak Oil and Energy News
CNNMoney: Strategic oil reserve tap offers only a little relief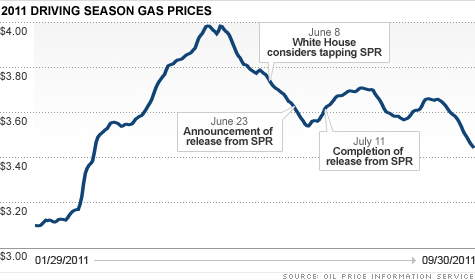 AdvisorPerspective: Weekly Gasoline Update: Up 49 Cents in Ten Weeks
WSJ: Vital Signs: Drillers Targeting Oil
- U.S. drilling companies are increasingly targeting oil over natural gas, reflecting shifting prices. The share of rigs targeting natural gas has plunged to 35.9%. New drilling techniques—including hydraulic fracturing—and a warm winter have led to a glut in natural gas supplies. Meanwhile, rising Middle East tensions have driven up the price of oil, making it more attractive to drillers.
LAT: Gas prices keep rising: $3.70 nationally, $4.29 in California
McClatchy: White House applauds decision to build part of Keystone XL pipeline
TheOilDrum: A Dynamic Function for EROI
Environmental
ArsTechnica: Americans listening to politicians, ignoring climate scientists
ClimateCentral: Texas Drought Eases, But It's Too Late for Some
NationOfChange: Conclusive Evidence That BP Misrepresented Gulf Oil Spill Sent To CongressNews Report:
"Gulf Rescue Alliance (GRA) has just sent a briefing package to the Attorney Generals of Alabama and Louisiana which presents evidence they believe has never seen the light of day concerning the how and why of the Deepwater Horizon Disaster and subsequent release of toxic oil into the Gulf—oil that is still gushing from various seabed fractures and fissures. GRA's special report has been forwarded to Congress in advance of BP's upcoming trial."
NewScientist: Melting sea ice could trigger colder winters
DesdemonaDespair: Graph of the Day: Accumulated Property Damage from Hurricanes, 2000 - 2100
ClimateChangePsychology: TransCanada, a foreign corporation, who does not even have permission to build the Keystone XL, is using eminent domain in Texas to get onto land belonging to Julia Trigg Crawford and start preparing it for the pipeline -- what is up with that!?!
NYT: Much to Savor, and Worry About, Amid Mild Winter's Early Blooms
PoliticusUSA: The SEC Mulls An Investigation Calls Grow For John Boehner To Resign
- It is an ethics violation for elected officials to use their political office to perform official acts on behalf of special interests, and particularly when special interests are campaign donors. On Thursday, the Securities and Exchange Commission (SEC) received a complaint from an environmental group with accusations that the proposed Keystone XL pipeline's owners (TransCanada) are in violation of SEC Rule 10b(5) – Employment of Manipulative and Deceptive Practices to bolster stock prices. The complaint sent to the SEC said TransCanada is using "
false or misleading statements about the proposed Keystone XL pipeline
" and that they "
consistently used public statements and information it knows are false in a concerted effort to secure permitting approval of Keystone XL from the U.S. government
." The complaint continues that the fallacious information misleads investors, U.S. and Canadian officials, the media, and the public "
in order to bolster its balance sheets and share price
," and who is the point-man pushing the Keystone XL pipeline with lies and misinformation? Speaker of the House John Boehner.
Grist: Alaska is about to get fracked up
- Alaska's been coasting on its stores of easy-access oil, but
a new report
from the U.S. Geological Survey shows that the state has a motherlode of shale oil and natural gas. You know what means — here come the frackers.
America in Decline
NYDailyNews: No smoking in your own backyard? Calif. town considers law
FDL: Pity the Poor Judges
- Now that the 49 State AG settlement has
immunized manufacturing evidence, forgery and perjury
, it's going to be a lot tougher to be a judge. After all, how can you ever rule on a motion based upon affidavits and documentary evidence if it's now OK to lie and to manufacture phony documents?
Food and Water
CNNMoney: Water bills expected to triple in some parts of U.S.
TMagazine: Children Of The Corn
BigPictureAgriculture: Food Price Inflation and Energy Costs
Gas ~ Edward Hopper ~ 1940I'd like to point readers here towards an article I wrote for Seeking Alpha about food price inflation and how it intertwines with corn prices, ethanol mandates, farmland prices, oil prices, and government policy.
Grist: Getting homemade foods off the black market
-
In California, for instance, it's currently a misdemeanor for home artisans to sell their goodies in the open marketplace. Case in point: Last June, Department of Public Health officials in San Francisco shut down
ForageSF's popular Underground Market
, which featured mostly home producers, because its sellers were not compliant with local and state regulations.
But due to a campaign launched by the
Sustainable Economies Law Center
(SELC), the laws might change this year. The Oakland-based SELC recently teamed up with Los Angeles Assembly Member Mike Gatto to introduce the
California Homemade Food Act
(AB 1616), a "cottage food" bill that would legalize the sale of certain foods produced in home kitchens.
Internet and Online Privacy News
Reuters: Yahoo threatens Facebook as patent war looms
WashingtonPost: WikiLeaks publishes leaked Stratfor emails, casting light on workings of private US intel firm
Science and Technology
ScientificAmerican: "Time Crystals" Could Be a Legitimate Form of Perpetual Motion
NewScientist: Asteroid dust brought to Earth reveals space smashes
PopSci: Smithsonian Aims to Make All Objects In Museum Collection 3-D-Printable
ArsTechnica: Google offers $1 million reward to hackers who exploit Chrome
Reuters: UPDATE 1-Virgin Galactic aims to test fly ship in space this year
CosmicLog: Discovery resurrects 'Jesus Tomb' debate
ScientificAmerican: New Energy-Dense Battery Could Enable Long-Distance Electric Cars
Medical and Health
NationOfChange: Health Care Myths and Realities - Wendell Potter, News Analysis:
One of the reasons I left my job in the health insurance industry was because I could not in good conscience continue to promote high-deductible plans, often marketed as "consumer-driven" plans, as wise choices for most Americans. These plans, which are often coupled with a health savings account, have become a favorite of insurance company executives and an increasing number of employers. That's because they enable insurers and employers to shift more and more of the cost of care from them to health plan enrollees.
PopSci: Steer Your Wheelchair With Your Computerized Tongue Piercing
RedditScience: The Impact of Bad Bosses
- New research has found that bad bosses affect how your whole family relates to one another; your physical health, raising your risk for heart disease; and your morale while in the office.
ScientificAmerican: Bats Harbor Novel Type of Influenza
UPI: Flu season off to slowest start in years
UPI: Child adversity may cause DNA changes
WSJ: Time for Old-Fashioned Nervous Breakdown?
WashingtonPost: Co­lo­ni­al­ism in Africa helped launch the HIV epidemic a century ago
WashingtonPost: More Americans seek dental treatment at the ER; costs can be 10 times more than checkups
Doomsteading, Gardening, Urban Farming
PreppingToSurvive: Wheat, part 2 (Can I grow it and how do I store it?)
NoTechMag: Traditional Repair Techniques: The Japanese Art of Kintsugi
YoungFarmers: Urban Agriculture On The Rise
PreppingToSurvive: More Alternatives to "Throw-Away" Items
- A while back, I did a posting on some food storage items you may want to look into as alternatives to things like plastic ziptop bags and wraps
Other News
BBC: Costa ship adrift off Seychelles
A cruise ship with more than 1,000 people on board is without power following a fire, 200 miles off the Seychelles; tug boats are many hours away.
Reuters: Classes canceled in Ohio community hit by school shooting
USNews: Teen suspect in Ohio shooting from violent family
RawStory: Man arrested for 'scamming nuns': FBI
CBSNews: 2nd victim dead after Ohio school shooting
Politics
MSNBC: What a "snob": Santorum's problem with college
Philly.com: How wouldAmerica change in a Santorum administration?
LAT: Poll: Most voters believe healthcare mandate is unconstitutional
Fiscaltimes: Santorum: From Politician to Far Right Evangelist
NYT: Ghastly Outdated Party
NYDailyNews: Waitress' bombshell claim: NYPD detective raped me in restaurant
FDL: Walker Won't Contest Signatures in Wisconsin, Recall Virtually Assured
DailyKos: Republicans are openly arguing for us to be DUMBER? LOL WUT?!?
- If ignorance is bliss, why are Republicans always angry? Albert Einstein, Snob. Sarah Palin? Genius. At this point, you literally have to be a fraking idiot to vote Republican.
Forums
TinfoilPalace: More Strange Sounds
TinfoilPalace: Mysterious Siberian Blasts Warned Point to Rapid Pole Reversal (Sorcha Faal)
TheOilAge: Anonymous explains the Illuminati protocols
TheOilAge: UK chancellor: Britain has run out of money
HubbertsArms: Newt Gingrich Calls For The U.S. To Leave Afghanistan
HubbertsArms: Ubuntu is history!
SilentCountry: The Times They Are A Changin'---The Homecoming Kiss
SilentCountry: Avian flu's back, warns UN