Revolution In Egypt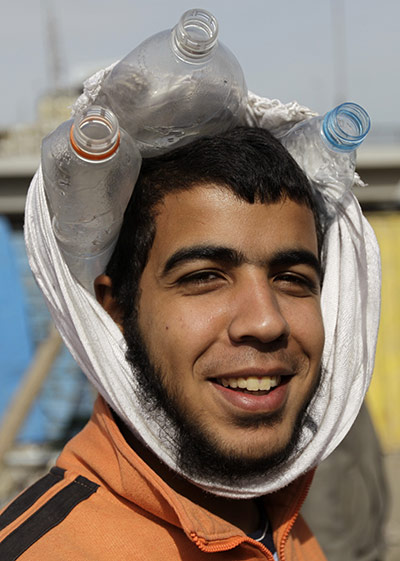 Guardian: Egyptian protesters' makeshift helmets – in pictures
RawStory: Live: Al Jazeera covers Egypt's 'Day of Departure'
BusinessInsider: Here's That Harrowing Video Of A Cairo Police Truck Plowing Straight Into Protesters
TheNation: Mideast tension has 'direct potential' to lead to N-war
BusinessInsider: REPORT: Mubarak Supporters Storming Cairo Hotels Looking For Journalists, Two NYT Reporters Arrested
TheAtlantic: Why I Was Dragged Through the Street by an Egyptian Mob
As the regime plays up the supposed role of "foreign agendas" behind the protests, Mubarak supporters' attacks become more indiscriminate
RawStory: Mubarak thugs force Anderson Cooper into hiding
WashingtonPost: Why Israel fears a free Egypt
Financial News
ZeroHedge: Meredith Whitney Called To Testify Before House On Her Muni Call
DeclineOfTheEmpire: Our Economy Is Still A Bad Joke
ZeroHedge: Jim Rogers Tells CNBC To Change Its Name To CommoditesNBC
, Sees Oil At $150, Is Short Nasdaq ETFs, Expects More Governments To Collapse
CharlesHughSmith: Chart Week: Paradox of Plenty
These three charts attempt to depict three different aspects of the "Paradox of Plenty": the way in which resource exploitation leads to waste and depletion; the Marxist critique of Capitalism's intrinsic cycling from expansion to over-capacity and then to collapse, and the marketing/propaganda cycle of gratification, satiation and alienation.
MyBudget360: Phoenix real estate market being held up by all cash buyers
– 47 percent of Phoenix sales were from all cash buyers in December. The $1 priced Detroit home.
Peak oil and Energy News
Thanks to Deckard for the following link!
OnPointRadio: Energy Ideas and Realities: 80% Clean by 2035?
The President says he wants 80 percent clean energy by 2035. How will we really get there?
OilPrice: North America's Bounty of Unconventional Hydrocarbons
Environmental News
NewMexicoIndependent: Gov declares state of emergency due to gas shortage, cold
BBC: Queensland relief workers fight through cyclone debris
Australians have begin counting the cost of the worst storm in a century and have found one man dead amid huge swathes of destruction.
Grist: Climate refugees star in Oscar-nominated 'Sun Come Up' [VIDEO]
Sun Come Up Trailer from Sun Come Up on Vimeo.
Cryptogon: Obama Administration Allows Unrestricted Planting of GMO Alfalfa
Food and Water
smh.au: Yasi tipped to send banana prices soaring
Bloomberg: Chili Peppers Indicate Inflation Is Heating Up: William Pesek
RawStory: Watch: 'Terrorists' kidnap Ronald McDonald statue in Helsinki
Police State, Big Brother, Surveillance
EndoftheAmericanDream: Smoking In The Park Banned,
Ticketed For Cussing In Class And 14 Other Examples Of How Big Brother Is Systematically Ripping Our Liberties And Freedoms Away
BlackListedNews: Woman Held In Cell For 2 Weeks For Selling Flower Baskets From Home
BlackListedNews: With Clock Ticking, Senators Fight Over PATRIOT Act Renewal
Other News
Reuters: Super Bowl a magnet for under-age sex trade
(Reuters) - Pimps will traffic thousands of under-age prostitutes to Texas for Sunday's Super Bowl, hoping to do business with men arriving for the big game with money to burn, child rights advocates said.
WikiHow: How to Prepare for a Volcanic Eruption
The Forums
TinfoilPalace: 33 Conspiracy Theories That Turned Out To Be True,
What Every Person Should Know... (Updated, Revised and Extended)
TinfoilPalace: Interesting post from signalfire on Hubberts Arms - well worth linking to.
TheOilAge: Next up, Morocco.(right by Spain, France)
TheOilAge: TAE: who's better off, Americans or Egyptians?
Hubberts-Arms: Jay Hanson is signing off.
Hubberts-Arms: Diplomatic car mows down rioters in Cairo
SilentCountry: Pension fall down, go BOOM...
SilentCountry: Makes me nervous